Are you into blowjobs? Do you have a VR headset? Then there's no reason why you shouldn't be knee-deep in the immersive BJ scenes from Only Blowjob. Share your thoughts via email.

Pros
Compatible with all headsets
New scenes posted frequently
Functional user interface
Cons
Not a VR-exclusive site
No bonus sites
Bottom Line
You're going to be hooked after watching just one virtual scene on Only Blowjob, I guarantee it. The scenes are super sexy and offer a totally immersive experience, with European models who go out of their way to provide you with the best virtual blowjob you've ever had. You can stream and download all the videos in stunning 4K with 180-degree views. The site is brought to you by the same folks who brought you the incredible DDF Network, but you don't get network access when you join.
My Full Only Blowjob Review
Experience a Sexy Virtual Blowjob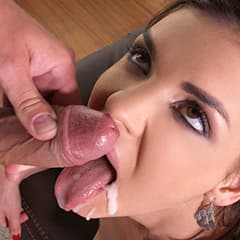 OnlyBlowjob is one of the hottest VR sites I've come across recently. As the sitename indicates, the scenes specialize in the art of virtual blowjobs. If you've already gotten yourself wet with hardcore VR porn before, you probably think these immersive scenes will be like the other blowjobs you've experienced. But that couldn't be further from the truth. I honestly haven't come across any other site (and believe me, I've seen most of them), where the content is so blowjob-centric. The models are supersexy and their advanced fellatio skills make them nothing less than BJ artists.
From the Folks at DDF Network
Granted, OnlyBlowjob is not a VR-exclusive site and the majority of the dick-sucking scenes are not immersive. That being said, there are more than a few available and since they're all conveniently time stamped, it's apparent that they're being produced with increased frequency. The site is part of the famous DDF Network, though network access is unfortunately not included with your membership. Still, just knowing that this site is produced by the same people who also created the DDF Network VR and 1 By Day, says a lot about the quality of the content that you can expect.
Stream or Download 4K Videos Easily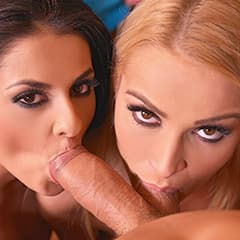 You can stream and download every video easily no matter if you have a mobile viewer like the GearVR, a stationary headset like the HTC VIVE, or a standalone device like the Oculus Go. Each scene has three resolutions and you can pick the one that works best with your device. The different file options don't indicate which device they're intended for though and instead only indicate that they're in HD, Full HD or 4K. They also all run at 60FPS with binaural audio and a 180° point-of-view. Each has a description that aids in setting the mood, as well as photos, tags and you can also like, favorite and leave comments. There's also a convenient "VR Informational" tab above each.
Be Worshipped by Blowjob Artists
Once you're settled, all you have to do is strap on your headset and get ready to have your cock worshipped as you've never had it worshipped before. The mere sight of your hard-on is like catnip to these European models and their blowjobs are very wet, with lots of eye contact, dirty talk, a little titty-fucking and, my favorite, lots of balls sucking. And if you're wondering how the scenes end, don't worry, it's always an explosive cumshot that the models enthusiastically catch on their pretty little faces.
Virtual Head is Just a Click Away
So, if you like blowjobs, and I know you do, and you own a virtual reality headset, then you're going to love the immersive experiences that lay in store for you at Only Blowjob. In addition to the VR scenes, you're going to be able to get your hands on the other non-virtual hardcore porn that ranks among some of the best and more varied porn being produced today. Check out their virtual blowjobs today and make sure to follow me on Twitter where I post about new and upcoming reviews, blogs and everything there is know about hardcore VR porn.
Click Here To Visit Website
Similar Top VR Porn Sites