Explore the Best VR Porn Sites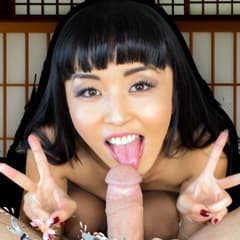 In this category, you will find a list of only the best VR porn sites. When you've got your headset on they will deliver an authentic adult experience that will knock your socks off. At this point, I expect you to ask, "What sets these sites apart from the rest?" A great question. I am a firm believer that everybody loves porn (especially those who pretend to hate it).
The list I have compiled is a labor of love that I am glad to be able to share with you. Each one meets or exceeds certain requirements that are essential in being considered a top VR site, with everything from MILFs to virtually fucking teens, POV blowjobs and fetish porn. Many of these sites are compatible with smart sex toys, also known as cyber dildonics. Imagine, VR already gets you as close to the real deal as possible and now, with sex toys that vibrate in unison with the action, you'll feel like you're actually fucking that girl. How cool is that?
What Are the Best VR Porn Sites?
Now that you know what it takes to make it onto my list, it is time to take a look at some of the sites that made the cut. For years, VR Bangers has been one of my all-time favorites. Ever since they launched, they have continued to get better. Today, they have a massive selection of diverse experiences, with most of them shot in 8K. Naturally, you need a powerful headset to run a video that high in quality, but do not worry, they have you covered. They even have their own app called PLAY'A, which is simultaneously a streaming app and a content management system that is free and easy to use.
You cannot go wrong with BaDoink VR either. In my opinion, they have one of the best VR scenes of all time. It stars Gabbie Carter when she was just starting out and we all know how she has gone on to become massively popular. Scenes with pornstars and fresh faces are standard for these folks and part of what makes the site so good. Not to mention all the fantastic 5K and 7K videos they offer.
Naughty America is one of the most recognizable names in porn and for good reason. They have always shot some of the hottest videos with a solid cast of teen and MILF pornstars. So is it any surprise that Naughty America VR follows the same standards? With stars such as Abella Danger, Adriana Chechik and Reagan Fox heavily present on the site, you will enjoy virtually fucking them in immersive high-quality videos that work with any headset.
VR goes a long way in getting you as close to a real life experience as possible. But what if there was a way to take it even further? That's where Virtual Real Porn comes in. Many of their scenes are adapted to smart sex toys. They work via Bluetooth and once you have them synced with a video, you'll be feeling the vibrations in unison with whatever is going on in the scene. How cool is that?
No Matter Your Device, You're Covered
Let's talk turkey and by that I mean tech. After all, there would be no virtual porn if it were not for the cutting-edge technology that makes a girl's sweet tits pop in your face as if she were really there! These sites employ the latest equipment to produce only high-definition 3D films with crisp images. What is also essential is compatibility with all the headsets currently on the market including the Oculus Rift, Gear VR and VIVE.
Other important things to consider include the ease of navigation, the extent of the user interaction, the number of scenes available, how often new content comes out, the cost and the variety. And let us not forget about the performers. I am sure most porn fans would agree that we also like a range of models. Tall, petite, big boobs or small, blondes, brunettes, redheads, Asians, Latinas, white and Black girls. Variety is the spice of porn and especially VR porn.
Get a Discount While You're Here
Here's the thing about a lot of these top sites, they're worth paying full price for. But you won't have to for a lot of them because I've secured some premium discounts. Some of my deals are limited, so it's best to grab them as soon as you see one. Others are available permanently. Either way, be sure to take advantage of these exclusive deals.
Want to learn a little more about these top sites before you join? Be sure to check out my in-depth reviews. I'll make sure you never second-guess yourself. By the time you're done reading one, you'll know exactly what to expect. I also write blogs and often spotlight these very sites, so make sure you check those out too.
Get More VR Coverage on My Blog
Sometimes, a site is so good that it deserves an entire article dedicated to it. That's why, if you head to my VR blog, you'll find spotlights on some of the sites I mentioned above as well as my favorite pornstars, even tips and tricks on how to get the best experience possible. Curious about interactive porn? Need advice on how to avoid VR motion sickness? Or maybe you just need to know which free app you should download. These are just some of the topics I discuss.
Don't Miss Out on Premium VR Porn
These sites are truly some of the best. Whether you're using a Gear VR, the humble cardboard, or if you've forked out the big bucks and gotten yourself an Oculus Rift, these sites will hook you up with stunning VR scenes that'll transport you to another place. You have my word on it.
Need help getting yourself set up? Have any questions or concerns about the sites I've listed? Suggestions? Hit me up by email anytime!
{ '@context': 'https://schema.org', '@type':'Collectionpage', 'datepublished':'2021-05-27', 'datemodified':'2021-06-14', 'mainentity':{ '@type':'Itemlist', 'itemlistelement':[ {'@type':'Website','name':'Naughty America VR','url':'https://www.naughtyamericavr.com/'}, {'@type':'Website','name':'BaDoink VR','url':'https://badoinkvr.com/'}, {'@type':'Website','name':'VR Bangers','url':'https://vrbangers.com/'}, {'@type':'Website','name':'Wankz VR','url':'https://www.wankzvr.com/'}, {'@type':'Website','name':'Virtual Taboo','url':'https://virtualtaboo.com/'}, {'@type':'Website','name':'Virtual Real Porn','url':'https://virtualrealporn.com/'}, {'@type':'Website','name':'VR Hush','url':'https://vrhush.com/'}, {'@type':'Website','name':'VR 3000','url':'https://www.vr3000.com/'}, {'@type':'Website','name':'Wet VR','url':'https://wetvr.com/'}, {'@type':'Website','name':'Czech VR','url':'https://www.czechvr.com/'}, {'@type':'Website','name':'Virtual Real Passion','url':'https://virtualrealpassion.com/'}, {'@type':'Website','name':'VR Latina','url':'https://vrlatina.com/'}, {'@type':'Website','name':'Gamelink VR','url':'https://www.gamelink.com/'}, {'@type':'Website','name':'Vixen VR','url':'https://www.vixenvr.com/'}, {'@type':'Website','name':'Reality Lovers','url':'https://realitylovers.com/'} ] }}