These are the top VR porn sites today. You're going to find nothing less than truly authentic virtual videos, including some 360° porn that'll literally make your head spin. If you think there's something I missed, shoot me an email.
Top VR Porn Sites
La Crème de la Virtual Crème!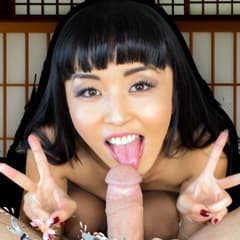 As indicated by the heading, in this category you'll find a list of only the best adult sites on the Web at the moment that are producing scenes in either 180° or 360°. When watched while wearing a Virtual Reality headset they'll deliver an authentic adult virtual reality experience that will knock your socks off. The list is not necessarily a ranking, but I'll admit to putting what I thought to be pick of the litter closer to the top.
At this point I'd expect you, the discerning connoisseur of porn, to ask, "But what sets these sites apart from all the rest?" A great question. I'm a firm believer in the fact that everybody loves porn (especially those who pretend to hate it), but simply wasting the day away getting yourself off to just about anything isn't something I find particularly impressive. This list I've compiled of elite virtual reality sites was a labor of love that I'm glad to be able to share with you. Each one meets and/or exceeds certain requirements that I think are essential, and contain everything from sexy MILFs to young sexy babes like on BaDoink VR
Use Your Oculus, VIVE, GearVR, Cardboard or PSVR!
Let's talk turkey and by that I mean tech. After all there would be no virtual reality porn if it weren't for the cutting-edge technology that makes those sweet curves pop in your face as if they were actually there! These sites, like Naughty America VR for example, employ the latest cameras producing only high-definition 3D films, creating a crisp picture. What's also essential is product compatibility with all the mainstream VR headsets that are currently on the market like Oculus Rift, Gear VR, Cardboard and VIVE.
Other important considerations include the site's ease of navigation, the extent of user interaction, the number of scenes available, how often new videos come out, the cost and having a wide variety scenes with different niches and content. And let's not forget the performers. I'm sure most porn fans would agree that we like the models to not only be sexy, but also to have a large variety from which to choose. Tall ones, short ones, big tits & small, blondes, brunettes, redheads, whatever. Variety is the spice of porn and especially virtual porn videos. Make sure to check out Wankz VR, 'cause they're videos are out of this world
Don't Miss Out! They're Amazing!
These sites are truly the crème de la crème of the upper crust of the sweet, succulent virtual porn pie that's taken the porn industry by storm since its relatively recent inception less than 2 years ago. Whether you're using a Gear VR, a humble Google Cardboard or if you've forked out big bucks and gotten yourself an Oculus Rift, these sites will hook you up with stunning VR scenes that'll entrance you and have you swear you've been transported to another location. You have my word on it.