Hardcore porn has been completely revolutionized by VR tech and we are now living in the age of virtual teen porn. Watch tons of immersive action with girls 18-23. Don't hesitate to email me if you want to share your thoughts.
Teen VR
Looking For the Best Teen VR Porn?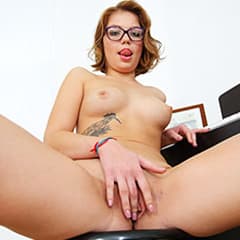 The teen niche is one of the most popular categories in porn. Go on any adult site, sort the videos by most viewed or top rated and I would be willing to bet that at least five of the top scenes feature a teen. So why would it be any different in the world of virtual reality? Except, in this case, it is even better because you get to leave your physical surroundings and enter a virtual world where you are the one getting intimate with a girl. Maybe she is an amateur, a pornstar or a newcomer on the scene working her way up to pornstar status. You never know what kind of exciting teen VR porn experiences are waiting for you.
Virtually Fuck the Hottest Teens
I am not exaggerating when I tell you that the porn world was forever changed the day studios began producing VR porn. It might have been one small step for humankind, but it was definitely a giant leap for porn fans! The innovation came about with the creation of a line of VR devices like Google's Cardboard and Samsung's Gear VR, and more high-end headsets like the Oculus Rift and HTC VIVE. These devices were designed with 3D games and movies in mind, but is not porn just another fun game where you can play with yourself?
Truth be told, teen porn is not the only niche that has been getting the virtual reality makeover, but it is 18-23 porn that I think is extra sweet when watched in 3D. There is nothing like a girl walking up to you, getting on her knees, looking up at you and starting to suck your cock. The future is now and it is full of spectacular virtual teens.
How VR is Different From 2D Porn
So what exactly makes VR teen porn so much better than non-VR, or as I like to call it sometimes, "flattie" porn? For starters, the second you put on your headset, you are disconnecting from the outside world and immersing yourself in a universe of your choosing. Then everything else, including the 3D environment, the ability to explore it in 180 or 360 degrees, the binaural sound and of course, the beautiful teen in front of you, makes it feel as close to the real thing as possible. If a scene is compatible with a smart sex toy, then it literally feels like the real thing! Don't get me wrong, I love non-VR porn too but it just does not compare to the feeling of looking up and seeing a girl's tits swaying in your face.
Where Can I Find Teen VR Porn?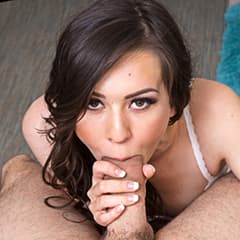 The good news is that virtual porn with teens can be found pretty much everywhere. And if you are browsing this category on VR Porn Sites, then you are already one step closer to finding it with my reviews. One of the most popular sites is TMW VR Net. It comes from the folks at Teen Mega World (hence, TMW), a network of sites focused on teen porn. You get immersive 5K videos compatible with all the major headsets and, best of all, smoking hot girls from Europe.
Oftentimes on teen porn sites, you will see girls who are slightly older, like 24 or 25. But on 18 VR, they take the age requirement seriously, which is why you will only see girls who are 18 and 19 years old. So if you are looking for a place to truly virtually fuck real teens, this is it! Spinners VR is another option, where you'll get to enjoy virtual sex with younger girls and the occasional MILF who joins you for a threesome. If you like more alternative-looking performers, many of them have tattoos and piercings.
Have you ever wanted to have a threesome or foursome with a bunch of sexy European teens? You would have to be crazy to answer no to that question. So head to VR Teenrs to enjoy that exact experience. The site is packed with slim, flexible babes. With their 4K videos in 180 degrees with binaural sound, you will really feel as though the models are right in the room with you. If they are whispering dirty words in your right ear, you will hear it in your right ear! I recommend using headphones.
Get Honest Reviews of Teen VR Sites
You work hard and if you are going to spend cash on a porn membership, you want to know you are getting your money's worth. That is exactly why I started VRPornSites. Too many times I have had friends tell me about how they got scammed or a site turned out to be something different than what they expected. With my reviews, there is no second-guessing yourself. I will give you all the facts, including the pros and cons, the best devices to use, a rundown of the content and so much more.
Looking to save money? I do my best to hook you up with deep VR porn discounts. If I can save you a few bucks, why not? I have secured deals that will save you up to 50% off a monthly membership in some cases. Just look for the "sale" tag next to the listings that have one.
Explore the Virtual World of Teen Porn
If you have yet to take the virtual sex plunge, there is no better niche to try it with than teens. If you are a newbie, you might be a little hesitant, but I can assure you that VR porn is more accessible today than ever before. You do not need to break the bank by buying an expensive device, and setting them up is so easy that anyone can do it. And most sites have informative guides to help you get going.
Got any questions or concerns? Do you have any suggestions for a site I should review? Shoot me an email. I am always interested in hearing what my readers have to say.

When you turn 18 you can either start driving or start working in porn. But watching teen hotties in driver's ed on 18 VR doesn't seem as appealing as the other option, does it?

If you're feeling blue and you want to get off to some hot teen VR porn, then check out TMW VR Net. You're not going to want to pass up on an immersive experience like this.
Sign Up for Exclusive Email Offers
Discounts, scenes and deals -All teens, and all FREE!

There's nothing more tempting than taboo porn. Immerse yourself in the kind of sexual experiences on Virtual Taboo that are too hot to talk about with even your closest friends!

The SpinnersVR collection has hardore scenes with petite babes and the 180° 3D action puts you right there in the room with them. It's like you can reach out and touch them.

What could possibly be better than watching perfect-looking teens who are as horny as hell with insatiable appetites having nonstop sex? Watching it in 180° 3D on VR Teenrs!