Want to play VR porn games that let you date girls and have virtual sex using your 3D avatar? Check out my list of the best ones and email me if I missed something!
VR Porn Games
Play First-Person VR Porn Games
It's crazy to see how gaming has evolved over the years. I remember playing classics like Mega Man X and Final Fantasy back in the day. But those games have nothing on what they're putting out today! Now you can put a VR headset on and transport yourself to another world. And as these games continue to evolve, you can bet your ass that tech nerds are working on ones that more and more look and feel like the real deal! Just take a glance at the list I've compiled here for proof, with VR games that are just a click away. Literally.
Create Your Own 3D Avatar
These adult games offer a myriad of singleplayer and multiplayer experiences. Want to take a girl out on a date to the planet Mars? Or head to a secret multiplayer dungeon where you can meet up with other users to discuss and play out all your wildest fantasies with your 3D avatars? By the way, when you create those avatars, you don't even have to stay human! You can make yourself an elf, a minotaur, or whatever else your heart desires. If you prefer a singleplayer experience, some of these sites provide more story-driven modes where you'll get to interact with AI instead of actual people.
VR Adult Games That'll Blow Your Mind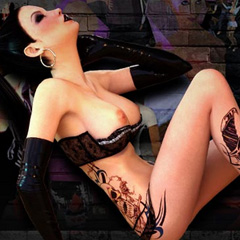 With all the recent advancements in technology, 3D games keep getting more realistic. Headsets like the Oculus Quest and HTC Vive have controllers that help you freely move around in these virtual worlds and environments, all giving you 360° views. And with the power behind these headsets, you can expect superior quality and realistic graphics. Just like any of the games you might play on a PS4 or Xbox One, there are tutorials to help you figure out the controls. So whether you're new to VR porn games or already an expert, now is the best time to try them out.
Become a Part of Interactive Porn
I love playing interactive games! You never have the same experience twice and every day, new experiences are popping up. Now, some of them aren't worth your time, but that's why you'll want to keep it locked here. I'm always on the lookout for the latest games and tech, and will give you a full, thorough review of each. Why spend your money on something you're not sure of, right? Well, I'll take that guesswork away and make sure you're getting all the information you need!

If making 3D avatars and new friends in a fantastic cyber world where everybody wants to get laid appeals to you, then 3DXChat is something you should definitely sign up for.

If you're sexually partial to kinky and imaginative fetishes, then there's no adult game I recommend more than Sin VR. It's got the best 3D virtual graphics available today.
The Best in VR Porn Games - Sign Up!
Get news, updates and giveaways from the top VR porn games.

If you've got an Oculus or VIVE, or even a standard computer monitor, you can play this sexy 3D MMO game where you can build real relationships and have hot virtual sex.

In Amsterdam, single guys looking to sow their proverbial wild oats head to the city's Red Light district. If you're looking to do the same, all you have to do is click here.

Ain't nothing like a sex game to get you off and keep you entertained. Now that VR has been added to the mix, you can strap on your headset and enjoy it in a first-person POV.

Why leave the house to make friends and flirt when you can customize your very own sexy 3D avatar? The cybersex here is superhot especially since you're enjoying it in VR.