This is my list of VR sites that have the best 3D animation porn. Any one of these sites can have three-dimensional cartoon porn, anime content or a wide variety videos for you to enjoy. If there's a site you think I should know about, send me an email.
3D Animated Porn
Watch Sexy 3D Toons in Virtual Reality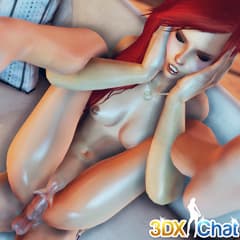 The following is a list of sites that fall under the category of 3D animated porn. The heading is pretty self-explanatory as to what you can hope to find, but if you've never tried it out for yourself then the title doesn't quite do these adults sites justice. These 3D animated porn sites offer much more than simply three-dimensional animated renderings of sex acts, but rather it's a category of porn that provides wholly immersive and super detailed sex games that can provide countless hours of XXX entertainment.
3D Erotic Art, RPGs, MMORPGS, Virtual Worlds & More!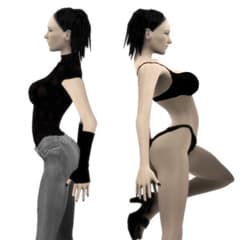 The sites on this list do vary, however, in their complexity and level of interactivity. For instance, some could be better defined as virtual porn games with pre-set story modes for your avatar(s) - a sort of erotic role-playing game - whereas others have no story, but offer virtual reality worlds where there are no expectations other than to live out your dreams and interact with other members' avatars, like on 3DX Chat. You can customize your avatar in multiple ways, from their body size, shape, color, facial expression, hairstyle, clothing, sexual paraphernalia, etc. The best sites give users total freedom to make and create their own personas to use in their artificial reality.
Hook Up With Real People
Possibly the single most important factor to consider when visiting a 3D animated site is its online community. Unless you want to be an online hermit (and trust me you don't), you can freely interact with other people in an artificial reality where you can live out your wildest fantasies together. Aside from having different kinds of simulated sex with any number of people, the online community is often quite helpful in sharing and teaching you how you can design and upgrade your avatar as well as any unique items, clothing, sex toys, etc.
Now, this is where it really gets fun. Recently, some of the sites listed here have begun to incorporate VR headset technology into their products. So you can strap on your headset and have 3D animated porn videos take over your entire field of vision and enjoy a virtual reality landscape that you've had a hand in creating!
Live in a Whole Other World
As mentioned before, the sites are all different in terms of the exact kind of game they offer and the online communities that participate each have a different flavour, but the actual animation found on these sites is on-point every time. With an infinite number of customization options, these sex games can technically go on forever. Or at the very least, they can go on for as long as your imagination can fuel sexy new scenarios. 3D animated porn offers a great diversion to merge your insatiable lust with your creativity. Not only that, but it also offers a meeting place to encounter other like-minded individuals, who, like the rest of us, usually only have one thing on their minds! Leave your ordinary reality behind and make your own.

If you've got an Oculus or VIVE, or even a standard computer monitor, you can play this sexy 3D MMO game where you can build real relationships and have hot virtual sex.
Sign Up and Get Exclusive Email Offers!
Discounts, scenes and deals -All 3D animated, and all FREE!