What you're going to find on VR Hush isn't much of a secret so don't feel like I spoiled it for you when I say it's full of hot hardcore VR porn. Strap on your goggles 'cause you're in for quite a ride. Shoot me an email sometime.

Pros
Popular pornstars
Female POV
360° FOV
Bottom Line
At first glance, VR Hush seemed like a very well put together site featuring some of the biggest names in porn who've all been filmed in hot, hardcore scenes for VR viewing. The videos all played without any problem across all of my headsets, whether I downloaded or streamed them across my Rift, Cardboard or Gear VR. If you're into virtual reality and are lookin' for some hot action, then this site has great scenes that you definitely do not want to miss out on.
My Full VR Hush Review
Tired of Looking at the Same Old VR Sites?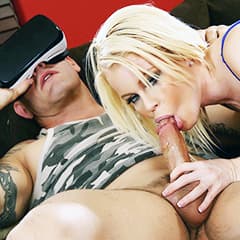 VR Hush has hardcore scenes featuring some of the hottest porn stars in the biz today. One scene features your favorite MILF Nina Hartley and some other famous stars include petite teen Riley Reid and blonde bombshell Aubrey Gold. Some of the videos are going to be solo with the women going to work on themselves with power tools in pussy-poppin' 3D so it appears right before your eyes like it's the real thing.
True 360° FOV
I briefly streamed a few scenes directly to my smartphone to view through my Cardboard reader and they looked pretty good and even had a true 360° FOV, so you can spin around and have a complete look at the set. Some sites don't even offer the ability to stream their content, which most times I don't mind as I prefer to download them. But for convenience sake, it sure can be a whole lot quicker. The quality of the video I streamed was pretty smooth and the head-tracking was on point so I decided to download the file compatible with the Oculus & GearVR, expecting it to look much better on those headsets.
Works Great Across All Headsets
While streaming VR scenes has its benefits, like not having to wait for a download to finish, or having it take up precious hard drive space, it also has its limitations like being prone to the quality of your internet connection, which could possibly result in clunky streaming. That's why I strongly prefer to download scenes and I got to tell you it looks way better to me every time.
As many of my longtime readers already know, I've got three mainstream headsets: a Cardboard, the GearVR and the Rift. I tried out a bunch of scenes on each headset and they invariably had a much more immersive feel compared to streaming. Though, that being said, these three devices couldn't be further apart in terms of their capabilities and the higher I went up on the price chain, so too did the quality of the VR effect.
Multiple File Types & User Features Galore
I only tried out the files meant for my devices, but there are others for each scene including the HTC Vive, PSVR, three Smartphone-compatible files (low, medium and high), as well as one in 4K, which isn't VR, but it definitely looks sweet if you've got a graphics card and monitor that can support it.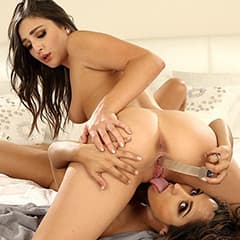 In terms of design, it's a very well put together site. Each scene is dated, contains a model tag, category tags, a pretty lengthy and erotic description, and a photo set. Four of the scenes so far are filmed from the female POV (half of which are lesbian), which still remains a relatively unique niche in VR. You can sort by date, popularity, rating and even check out upcoming scenes. Every scene can be commented on, as well as rated and saved as a favorite. There's even an advanced search.
Hot VR Right Here!
Despite the name of this site, I simply couldn't keep something this hot a secret from all of you. The biggest names in porn are fucking like gangbusters in 3D and a 360° view, so you better get on this as fast as you can before you regret it. I really couldn't narrow down any kind of con, but I guess it wouldn't be too greedy to say that some bonus content would be nice. Still, this one's a real winner.
Click Here To Visit Website
Similar Top VR Porn Sites