VR Conk lets you watch mostly 180-degree solo scenes with hot Czech babes pleasuring themselves in 4K 3D with binaural audio. Let me know what you think by email!

Pros
Exclusive scenes
Immersive 4K 180° videos
Cons
Same models used repeatedly
Mostly solo scenes
Bottom Line
The scenes on VR Conk are super hot, but most of them are solo, so you'll need to keep that in mind if you prefer hardcore VR scenes. They also tend to re-use the same five girls. They're all undoubtedly sexy and sensual, but if you're looking for variety you don't get much. Everything is high in quality, though, and overall, you'll love these sexy Czech girls.
My Full VR Conk Review
Steamy VR from the Czech Republic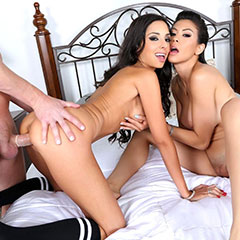 Conk makes me think of a sound effect. You know, like when the bad guys got hit in the head in the '60s Batman show with Adam West. Well, you might have a similar feeling when you enter VR Conk, because your head may explode from the sexy girls you'll be having virtual sex with in steamy VR scenes. I'll let you decide which "head" I'm talking about.
Watch Hot Czech Babes
Sexy babes from the Czech Republic grace us with their presence here. Five models are starring in all the videos. They're mostly of the same body type, which means slim with medium to big tits. So if you're looking for variety, this might not be the best place for you. These girls are also a bit of mystery to me. I didn't recognize them and their bios give you nothing but very basic stats on their appearance. Still, I can say with confidence that they're all smoking hot.
Mostly Solo Virtual Scenes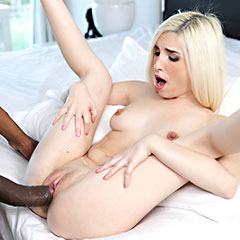 We're used to being part of the action with VR porn, but here you'll mostly be sitting back and watching as one of the models pleasures herself. There are some hardcore scenes, too, where you get to enjoy these babes climbing on top of you and pulling up their skirts so you can fuck them. In one steamy scene, you get to fuck your maid. After cleaning your home, she needs a tip, right? Well, in this case, it's your cock (which also happens to be the name of the scene). You'll also be watching couples having sex, which is nowhere near as immersive.
Whether you've got an Oculus, Vive, PSVR, Gear VR or just using one of the cardboard devices, the 22 scenes on VRConk are compatible with all of them. Whichever you decide to go with, you're getting stunning 4K 3D scenes running at 60FPS and giving you some fantastic 180° views. Plus, they state that a new 5K video is landing in September 2018.
Fantastic User Features
You have sorting and filtering options, a basic search engine and tags. You can also rate and comment on the scenes and save your favorites. Basically, all the features you'd want on a site. The only "off" thing is their categories. Some, like orgy and tattoo, don't have content that matches that category. Presumably, it's because they don't have it on the site yet, but in that case, why bother having the category at all? "Group sex" gave me a solo scene, and "tattoo" gave me a chick with none at all. I did like their "VR Room" feature though. It's a virtual 360-degree room where you can watch trailers for all the scenes. Not sure why they're only trailers, but I thought it was interesting.
A Decent Virtual Porn Collection
Yes, the collection is small and they tend to reuse the same models, but who am I to complain about sexy Czech babes pleasuring themselves and having sex with you in immersive VR scenes? I do not doubt that you'll enjoy it as much as I did.
Click Here To Visit Website
Similar Top VR Porn Sites