BaDoink VR has got to be most impressive virtual reality websites out there. These videos are amazing: mind-blowingly hot and they also make you feel like you're in the scene! Let me know what you think via email me.

Pros
Over 100 exclusive scenes
Free VR Headset with membership (US only)
Streaming Theater Mode (for mobile devices only)
Cons
No favorites section
Theater Mode still in beta
Bottom Line
If you're looking for high-quality VR porn that's always shot in 180° immersive 3D featuring the sexiest porn stars, I'll give you my personal assurance that BaDoink VR is the site for you. With so many different niches and scenes, be prepared to be spending a lot more time getting hot and bothered in XXX virtual reality.
My Full BaDoink VR Review
Tons of VR Scenes + Bonus Content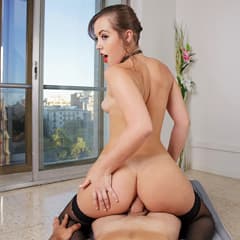 BaDoink VR is one of the cadillacs of VR porn today. They've got a good number of virtual videos, plus every scene is shot in 180° immersive 3D, so if it's VR you seek then you've come to the right place! Also, any subscription to the site will also give you full access to their standard content, where you'll literally have access to over 100,000 scenes right at your fingertips.
180° & 360° Scenes
There's also a pretty sweet model index you can find under the "girls" tab. Not only can use it to sort through scenes by the model of your choice, but also each profile contains a bio and links to the model's social media feeds. You can also filter the scenes by category and they include "180°" and "360°", but there's no search bar. While you can't favorite any of the scenes, you're still able to rate and comment on them and you'll notice that the support staff is very responsive to any comments/concerns you might have and they actually offer 24/7 support.
Brand-New Theater Mode For Mobile Streaming
BaDoink VR is the only virtual reality site that I've seen so far that offers a fantastic way to stream their content directly onto your mobile device that they call their Theater Mode. Up until now, every time you wanted to get to a different VR scene through a smartphone headset, you'd have to take out your phone from the device and pick the scene manually and then pop the phone back into the headset. No longer with BaDoink's sweet theatre mode. Using cutting-edge technology, all you have to do is open the site, place the phone back in your headset and just look directly at the scene you want to watch. It works by tracking your eye movements. It's pretty neat, but word to the wise, it's still in beta mode while they iron out the last few remaining kinks.
Download Options For All Mainstream Headsets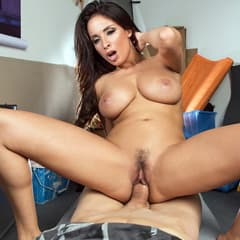 I tried this site out with three different headsets: Cardboard, Gear VR and Oculus, which also happen to be the three they support! Fittingly, you can download one of four files for each scene: LQ for smartphones (30fps), HQ for smartphones (60fps), Oculus (60 fps), and Samsung (60 fps). BaDoink VR also has a pretty comprehensive help page where they answer the typical FAQ, but more importantly, how to play their videos on any one of the devices they support, which also includes Dream.
The Oculus Rift proved to be, once again, the superior viewing device, playing high-quality audio and visuals with no problems whatsoever. Though I must say that the files all played swimmingly on the Gear VR and Cardboard units, too. While their help page is pretty useful, I found their instructions for using the Oculus Rift to be kind of clumsy. Also, the downloads were almost devastatingly slow. But this is something that has been been recently brought up by other members in the forum and the site has promised that a solution is on the way. .
Sign Up and Get a Free Headset!
BaDoink VR has been blowing up the internet as of late, but you don't have to take my word for it. In addition you can find some of their videos on Pornhub and VR Smash and they've even got their own tube site: VR Sumo. They've got a crack social media team that constantly keeps the porn community abreast of their activities across platforms like Facebook, Twitter, Instagram, Youtube and Wikipedia. Email me if you know of others!
Everything considered, the site is awesome! They provide the high-quality VR product you've been looking for, with no fake 360° 2D videos in their cache. With a simple and clean interface and scenes filled with the hottest performers having different kinds of in-your-face POV-style virtual sex, I'd feel confident recommending this site to my own mother.
Click Here To Visit Website
Similar Top VR Porn Sites