Ready to Explore 4K VR Porn?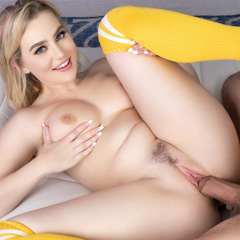 Over the past 10 years, video quality has continued to improve at an exponential rate, but the most significant leap forward likely happened around 2012 with the introduction of 4K resolution. The leaders in entertainment tech like Sony and Samsung took advantage of this digital uprising and today, 4K is widely available on practically every streaming service you visit. The porn industry has adapted to this technology quickly too. As soon as the capability to film in 4K became available, the big brands used it to create high-quality videos that, up until that point, no one had seen, eventually propelling VR porn sites to do the same.
Where Can I Find VR Porn in 4K?
Since it's been around for a while, the good news is that 4K VR porn is available on most every popular site as well as some of the smaller ones. So the question becomes, which sites have the best virtual reality porn in Ultra HD?
VR Bangers - Many things make this site special, including their huge library of exclusive VR porn, with video quality ranging between 4K and 8K. They also offer a free player app called PLAY'A that makes the streaming process hassle-free.
Naughty America VR - This is one brand that has had tremendous success for decades. You can bet that their 4K VR porn collection matches the level of quality you've come to expect from all their original porn series including My First Sex Teacher and My Sister's Hot Friend.
BaDoink VR - I can argue that this site had the strongest content launch of any other VR porn site, with their older videos still among the most-watched scenes online. One unforgettable video, in particular, stars the gorgeous Gabbie Carter just as she was getting started in the biz.
Wankz VR - Their catchphrase is "stop watching porn and start living it." And that's exactly what you'll be doing when you are virtually fucking your sex-obsessed stepmom, that foreign exchange student in uniform, and any other fantasy within their fantastic collection of 4K scenes.
These four sites are a great place to start, but Ultra HD porn is right at your fingertips on almost every VR site. I would go so far as to say that any site that is offering less than 4K quality just isn't worth your time or hard-earned money.
How Does 4K VR Compare to 1080p?
You may be asking yourself if 4K is that much better than Full HD. The short answer is yes, it is. The main difference between the two comes down to the resolution. 4K videos contain more than 8 million pixels on a screen while 1080p has about 2 million. That's a huge discrepancy between the two and even the most tech-challenged person would notice the difference.
Why 4K is Still a Reliable Quality
Some may wonder if 4K is an outdated format now that higher-quality content exists, all the way up to 8K in fact. Maybe one day but not today. The main reason being that anything higher than 2160p (4K) takes a lot of processing power, and the devices required to play them can cost anywhere from $500 to over $1000. It also costs more for studios to produce content that high in quality because equipment gets expensive as the quality rises. But that's changing with devices like the Quest 2, whose power-versus-price marketing is unbeatable.
Download size must be considered too. Those 8K files can be massive. I've seen some as big as 20GB for a single video! Imagine for a second that you're using a headset with a storage capacity of only 32GB. You've just eaten up a big portion of space, leaving you with almost no room for anything else. Even though the Quest 2 has 64GB and 256GB options, if you're downloading a lot, schill out for a PCVR-compatible HMD.
Simplify Your Streaming Skills
When 4K VR porn launched several years ago, streaming was clunky. Buffering and latency were standard at best, but things have improved. The best sites have upgraded their server strengths and now, you'll rarely encounter those issues. Plus, apps like Deo VR make streaming a piece of cake. But just because lag is rare doesn't mean it'll never happen. For that reason, sometimes downloading is the way to go. 4K VR files are generally in the acceptable range of 1GB to 3GB, so they shouldn't take up too much room on your device. If you use PCVR, you'll have to worry a lot less about the download sizes.
What's in Store for 4K VR Porn?
When it comes to advancements in technology, VR porn isn't afraid to take risks. That's why the industry is often so ahead of the game in the entertainment world. Over the next few years, I expect devices to become more affordable and more powerful, meaning anyone can immerse themselves in an 8K virtual reality experience without breaking the bank. Until then, 4K VR porn reigns, whether you're using the least-expensive device or have set yourself up with a more premium PCVR rig.