If you're a fan of live sex shows and own a VR headset, you're going to want to check out my list. These XXX chat sites have integrated the tech and your favorite models will be transformed into virtual performers! If you try them, tell me what you think by email.
VR Sex Cams
You Can Now Watch Live Sex Cams in VR!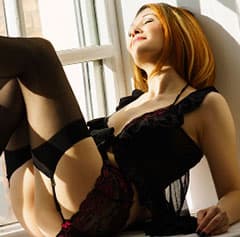 You know when you're watching a really hot live cam show and you're having so much fun interacting with the model, either through text or audio? Have you ever dreamed about how much better it would be if only you could be in the room with them instead of looking at them on a monitor? Well, guess what, spanky, you're in for a real treat 'cause live cams have been upgraded to the next level. With the relatively recent advent of VR technology in the porn industry, it's finally been adapted to deliver live streaming webcam sex shows straight to your device!
Any Headset Will Do
The immediate consequence of this evolution in live cam shows is nothing short of awesome. If you've already hopped on the virtual porn wagon and acquired a headset, there's no reason you shouldn't try this out. Whether you have the humble Cardboard, a Samsung Gear VR, the preeminent Oculus Rift or any VR device to use with your smartphone, you can be on the cutting-edge of technology streaming some hot virtual reality sex cams in no time at all.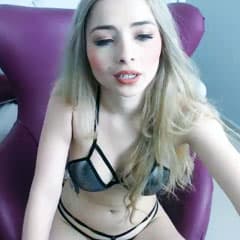 For most of 3D porn's brief existence we've been compelled to use our headsets to watch pre-recorded scenes, either by streaming them directly to our phones or devices, or by downloading them. For a while it seemed like VR studios were still trying to get the technology to stream a pre-recorded scene in eye-busting 180° or 360° 3D to work, let alone for it facilitate a live stream. But in just a couple years the technology has been perfected.
Cam Models Are Always Up Close & Personal
The experience is nothing short of amazing. When you put on your headset you'll see what I mean. Out from the everyday, ordinary way of consuming porn through your computer screen, this advanced technology brings you closer than ever to those live cam models we all love and lust after. And when you really get into it you can become so immersed after a while that it's not unusual to forget that you're watching virtual reality and to think you're actually there in the room with the girl. It's that good.
Here's some free advice you could probably figure out for yourself - the better your tech is, so too will be your ive cam experience. This applies not only to the headset itself, where currently the Oculus Rift is king in terms of delivering the most crisp visuals and therefore most realistic experience, but the tech requirements also apply to your computer, smartphone and internet service provider to ensure you'll be getting a fast and smooth stream.
While the list is not particularly long at the moment, there's no doubt it will grow as soon as more sites get in on this latest technological ability. It's amazing how fast technology is developed when there's an opportunity to increase human sexual pleasure! So try out one of the sites on the list, strap on the old headset and get that live cam show streaming in full 3D reality.

If you love chatting with pretty girls on live cam sites, then it's time to take your experience to the next level! Meet and talk to sexy babes in virtual reality, right here on Strip Chat VR.

CamSoda was already one of the world's largest live cam sites. They've got a great platform and a huge roster of sexy models. CamSodaVR has become a whole other sexy beast.
Get Exclusive Email Offers
Deals, free tokens & minutes for the best VR cams!

You love live cam shows, but have you tried a VR show yet? If you've got a headset, then head to Cam4VR and enjoy interacting with models in 180° stereoscopic 3D.

Take live sex chat to the next level with XVR.chat. You'll be able to get up close and personal in virtual reality with beautiful cam girls that are waiting for you to come and meet them.