Here's my list of the best sites that feature interactive porn videos. I like to describe it as a kind of choose-your-own-adventure where you can have lots of interactive sex. It's a lot of fun and I'd love to hear what you think, so shoot me an email me.
Interactive Porn
Interactive Porn is Here and It's Hot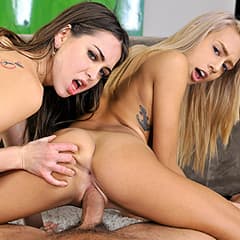 This category includes a list of the top interactive porn sites online today. For some foolish reason, this niche has been grossly overlooked in the larger porn industry and I'm here to tell you to give it a try and that I promise you will be pleasantly surprised.
Some Are VR Compatible & Some Are Not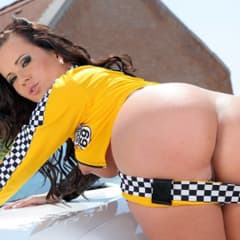 I'll start with a brief introduction for those who have no idea what interactive porn is, let alone actually visited a proper site that delivers it. First off, congratulations on exploring a new and often underlooked form of porn and you're in store for something really special. Now, some people think interactive porn will always consist of VR technology and vice-versa, but this is often not the case. The term interactive suggests a greater degree of realism, which in turn is conflated with the key aspects of virtual reality porn.
Now, virtual porn videos can be interactive, especially in the growing niche of live cam shows that are compatible with the headsets, but most of the interactivity of virtual porn is being able to look around from different angles. Actual interactive porn actively engages you and offers a multitude of options that I think far outweigh being able to look at a scene through different angles.
No Scene Plays the Same Way Twice
These sites essentially offer a choose-your-own-adventure porn experience, like Life Selector for example. Each time you "play" a scenario, you're given a series of options as to what happens next. They can range from what door in a mysterious house you choose to open to what kind of debauched act of sexual depravity you'd like to commit. All of this is done through a POV angle to give it the suggestion of being in a virtual reality.
The best interactive porn sites are the ones with as many different and fun options to choose from. That way it won't get boring and you can always restart it and choose a different set of options and watch XXX scenes that you wouldn't have before. These type of sites aim to please in more ways than one by turning you on and entertaining you.
An Immersive Porn Experience
Call me crazy, but I think this type of interactive sex story is for the real adult fans out there. Anyone can fap themselves off in a couple of minutes to a money shot, but it's the real expert who takes the time to slowly build up to their climax. Typically these people make better lovers. I'm sure you'd agree. (Wink, wink. Nudge, nudge.) And the storylines aren't cheesy, slow, or confusing like so many plotlines in adult films. Each of the sites on this list produce fun, exciting and arousing interactive content, so check them out today.

Life's much better when you can decide what happens instead of just letting it happen to you. That's why there's Life Selector. Here you'll be able to choose your own sexy adventures.

Saboom is an interactive porn site where you'll be able to choose what happens in each scene. From hardcore action to romantic moments, this site is a definite winner.
Get Exclusive Email Offers
Choose your own deal! Interactive VR straight to your inbox!

Take things to the next level with Dezyred, an interactive VR game where you get to decide how you want to fuck a pornstar. Each scene has multiple choices and outcomes to explore.