Naughty America VR is a multiple AVN award-winning megasite that provides an incredibly realistic viewing experience of the hottest hardcore models, their virtual porn videos put you as close as possible to living out your lusty virtual reality fantasies. Email me.

Pros
Works on all mainstream VR headsets
Easy to browse on both desktop and mobile interfaces
Bonus network with 47 more sites
Cons
No streaming option
No 360° viewing option, only 180°
Bottom Line
Put simply, Naughty America VR is the next step in the evolution of porn. So much so that I wouldn't be surprised if regular porn or 2D porn soon becomes a thing of the past. While their videos lack the 360° experience, the 180° stereoscopic vision is still pretty good and the step forward to 360° is sure to come with the growth of this new medium that's still in the developing stage.
My Full Naughty America VR Review
This Site is A Leader in Adult VR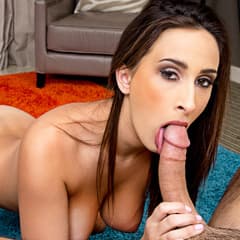 When I first heard about VR porn I'll admit I was intrigued, but skeptical. I honestly didn't know what to expect. Would it be like Nintendo's 1995 Virtual Boy that offered crappy rudimentary visuals? Or would it be more like the immersive Holodeck experience on Star Trek? 3D Porn had also advertised itself as the next level in technology for the porn industry and it proved to be a disappointment. But the VR porn here is so much fun that I don't think I'll be going back to non-VR smut if given the option.
Bonus Sites = Great Value
First off, after completing your subscription (which has a great value considering you get unlimited access to their entire network of sites), you're going to download the video(s) you want to watch directly onto your smartphone or computer. If you're using a smartphone-based VR headset, such as Cardboard, Samsung VR or HTC VIVE, load the newly downloaded videos through a VR app, available from either Google Play or the App Store.
No Streaming Option, Download Only
Once the file is loaded, place the phone into the headset and you can begin to enjoy some steamy VR porn. If you're using the Oculus VR headset, you're going to have to transfer the files onto an SD card and then insert that into your Oculus unit. If you don't have a VR headset yet, the site offers their own specially branded cardboard unit that's compatible with both new Android smartphones as well as iPhones for only $15.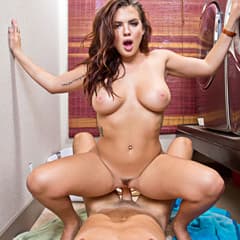 As for the actual video content and viewing experience, I think nearly everyone will be pleasantly surprised. As the video starts, your entire vision is taken over by the hottest women going down on you or riding you or a bunch of other hot stuff we'd all like to do to them and have done to us. And not only are these scenes exclusive to this network, but they're also shot using the latest HD technology.
I tried the site using both a Gear VR and a Cardboard unit with my Samsung Galaxy 6 smartphone. I preferred the Gear VR to the Cardboard unit, as it completely enveloped my head, ensuring that nothing from the real world could infiltrate my vision. Other than that, the viewing experience between the two devices was pretty much the same as I was using the same smartphone.
Smoking Hot Models
As always, the models on this network are all smoking hot, each possessing devious talents that'll get your rocks off for sure. And what's more, in a VR video, they are literally all you can see. No more unwanted distractions from the non-porn world. You couldn't look away if you wanted to, but you wouldn't anyway!
You'd Think 360° Is Important, But It's Not
Perhaps the most obvious reminder in so much VR porn that it is, in fact, a virtual experience is that when you turn your head around, all you see is a black screen. That's the one thing about this site that leaves me wanting. Reality is undeniably 360° so it can be a bit disappointing to just get a 180° view.
That being said, it's important to consider the practicality and necessity of a full 360° experience in every scene. It may not be warranted for one-on-one scenes or even threesomes. It would, however, certainly add to the illusion of being transported to another reality when enjoying orgy or gangbang videos. But these scenes have yet to be produced en masse, owing to the fact that VR scenes are still relatively new, so there's also a limitation to the variety of content.
Unarguably One of the Best VR Sites
Naughty America VR has been bravely leading the virtual reality porn industry for some time now and their hard work has been noticed by many.CNET recently published an interview with NAVR CIO Ian Paul at E3 2016 (Electronic Entertainment Expo). Plus, there's an interesting article from The Verge that delves into how NAVR is going to save the adult industry. You can also follow their Twitter, Snapchat & Instagram accounts. If you come across other links drop me a line.
Personally I think this website is a lead-pipe cinch for porn connoisseurs who are interested in taking their hobby to the next level. NaughtyAmericaVR has the hottest babes getting naked and nasty, all for you to enjoy in a way that's as close and realistic as ever.
Click Here To Visit Website
Similar Top VR Porn Sites