Lethal Hardcore VR has a killer selection of reality porn, where you can fuck the sitter or your student, as well as watch some Warcraft-themed content. Let me know what you think by Email!

Pros
Exclusive content
180-degree 4K scenes
Optimized for smartphones
Cons
No user features
No bonus content
Bottom Line
Lethal Hardcore VR allows you to immerse yourself in reality porn, where you can fuck the sitter or give your stepsister a sensual massage, as well as fantasy porn with Warcraft cosplay. There are dozens of videos, all in 180 degrees with 4K resolution, compatible with all the major market headsets. The site is optimized for mobile viewing, but the interface is lacking a bit. It's definitely still worth checking out though.
My Full Lethal Hardcore VR Review
Get Ready for Some Killer VR Porn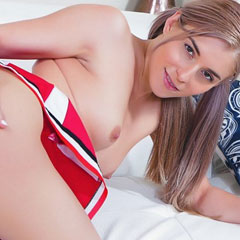 You might already know the name Lethal Hardcore because of their hardcore site with hundreds of HQ videos. Now they're dipping their metaphorical toes into the world of virtual reality and giving us Lethal Hardcore VR. The word "lethal" fits too because you'll see a few chicks brandishing swords and armor, ready to fight to the death (no, seriously, they do!). But don't worry, that's not before they get naked and fuck you.
Check Out Reality and Fantasy-Themed Porn
As soon as you log in, you land on the "latest experiences" page. You can click the "VR experiences" tab to see the rest of the collection. I think calling them experiences makes sense because there are essentially two types of VR scenes here - standard hardcore ones, usually with a taboo theme, and fantasy porn with pornstars dressed as characters from the Warcraft video game universe. These are actually scenes from their other site, Whorecraft VR, and it looks like here they've merged the two. If you were to visit WhorecraftVR, you'd get all the scenes from LethalHardcoreVR as well.
Spend Time With the Sexiest Pornstars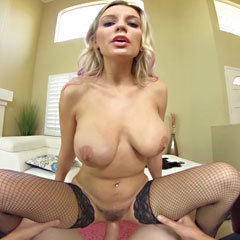 In one scene, Abella Danger plays a blood elf with a mana addiction. She enters your home to steal mana from your body and there's only one way to do it - suck it out of you! I'll let you guess which part of your body she has to suck it out from. In another scene, I played Tiffany Watson's probation officer and when I catch her in violation of it, she offers to fuck me in exchange for keeping it a secret. I loved that I could go for something a little more "traditional" and something super wild and fantastical. Throughout all these videos, you'll see pornstars like Lauren Phillips, Alexis Monroe, Jade Kush and more!
Immersive 4K Scenes
Right now, you have a solid collection of 52 videos, all of which are in 180°. They're running at 60FPS with binaural audio. It really lets you feel like you're immersed in the scene, no matter which headset you're using. Currently, they support PSVR, Gear VR, Oculus, Vive and cardboard smartphones. The highest quality downloads are in 4K and you can even stream the videos in Full HD.
Optimized for Smartphones
Lethal Hardcore VR is best viewed on a smartphone. In fact, I'm pretty sure it was designed specifically for it because all of the content is displayed on a single page. But the part that bugs me is a little is there are absolutely no features on either the desktop or mobile interface. No search engine, no tags, no categories and no favorites. As the collection grows, this is going to be felt more.
You'll Be Left Wanting More
Lethal Hardcore VR will give you a deadly dose of horny pornstars in VR action that ranges from fucking the sitter to losing a battle with a sword maiden and being "punished" by letting her do whatever she wants to you. So strap on whatever headset you own (Android-compatible headsets are probably best suited here) and have as much fun as I did exploring these fantasies.
Click Here To Visit Website
Similar Top VR Porn Sites