VR Bangers features porn's sexiest virtual babes fucking themselves, each other and even you! I'll bet that after just one visit to this site you're going to start seriously considering leaving reality for virtual reality porn videos. Don't hesitate to email me.

Pros
Free VR headset with 90 or 365-day signup
Functional streaming
Multiple files for download
Cons
Not a lot of content
No search engine
Can't rate or comment on videos
Bottom Line
VR Bangers is one helluva virtual reality site with the sexiest women getting it on so that you can get yourself off in high-tech style! Their production quality is amazing and with their more recent videos you can tell that they've been working toward improving your VR experience since their first batch. Now they've just got to make their site a little more user-friendly with a better display, a search engine and smooth out some technical wrinkles like menus that don't auto-close.
My Full VR Bangers Review
Big Name Teen Pornstars Now In VR!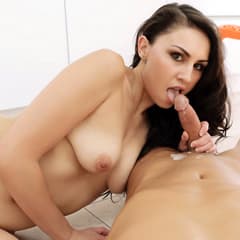 For me VR Banger's biggest pull, aside from the amazing quality of their recent videos, has to be the models. With a roster that boasts 20 smokin' hot young babes ranging from their late teens to early twenties, they have some of the biggest names in porn today including everybody's favorite ginger vixen Marie McCray and sexy spinner Riley Reid. Like so many other VR studios, the first few videos are solo, but you can also watch lesbians, couples, threesomes and even a gangbang scene.
As for their actual site, VR Bangers has a great interface with eye-catching images and large, clearly labelled links, but there's still some things about the site that could be improved. For instance, how their videos are displayed. Stacked vertically at only three at a time, you have to then scroll to the bottom of the page and click "load more videos" to see another three videos. Personally I prefer more of a grid display where you can see all the videos at once. And you can't search by niche though you can search by model using the "our girls" menu. You also can't post comments or ratings or favorite the scenes.
360° Ultra 4K Scenes & 3D 180° Scenes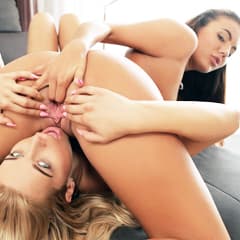 When they first started, their first 12 scenes weren't shot in 180°. Rather they were shot in 360° Ultra 4K HD, which, as good as it sounds, lacks the essential 3D component that'll give your virtual reality experience that extra kick that makes people and objects seem to leap off the screen. This means that at the moment VRBangers only has 14 true VR videos, which is not a lot. But when I ran those 14 scenes through my Oculus, Gear VR and Cardboard unit, I was more than impressed. This is especially true because the site offers multiple downloads for each scene and some even let you choose between a 180° or 360° FOV.
I thought the best way to enjoy the scenes was by downloading them and then playing them on my Oculus headset. The visuals are just so crisp and clear and in your face that I realized why this is one of the most expensive VR devices on the market today. The Cardboard, as affordable and pragmatic as it may be, can't hold a light to the Oculus Rift or even the Gear VR, but it's great for streaming. If you have a Gear or Oculus, I recommend downloading the files. I'd give my experience using the Gear the silver medal for having almost as good visuals as the Oculus, but ultimately coming up short.
They're World Famous!
Overall this is a good site with really hot XXX virtual reality videos. It seems like they've only recently began to get in gear, especially when they started to shoot their videos with real VR specs. Also VR Bangers currently has promotional offers where they'll send you a Cardboard device for free when you purchase a 3-month subscription at $13.33/month, or a premium device with a 1-year membership at only $8.33/month.
Click Here To Visit Website
Similar Top VR Porn Sites