If you're interested in exploring your kinky side in VR, then you need to check out my list of the best BDSM VR porn sites. Have any thoughts or suggestions? Hit me up by email!
BDSM VR
An Unforgettable BDSM VR Experience
BDSM (bondage, discipline/domination, sadomasochism) is a beautiful thing. If your experience comes from reading Fifty Shades, well, I can tell you there's so much more to it. Sure, whips, spanking and chains are important elements, but it's also about giving up control as you submit to a Domme and succumbing to the vulnerability that it entails, or conversely, being the dominant one who takes control and gets that sexy babe to do your sexual bidding. Now, imagine putting on your favorite headset and transporting yourself to a secret dungeon. With BDSM VR porn, all your kinks will come to life!
Explore Every Fetish Imaginable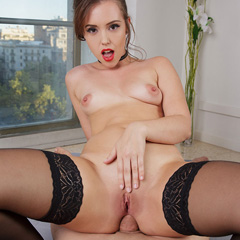 Picture this: You walk into a dungeon and in front of you, a submissive teen is tied up with her legs spread. You're holding a whip in your hand and you walk up to her and use it on her thighs as she moans every time you make contact. And that's just a fraction of what you'll get to experience! All sorts of fetishes are on these virtual XXX websites. Everything from having a babe's feet and soles right up in your face to flogging, facesitting, shibari rope bondage, spanking and more!
Enjoy Kinky 5K VR Porn Scenes
These BDSM scenes come to life thanks to 4K and 5K resolution. The whole point is to feel as if you're really spanking that pornstar, and these virtual reality movies make it as close to the real thing as possible. For starters, all the sites have 3D videos that run at 60 frames per second, which gives them that smoothness and makes it seem like you're in the room. Add to that the stereoscopic surround sound and you'll hear everything that's happening around you. You're going to forget you aren't actually in a virtual environment!
Stay Updated on BDSM VR Porn
If you want to stay up to date on the latest BDSM VR porn sites, make sure you bookmark VRPornSites.xxx. My name's Paul and I'll be your guide through this virtual world of porn. I have a passion for this stuff, so every one of my reviews is going to give you all the details you need to figure out if a site has all the kinky VR content you're interested in. As the tech evolves, so too will my reviews so you can always count on staying as informed as I am on all things VR porn!

There's one reason above all else as to why adult virtual reality is so popular nowadays. Basically, it's because it seems so real! Just like the scenes on Real VR.

Want to watch bondage, D/s, spanking, role-playing, strapon sex, ball gags and more in virtual reality? Then it's time to branch out and get off to the kinkiest content on Kink VR.
The Best in BDSM VR Porn - Sign Up!
Get exclusive email offers on the best BDSM VR Porn sites!

For 20+ years Wasteland has been putting out the hottest fetish and BDSM porn. Now they've got own their own erotic MMO virtual reality game called Wasteland 3D.