What's Happening on POVR?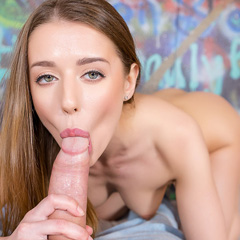 You have to admire a good play on words. As soon as I saw what the sitename was, I knew what they were selling. Yes, it's a VR site and yes, it's mostly POV content. But what I wasn't immediately aware of was that this was a free tube site with over 15,000 VR videos from some of the biggest studios today.
Explore VR Porn on a Rift
Like most tube sites, 3D or 2D, there's a free version and a premium version. Before I even checked out the latter, I wanted to know what I could get for free. So, with my Oculus Rift, I dived into the site and took the time to examine all the free videos. As it turns out, they're just 2D trailers, so while you can still watch them with your headset, there's no sense of immersion. Everything looks flat, which defeats the purpose of VR.
The content includes some of the best VR collections today, like VR Bangers (one of my personal favorites), Wankz VR and Virtual Real Porn.
But then I flipped the switch - literally. A button automatically removed from view all the free content and revealed a little over 3,000 true VR videos, all in their full length. But that will cost you, of course. Considering a membership is $25/month, that's a solid amount of content for the price and I think it's worth it.
Experience Virtual Porn Scenes in 8K
The premium content looks incredible. Since the videos come from all over, the quality is a mixed bag. At best, I saw 8K videos and never anything lower than 4K. Whether it's a 180 or 360-degree video, the virtual space feels and looks real. The audio is always clear and they use stereoscopic technology, so everything sounds like it's happening in your room. I recommend headphones to get the full experience. They don't explicitly advertise if the videos are running at 60fps, but to my naked eye, they certainly were. I would say maybe even 90fps for the higher 7K and 8K vids.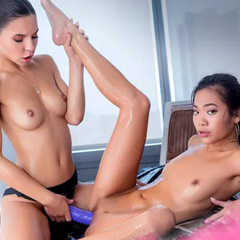 Content From the Best VR Porn Sites
Yes, this is a tube site, so you might be wondering where they get their content. And the answer is from all over including some of the best VR collections today, like VR Bangers (one of my personal favorites), Wankz VR and Virtual Real Porn. So the sheer variety is incredible. Whether you want to have a virtual orgy with eight pornstars, dive into a Kill Bill parody or watch a blonde squirt all over your face, you can do it all on POVR.
Here's something you don't often see on tube sites - original content! They just started, so there are only 16 scenes. The experiences range from fucking a nurse dressed as a Harley Quinn-esque clown to a pillow fight with two teens that eventually turns into a hardcore threesome.
Find Trans VR & Female POV Scenes
The experiences don't stop there. You also get a decent amount of trans VR porn as well as virtual movies from a female's perspective. They don't show up in the collection by default, but if you flip the Female POV and Transgender switches, they'll pop-up. Plus, you can't forget all the interactive scenes that you can connect to your smart sex toys. In conjunction with Bluetooth, they vibrate with the action on-screen. These kinds of toys are pretty affordable these days, so if it sounds like something you'd want to try, it doesn't have to break the bank. I recommend brands like Kiiroo and Lovense, both of which are often advertised on VR sites.
Downloads For Every VR Device
When it comes to headset compatibility, you're covered across the board. There are downloads for all the major ones, like the Rift, Vive, Valve Index and Gear VR. And what I appreciate is that there are multiple options for each. Say, for example, you've got a Vive, suitable downloads range from 4K to 7K. In the case of the PSVR, though, you only get one option because it can only power up to 4K anyway.
At best, I saw 8K videos and never anything lower than 4K. Whether it's a 180 or 360-degree video, the virtual space feels and looks real.
Check Out Their Interactive Theater Mode
I've talked before in other reviews about different ways to stream content, including free apps like Deo VR. But this time, I'm going to skip all that and recommend you check out their VR theater mode. They call it the POVR Room and it's a fun way to interact with all the content. You'll sit down in a virtual theater-like environment where you can sift through all the content at your leisure. Then just play the video you want. I found the entire experience to be smooth and there was rarely any buffering. I normally still try other streaming methods when I review a site, like via my headset's browser or one of the apps, but I figured it was working fine, so I stuck with it.
Consult Their Helpful VR Guide
If you need help getting started, connecting your headset or just playing the videos, I highly recommend you check out their Help Guide. It's one of the more detailed guides I've seen. They have instructions for all devices that are easy to follow along, with many FAQs that are super informative. Alternatively, you can seek out help on their forum, which is active, or even just pop over there to chat with other fans.
Stay For The Premium POVR Experience
POVR is worth joining. I honestly wouldn't bother with the free trailers, though. You can watch them out of curiosity, I suppose. But the real value comes from the 100s of real VR videos with a premium membership. And it's only $25/month - some sites charge that and don't have half the amount of content you're getting here. And it's only going to get better because they're regularly adding new videos.