Today I've gone ahead and reviewed VR Porn, a tube site that looks plenty interesting at first glance with lots of free virtual porn to watch. Can't argue with that! Send me your emails.

Pros
Over 700 clips
Wide variety of niches
Stream + download friendly
Cons
Help page is slightly hidden
Bottom Line
VRPorn is definitely one of the best virtual reality tube sites out there today. With hundreds of clips, functional streaming and download features, and versatility across all major VR headsets, there's little else a horny porn reviewer could ask for!
My Full VR Porn Review
You Just Can't Go Wrong With Free VR Porn!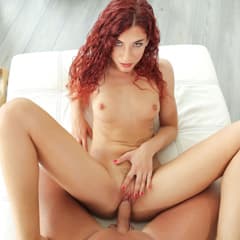 From the mightiest tycoon to the lowliest pleb, who doesn't enjoy a good VR tube site? Especially if that site has scenes that you can enjoy in true 180° 3D. By now, though, there are dozens of fully functioning tube sites that either exclusively host VR clips or offer them as one category among their wide variety. Some are definitely better than others and I think VRPorn is one of them.
You'll Find Adult VR Content From Across Every Niche
Not only does VR Porn exclusively feature VR scenes (which means you don't have to sort through non-VR clips), their inventory consists of countless clips spread across several distinct niches. This means they provide both quantity and variety to keep you busy and interested for hours! These include hentai, black, anal, lesbian, teen, kinky, POV and Asian. The site's layout should also be commended. Everything is organized and easy to access whether you're browsing by tag, category or whatever keyword through the search bar.
Stream or Download, It's Your Call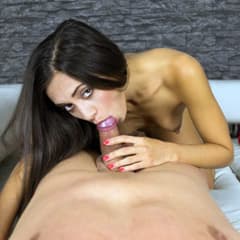 You can easily stream any of these clips on your smartphone-based headset if you have a Cardboard or other similar device. But if you prefer the added comfort and control of being able to download them, all you have to do is fill out their very short and free sign-up and the right to download those clips will be yours in a just a few minutes. Personally I think it's the only way to watch VR clips, especially if you own a more advanced headset such as the Oculus Rift or Gear VR. You'll also find that VRPorn will offer the added convenience of having different file formats depending on your headset. I'll add that I checked out their clips on my Oculus Rift, Gear VR and Cardboard headsets with no problems whatsoever.
They've Got A Great Help Page
If you're having any kind of trouble either streaming or playing the files after you've downloaded them, check out their handy little VR guide located at the bottom of the page. This is maybe the one thing I can criticize the site on. A help page should be easy to locate, not tucked away inconspicuously at the bottom of the screen. But the actual information is quite good. They have easy-to-follow step-by-step instructions for OSVR, GearVR, Oculus Rift and HTC VICE, as well as guides for iPhones and Android smartphones.
The Blog's Worth Reading Too
There's also more to VRPorn than simply VR clips, as the site has a pretty interesting blog that features the latest VR releases as well as anything that has to do with sex technology, such as teledildonics, or developments in the VR headset industry. The site has been in business since 2013, which is really surprising since that's before most people had ever even head of the term VR porn. It's clear they're constantly working on improving the site.
As further evidence as to how this site is committed to being a professional and top-notch tube site, check out their social media presence on Twitter, Instagram and Tumblr, where they update you on the latest VR-related news as well as post hot pics of VR models. On the whole there's very little I can criticize or even make suggestions for improvements here. This one's golden, that's for sure, so go on and take the plunge - visit VR Porn today and start having fun.
Click Here To Visit Website
Similar VR Tubes

I don't know whom I love more. The person who invented virtual reality or the person who made it for adults. Actually, I love whomever made VR Porn's free streaming content!

When you think sumo, you probably think of a Japanese man with a whole lot of weight behind him. VR Sumo is a tube site with a whole lot of adult VR that you can stream for free.
Sign Up for Free VR Porn!
I'll send you updates and deals from the best VR tubes.

Everybody likes to watch adult VR, but not everybody likes having to pay for it. That's why there's tons of free virtual scenes for you to stream on XHamster VR.

Pornhub is the world's leading tube site and they wouldn't have gotten that prestigious title if they overlooked VR porn. They're hosting 1000's of scenes and they're all free.

Somebody's got to write the folks at XVideosVR a thank-you note for making 100's of VR scenes available for free. It's no-strings-attached, so what are you waiting for?

Interested in sampling VR porn vids from the best sites? VR Porn Jack has you covered with hundreds of scenes, including categories ranging from fetish, teen, MILF and so much more.

If you're looking for a quality tube site where you can watch hardcore virtual porn, SexVR is the place to be. You'll find clips and full-length scenes from a variety of adult studios.

Laid Hub is a huge tube site with a large collection of free VR porn that will immerse you in a variety of scenes. They also have tons of 2D videos, so it's the best of both worlds.

With adult virtual reality being all the rage, PornFoxVR has been filled to the brim with one eye-popping hardcore 3D scene after another that you can stream for free!

Porn.com is a much visited adult tube site that's gotten even more popular since adding its very own dedicated VR page. Don't miss out on all these free 180° 3D hardcore scenes!

Stay up to date on the latest VR porn sites and sample hundreds of VR trailers starring the hottest babes in the industry. You can also check out their active community forum.

From the hottest cosplay scenes to big-tit pornstars, explore content from some of the top VR porn sites, with 100s of videos covering a wide range of niches.