VR Porn is a tube site with a massive collection of 3D content from the best virtual porn websites online, with thousands of 5K and 6K virtual experiences to enjoy. Take a look and send me your thoughts via email.

Pros
Huge collection of scenes
5K and 6K videos
Compatible with all major headsets
Cons
No dedicated app for streaming
No advanced search
Daily download limit
Bottom Line
There are lots of tube sites online, but when it comes to choice and quality, none rival VR Porn, a website with thousands of videos collected from other VR properties. Whatever your preferred niche, you'll find it. You can watch a few scenes for free, then sign up for an affordable premium membership to access the entire vault. The quality is dependent on the source, but there are plenty of immersive 5K and 6K movies best enjoyed with a powerful headset like the Oculus Quest. They have files for multiple headsets, so no worries about missing out. Streaming and downloading is a piece of cake.
My Full VR Porn Review
The Ultimate VR Porn Collection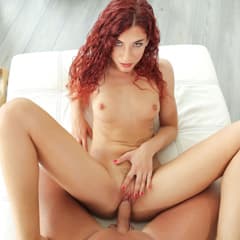 I've been reviewing sites in this category long enough to remember when there were maybe a dozen at most. Not what you'd call a diverse selection. Fast-forward to 2020 and suddenly, we're on the opposite end of the spectrum - almost having too many choices. That's why I like the appropriately and simply named VR Porn. This site lets you jump into 100s of experiences from some of the best virtual reality porn sites online right now.
Like a lot of tube sites, there's a freemium and premium membership. You can sign up for free and enjoy previews and even a few full-length videos. But you are going to get the most out of your time by going with the premium option because that will unlock the full version of every single video.
Watch 6K Videos on an Oculus Quest
It would almost be easier for me to tell you what you're not getting. But, in a nutshell, there are over 5,000 scenes from sites like BaDoink VR, Virtual Real Porn and VR Bangers. Almost every conceivable niche is covered. Want to virtually fuck a MILF? Get a footjob from a teen? Have a threesome with your stepfamily members? Or how about having sex with cartoon characters? There's also plenty of love given to the LGBT community with a selection of gay, lesbian and trans porn.
I immediately noticed many 5K and 6K videos, so I knew I'd need to use a device powerful enough to give me the full experience I wanted and went with my Oculus Quest. Aside from being a tetherless device, it can power high-quality content. Downloading is quick and I even streamed dozens of videos via its browser and never encountered any lag. If you're using something else, you'll be fine. The downloads are compatible with every headset you can buy.
Immersive 180 and 360 Degree Videos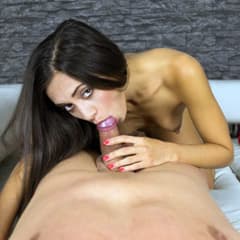 The quality isn't the same across the board and that's because it's going to depend on who produced the content. Since I was looking for the highest quality possible, I decided to focus on those 5K and 6K videos. There are sections specifically for them, so finding them was not an issue.
The overall experience is exactly what I was hoping for. The 180-degree Field of View was smooth for nearly every video I checked out (some are 360 degrees). I never experienced any latency issues. The binaural audio made it so every moan and spank against a Latina's butt cheek was as clear as could be. It seems as though all the videos are running at 60fps - maybe a little higher - giving it that fluid and polished feel.
My only complaints (and to me they're minor) is that there's no app for streaming. Don't get me wrong, using your headset's browser to get on the site and stream that way is easy enough, but I prefer when sites are compatible with apps like Deo VR. Unfortunately, this one isn't. There's also no advanced search and there is a daily download limit of 20 movies, plus an extra 30 that is separate from the daily amount. I'm not exactly sure what they mean by that, but it is what I found in their Terms.
Play Virtual Sex Games
Here's something you don't often see on virtual porn sites - video games! I'm talking about the X-rated variety, which VR Porn currently has 23 of. I could design a hot avatar to fuck, tie up a babe in my sex dungeon, choose how I want to dominate her and enjoy plenty of other exciting games. Also, shout out to the company Holodexxx that created some of the most realistic looking avatars I've ever seen. It's almost freaky!
The Best Tube Site For VR Porn
There are at least a dozen or so VR tube sites online, but this one is my number one pick. With a collection this big and new scenes regularly added to the mix, this is your one-stop shop for virtual reality porn. Chances are, whatever your wildest fantasy might be, you're going to find a scene that's perfectly suited to it. I know I found a bunch that I'll be rewatching. And all of this for only $20/month? That's a steal as far as I'm concerned.
Click Here To Visit Website
Similar VR Tubes

I don't know whom I love more. The person who invented virtual reality or the person who made it for adults. Actually, I love whomever made VR Porn's free streaming content!

When you think sumo, you probably think of a Japanese man with a whole lot of weight behind him. VR Sumo is a tube site with a whole lot of adult VR that you can stream for free.
Sign Up for Free VR Porn!
I'll send you updates and deals from the best VR tubes.

Everybody likes to watch adult VR, but not everybody likes having to pay for it. That's why there's tons of free virtual scenes for you to stream on XHamster VR.

Somebody's got to write the folks at XVideosVR a thank-you note for making 100's of VR scenes available for free. It's no-strings-attached, so what are you waiting for?

Interested in sampling VR porn vids from the best sites? VR Porn Jack has you covered with hundreds of scenes, including categories ranging from fetish, teen, MILF and so much more.
Whatever you want, HardcoreVRPorn has it. From babes in stockings to threesomes with pornstars, you'll get to enjoy a variety of virtual experiences from the best websites online.

Pirou VR is a tube site where you'll get to sample virtual porn videos from some of the best VR sites online. From threesomes to taboo sex, dive into these immersive scenes.

If you're looking for a quality tube site where you can watch hardcore virtual porn, SexVR is the place to be. You'll find clips and full-length scenes from a variety of adult studios.

From the hottest cosplay scenes to big-tit pornstars, explore content from some of the top VR porn sites, with 100s of videos covering a wide range of niches.

Laid Hub is a huge tube site with a large collection of free VR porn that will immerse you in a variety of scenes. They also have tons of 2D videos, so it's the best of both worlds.

With adult virtual reality being all the rage, PornFoxVR has been filled to the brim with one eye-popping hardcore 3D scene after another that you can stream for free!

Porn.com is a much visited adult tube site that's gotten even more popular since adding its very own dedicated VR page. Don't miss out on all these free 180° 3D hardcore scenes!

Become the lead actor in your very own pornographic movie on VRPFilms, where beautiful European girls are waiting to get intimate with you in high-quality virtual porn scenes.