Virtual Taboo is a European studio is based out of Spain so your viewer is going to be chock full of hot Spanish and European 3D VR hardcore scenes. Send me emails.

Pros
Inexpensive membership
Varied scenes/variety of action
Free video previews for download
Cons
No streaming option
No search engine (basic or advanced)
Bottom Line
This is a super affordable site that's producing high-quality VR porn that's both a breeze to use and a pleasure to watch. Their ability to offer a variety of niches gives them a competitive edge over a lot of other studios. They could stand to improve their site though with a few basic features I feel would ultimately go a long way.
My Full Virtual Taboo Review
Who Among You Can Resist Virtual Taboo?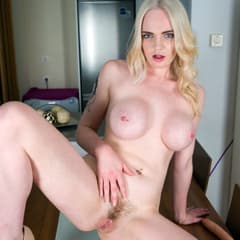 When Virtual Taboo first came online they started with their first VR scene, "Noemi's Surprise". This was a great video showcasing a hot brunette getting down to a blowjob and titty-fucking with her husband who will be your POV. Ever since this success they've been posting new scenes weekly, each seeming more realistic than the last.
The site is pretty easy to use and well-organized. It's just I wish they had a "view all" button in order to see all their videos without having to load a new page. The site also has no search engine to speak of, basic or advanced. Each scene does have a list of tags, but they're not hyperlinked, so what's the point? They offer comprehensive support across four different devices that's clear and straightforward. With 31 full-length scenes that range between 30 and 40 minutes each, I'd say they have an average number of videos compared to other VR outfits.
If you're a little hesitant about whether or not to sign up, VirtualTaboo does offer five free previews for download on either your Oculus, Gear or Cardboard, which all play in perfect 180° 3D. Each scene also has a photo gallery that does not require a membership to look at.
It's Like an Adult VR United Nations ...
The first things I noticed were the models. These ladies do not belong to the usual suspects from the American porn industry we all love and lust after, but rather are top European pornstars, as well as a few who hail from South America and East Asia. This fulfills my instinctual male need to seek out new and exotic women with which to have sex. Even if I'm just gettin' off by myself, the VR quality is so good that it helps in making it seem like you're actually getting laid.
Variety is the Spice of Life
Now, since I watch a lot of porn, I'm sure I don't have to tell you how much I value variety. It's the spice of life, right? More like the spice of porn! A lot of VR studios these days are focused on producing as many true 3D videos as possible that it sometimes comes at the cost of style and creativity. But Virtual Taboo has made a decent effort to include as many niches as possible, with solo and lesbian action, blowjobs, titty-fucking, JOI, POV, women's POV (think cuckolding) and a few others.
This is another VR paysite that doesn't bother to offer streaming. They do, however, offer it for their trailers and I have to say it's pretty sweet and worked really well on both my Gear and Cardboard. The reason their streaming is head and shoulders above other sites I've seen is that they've clearly done their homework and offer streaming compatibility with a long list of mobile and VR devices, so no matter your smartphone's specs or the headset you're using, the VR effect will work. It won't work on iPhones yet though, a problem that may be resolved in the near future.
Be Sure to Watch "Taboo Massage"
I love using my new Oculus Rift. When I started watching "Taboo Massage," it was like Ivana Sugar's beautiful Russian face was right in front of me. Sometimes on VR sites the scale of the images you can be a little off, which can negatively impact the experience, but here there's no scale problem - it seems like the camera never moves. Presumably a sensitive head-mounted rig, I think the feeling could be intensified if the camera moved more naturally. Close-ups of the model only come when the model herself comes close to you. Each scene has a compatible file ready for download for either your Oculus, Gear or Cardboard.
Make Sure to Sign Up to This One !
With an inexpensive membership and varied content Virtual Taboo has a lot of appeal for VR fans who are trying to get the most bang for their buck. I only humbly suggest that the site improve some of their navigation features and look into offering a problem-free VR streaming function. They can also be followed on social media where they're present on both Twitter and Facebook. Once you see all the fun they're having you're going to want to sign up without delay!
Click Here To Visit Website
Similar Top VR Porn Sites