1By Day is a massive European site featuring the most beautiful Euro virtual babes that you've ever seen. What's more is that they've recently begun to add adult VR scenes to their repertoire, so I've decided to take a look-see. Write to me via email.

Pros
Excellent on-site player for streaming
Great user interface
Hot European models
Cons
Not exclusively VR scenes
Not enough variety among VR scenes
Bottom Line
1By Day is a massive European adult site with thousands of full-length scenes. But the VR ones make up only a small percentage of their overall cache, so just keep that in mind. That being said, the ones they do have are on point and the models are hotter than Vulcan's dick. They're all solo or masturbation scenes so far, but they try to spice things up a bit with different toys and really intense performances that'll leave you wanting more.
My Full 1By Day Review
1 a Day Will Keep the Doctor Away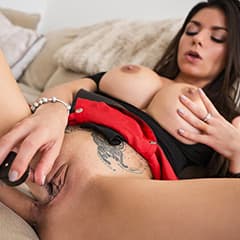 If you're like me and you have this need to know why things are named the way they are, you're probably curious as to what 1By Day means. I figured it out 'cause I'm a genius! No, I'm kidding. I just searched for it online. Apparently 1By Day was the response famed pornographer Denys Defrancesco, owner of this site and others including the DDF Network, gave when asked how often his models masturbate. This has to be true, 'cause the vast majority of the scenes on this site are masturbation ones and that includes all of the VR scenes.
Creative & Passionate Solo Scenes
The virtual vids make up only a small percentage of the total on 1ByDay and they're all solo scenes, but believe me, they're something else. The women are perfect 10's and that is in no small part due to the excellent camerawork this site is known for. Also, while you might think that just having one niche would be boring, these solo scenes include toys, Sybians, cosplay and women of different ethnicities. And these ladies really go to town on themselves! Which shows when you're watching them through your headset.
All the Features You Need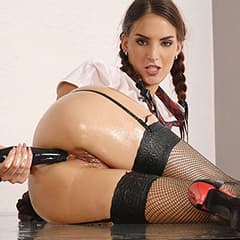 If you're wondering how you're going to find the virtual porn scenes from among the thousands of standard ones, I'll let you know right now that it's easy due to the excellent user features on this site. There are several filters located at the top of nearly every page and all you have to do is look up "VR" in the keyword box and then Robert's your father's brother, if you catch my meaning. All the scenes can also be added to your personal list of favorites and they can also be rated and commented on, plus there's a pretty detailed model index that lets you know more about these horny ladies. This site is not lacking in design or features, that's for sure!
VR Capabilities
As mentioned earlier, this site is run by the famed erotic filmographer Denys, who made a name for himself in the biz because of his high-quality camerawork. While he's only recently dipped his… toe, in the wonderful world of adult virtual reality, these scenes have the same amazing quality as his standard content. These videos have the most beautiful colors that will blow you away when you see these women fuck themselves in front you in 3D with perfect clarity and scaling. Check out the one starring Luna Corazon entitled "Saucy College Porn Young Babe Solo Stuffing Session." That was quite the immersive experience, I don't mind telling you.
Every VR scene can be downloaded in five different settings, depending on your viewer. From the humble but effective Cardboard to the Oculus, 1ByDay has got you covered. The scenes can also streamed to your headset easily simply by clicking on their "VR Mode" feature and playing the scene through their on-site player. They come complete with fun descriptions and large photo sets.
You Don't Want to Miss Out on These Scenes!
Granted, 1ByDay is not exclusively a VR site, but the virtual videos they do have, you are not going to want to miss out on. Watching a hot babe ride a Sybian, or seeing her suck on a toy with feverish passion in 3D and in your face is something else. You especially don't want to miss out on them if you're a fan of squirting. I would like to see more niches covered though and I have no doubt that they will post different ones in the near future. 1ByDay is an excellent high-quality site with high-quality videos. Sign up today and you can thank me later.
Click Here To Visit Website
Similar Top VR Porn Sites