If you're looking for VR porn that gets you as close to the real thing as possible, then you have to check out Virtual Real Porn. Give it a shot and send me your thoughts by email!

Pros
Dozens of 5K videos
Interactive scenes
Compatible with smart sex toys
Cons
Streaming is laggy
No bonus sites
Bottom Line
Virtual Real Porn is easily one of the top VR porn sites online. From the gorgeous Russian babes to the 5K 180-degree videos, the entire collection lets you explore a world of passionate sex that looks and feels real, thanks to some of their videos being compatible with smart sex toys. But even the ones that aren't will make you feel connected, as the women always make eye contact with you and talk to you as if you're in the room with them. Streaming is a little clunky, so the best way to enjoy these videos is to download them to your headset.
My Full Virtual Real Porn Review
Immerse Yourself in Virtual Real Porn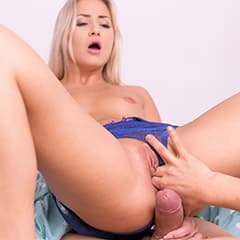 I have to take a second to admire Virtual Real Porn for going with a site name so blunt, but it does an excellent job of telling you precisely what you're getting - virtual reality porn. But what about the "real" part? Turns out there's some truth to it as some of the scenes are compatible with teledildonics. Don't worry, I'll get into all those juicy details.
When it came to the content, I had many options in front of me. I could sit by a fire with my blonde teen girlfriend as she gave me a footjob, have intimate sex with my boss's daughter, or enjoy a workout with a fit babe that ends up turning sexual. That's just a handful of the experiences in this collection of 500+ scenes! I didn't see any dates, but I imagine they update frequently because the site is always a bit bigger when I visit.
5K Videos on the Oculus Quest
Downloads are set up a little differently here. I had to go to my account settings and select the VR devices I own. They list many, like the Oculus Rift, Quest and Go, the HTC Vive and PSVR. Once I chose mine, I was only shown downloads for those devices, but ultimately decided to use my Oculus Quest because it's lightweight and wireless, giving me the freedom to sit or stand without anything getting in the way. I generally follow the recommended sitting positions a site gives you, though.
Downloading is the way to go because the streaming experience wasn't smooth. The videos would buffer for a few seconds and even with a free app like DEO VR, which is designed for easy streaming, it didn't work very well. Videos either took forever to load or wouldn't at all.
About 50 of the latest videos are in 5K while the rest are 4K. Oddly, the Quest downloads only go up to 4K, but the device is certainly powerful enough to run a 5K video. So I cheated and just downloaded the Rift version. If I had tried to watch a 5K video on a less powerful device, like the PSVR, the dimensions would've been off and I might've even experienced some lag. So generally, it's best to stick with the provided download for your particular headset.
Feel Like You're Really There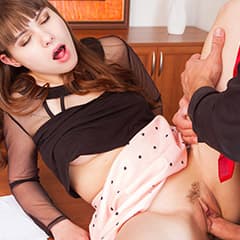 Quality-wise, these 180-degree scenes gave me everything I could ask for. The movements were fluid and running at 60 to 90 frames per second. Latency was never an issue, as headtracking remained smooth throughout. At one point, I was in a bathtub with a brunette as she fingered herself and then came over to suck my cock. With stereoscopic sound, the splashes and her moans were clear as day.
Interactive and Teledildonic Scenes
VirtualRealPorn has an edge over the competition with two unique scene types. First, there are videos compatible with teledildonics like a Kiiroo or a Lovense. These are smart sex toys that vibrate in unison with the woman's movements on the screen, which makes you feel like you're actually fucking her. Setting everything up is simple, but I made sure to follow the instructions regardless.
There are also eight choose-your-own-adventure interactive scenes. The premise is simple - at random points, choices will pop-up like "blowjob or titjob" or "cum on tits or cum in mouth," letting me decide how I want a scene to progress. I watched them multiple times to try out different outcomes. You have to download the site's free app called Virtual Real Player. It's compatible with most devices and there's a help section if you have any issues setting it up.
Have Virtual Sex with Russian Babes
All of this went a long way in making me feel connected to the girls. Most of them are Russian teens and I was surprised at how well they spoke English. They made eye contact, talked to me as we made love and even left silent spaces for me to respond.
There's definitely a romantic aesthetic they're going for. The scenes are dimly lit and sometimes you're surrounded by candles and pillows. This is by design, by the way. It's all in the company manifesto, which states "we have always carried out policies of respect towards women, being against and condemning any kind of inequality or injustice." I definitely applaud them for this approach.
Virtual Real Porn is the flagship site of the VR Porn Network, which currently has seven sites like Virtual Real Passion and Virtual Real Japan. Now, would I have liked access to them? Sure. But it wasn't a big deal considering how large this site already is and how much you'll want to re-watch them.
VR Porn Worth Multiple Views
With every visit, I find myself falling more in love with Virtual Real Porn. I often spend hours on the site. I'll either check out the new 5K additions or go back and re-watch some of my favorites. Some of the scenes are over an hour, so I actually found myself noticing things I hadn't the first time. With downloads tailored to every headset, anyone can come here and take advantage of all the impressive porn they have to offer. And if you own a smart sex toy, make sure to connect it because it'll take your experience to a whole new level.
Click Here To Visit Website
Similar Top VR Porn Sites