Today I'm going to be going over Virtual Real Porn, or as I like to call it, VRP. There's something special about this site, but you can bet your VR goggle-wearin' patootie that it's got some virtual sex videos that you don't want to miss. Email me.

Pros
Good amount of scenes
Compatible with teledildonics
In-depth help & support pages
Cons
No network access
More camera shots needed for variety
Bottom Line
Virtual Real Porn is one of the best sites out there today. I know I might say that about all of my favorite sites, but this one is objectively part of my top 5. They've got a ton of amazing scenes, they're compatible with the PSVR, and they have interactive scenes that are synchronized with smart sex toys. They might not offer you access to their other sites, but it's still worth it.
My Full Virtual Real Porn Review
They're Making a Name For Themselves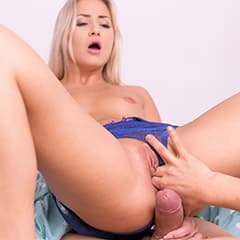 So what can we expect out a site with the name Virtual Real Porn? Yes, I know, they're not going to win any awards for subtlety, but on the other hand, they're right on the money about what they provide. Despite its no-name-like brand, this is hands-down one of the best VR sites out there today and I'd say that they were in the top 5. This is because they've got nearly flawless scenes and a few unique game-changing features that you really need to know about, which I will cover further into this review.
The reason the they don't have the same brand recognition as some of the other leading producers of adult virtual reality content is because, unlike Wankz or BaDoink, who make some of the most nut-bustingly hot VR scenes available today, VRP has only ever produced VR content. Not that I would penalize the other studios for producing visually flawless 4K scenes. On the contrary. But there's definitely something to be said for specialization.
No Network Access, But That's Okay
This is also the original and flagship site of the Virtual Real Network, which currently consists of four other sites: Virtual Real Gay, Virtual Real Amateur, Virtual Real Passion & Virtual Real Trans. While this network is most likely the leader in creating the greatest variety of adult content for VR, unfortunately, there's no network access included in any single subscription. But that's okay, 'cause they've got other things going for them.
They're Committed to Improving Their Scenes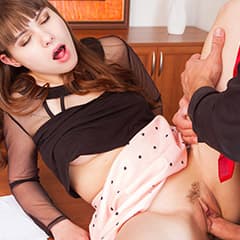 In addition to the impressive quantity of porn, the quality should also be acknowledged and commended. One can notice the slow, but definite progression of the virtual effect in their scenes since they started making them. Their videos today are bright, colorful and clear, with perfect size and scale, which was one of the most common problems with VR in its early days.
If I were to offer some constructive criticism, it would be to improve their camera angles. The models are friggin' hot. Timeless beauties who will have you hard as a rock in five seconds flat. But so far, many of the scenes feature them simply having sex cowgirl style, or reverse cowgirl. This is actually the most common position you'll find in virtual scenes no matter the site. If the camerawork could improve, so too would our appreciation of the scenes.
You can use their basic search or utilize drop-down menus that will filter specific models, genres, smart toys and point-of-view. You can also sort by score, date, title, length, votes and likes. That of course means you're also able to track your favorites and rate the scenes. Keyword tags also appear at the bottom of every scene as well as a small gallery of images.
Compatible with PSVR & Everything Else
All the scenes are compatible with every mainstream headset on the market today and they've gone to great lengths to include PSVR users, since there was some confusion as to whether or not that headset could be used for adult videos. There's multiple file types for every scene, as well as trailers, that have been optimized for use with anything from the humble Cardboard to the Oculus. If you're interested in streaming these scenes, you have to first download their in-house player, the Virtual Real Player. The player is available as an app from the Google Play Store & Apple's App store, and you can also download it straight from their site if you're going to using a PC-attached headset.
You're Going to Want to Buy a Kiroo or Lovense
What I think gives VirtualRealPorn the edge over the entire industry is their small but growing number of interactive scenes. What does that mean? Well, these scenes are actually compatible with teledildonic technology! To be specific, if you have a Lovense or Kiroo sex toy, the contractions you'll feel around your stimulated member operate at the same speed as the model whom you're watching. This is big, people. Since the debut of VR content, many sites have been talking a big game about teledildonic and smart sex-toy synchronization, but this site has actually done it. Way to go.
One of the Most Interactive VR Sites
Despite there being no network access, the sheer fact that this network has expanded to include other adult niches shows that the producers are serious about delivering exactly what people like you and me want. That fact is further driven home with their interactive scenes that have been successfully synchronized with smart sex toys. All of this has left me in awe of this site. Be sure to check it out and follow them on Twitter & Tumblr.
Click Here To Visit Website
Similar Top VR Porn Sites