Want to cum inside a hot teen in a virtual reality porn scene? Of course, you do! Check out this small but high-quality VR creampie site. Share your thoughts by email!

Pros
5K VR creampie scenes
Functional user interface
Cons
Unclear update schedule
No bonuses
Bottom Line
Wet VR is here to make all your wet dreams come true - if your dreams involve cumming inside smoking-hot teens, that is! You'll get to immerse yourself in high-quality 5K resolution videos with 180-degree views and binaural audio. They're compatible with all the major headsets, too. The only real drawback is that the collection is small right now.
My Full Wet VR Review
Get Wet with VR Scenes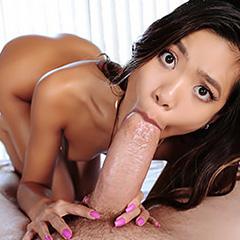 I love a site name like Wet VR because it could mean so many different things. Do the girls have sex in a pool? Are they covered in lube? Well, it's neither. This is a creampie site, where you'll get to imagine that you're the one banging that sexy teen on screen and giving her a creampie.
Cum Inside Hot Teens
Teens and creampies go together like peanut butter and jelly, don't they? Well, here they put effort into giving you variety, from a stepsister who likes watching you jerk off to a brunette hottie who catches you spying on her while she bathes - but it secretly turns her on! I even saw a scene that focused on a babe's smooth feet.
And that's when the fun begins. You'll get to virtually fuck these babes in different positions and then not even have to think about pulling out (like in real life). Condoms are nowhere in sight! And while the word "wet" implies cum, you should see the way these girls slobber, spit and suck on your cock! WetVR was definitely going for a certain aesthetic with the models. Aside from them all being college-age, they have pretty much the same body type: slim with small tits, though some have bigger boobs and butts.
Immerse Yourself in Creampie Porn
The site's a little small right now, but what they lack in quantity they make up for in quality with innovative 60 FPS movies that truly bring these creampies to life. I've seen a lot of VR sites that give you recommended sitting positions and are compatible with teledildonics, and even though these are not, everything is crystal clear as you look around the room while one of those hot teens is riding you - this is POV porn so it's a 180-degrees view. And with the binaural audio, you'll hear every moan as if she's right there with you. Compatibility-wise you can pretty much use any headset, like the Oculus, Vive and PSVR, but of course, for the best experience, take out your high-end device.
Smooth Browsing Experience
Do you know how some sites let you react to posts with different emojis? Well, they do something similar here - except the emojis are way naughtier. You can react to the scenes with a smiling penis, a hand-jerking motion or a heart penis - if you use a positive one the vid gets added to your favorites automatically. There are also a couple of sorting options and a basic search engine. It's mobile-friendly too and compatible with DeoVR - an app that lets you instantly stream any scene right to your headset! All you have to do is download the app, launch it, make sure your headset is connected and bam - you're good to go!
Dive In With These Virtual Creampies
This is a pretty good creampie VR porn site - it's just a shame there's so little of it. I wish I could tell you that it's getting bigger, but I don't want to lie to you. Everything was added in a single month - and there's been nothing else since. It's not that these scenes don't have replayability (they definitely do), it's just that at some point, you're going to want more and you might not get it. There aren't any bonus videos or other sites to keep you busy either.
Click Here To Visit Website
Similar Top VR Porn Sites