My name is Paul and I love VR porn.
Change Your Perception of Porn With VR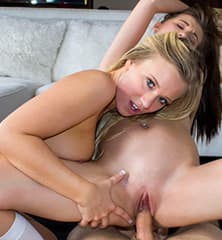 I've been watching porn for decades and have always found myself drawn to new technologies and new ways to experience it. From VHS tapes to DVDs, to the emergence of live cam sites. In fact, cams were the only types of sites I visited for years. And they're still where I spend a lot of my time. But over the last few years, I've been spending more and more time on VR porn sites. Sex cams allow you to be in the moment with a real girl, but 3D porn is a whole other level of reality.
Immerse Yourself in VR Porn Sites
You know how POV porn lets you experience the action from your perspective? POV virtual sex takes that idea to the next level. Strap on any headset and it'll feel like you're actually in the room with these babes. And whether you're watching free virtual porn or paying for it, intellectually you know you're not really in the room with a pornstar who's sucking and riding you. Still, when it's done well, you're able to push those doubts aside and get drawn into the experience of actually being the guy in the scene.
How Exactly Does VR Porn Work?
When you put on your headset and transport yourself to a virtual porn realm, the last thing you're probably thinking about is how the video was made. But it's important to know that there's a lot of magic that goes into a VR porn recipe. The scenes are filmed at 60 to 90 fps using giant rigs that capture it in either 180 or 360 degrees. The quality can vary, but most sites are offering from 4K to 8K videos, the latter of which requires a powerful headset like an Oculus Rift S. But fear not, most websites offer multi-headset compatibility, so whatever you own, you're covered.
Binaural sound is important too. Picture this: A girl walks over to you and whispers into your left ear, or gives you a back rub. Where the sound comes from during these pivotal moments goes a long way in making the experience feel more real. When done correctly, it can send chills down your spine.
What Are the Best VR Porn Sites?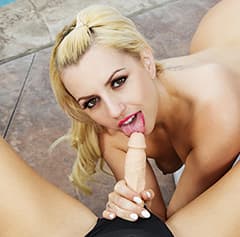 The easiest way to find a site that works for you is to explore my list of top vr porn. You honestly can't go wrong with any of them, especially the ones ranked in my top five. VR Bangers is one of the best, with 8K playability, hundreds of diverse experiences and their own dedicated app for easy streaming and content management. You can't go wrong with BaDoink VR either, with pornstars Gabbie Carter, Riley Reid and Angela White, among others. Of course, you know the name Naughty America, a staple in the industry. Naughty America VR carries the same high-quality porn they're known for, except now you actually get to be a part of the action.
Choose a Headset That Works For You
There are a variety of devices out there and depending on your current setup, some will work better than others. It also depends on your budget.Samsung's GearVR is good, but you need to use an Android smartphone to power it. Sorry, iPhone users.
Google's Cardboard is the cheapest option since it is just that: cardboard. But ever since they first gave away the original devices a few years ago, better versions have been released by other companies playing off the same idea, but using slightly more durable material. And they've kept the price low, which is great.
The Oculus Rift and HTC's VIVE are two popular desktop-class headsets, arguably the most advanced on the market today.
Playstation's PSVR is a great option for porn lovers who are also gamers, but it needs to be attached to a PS4 or PS5. If you're using this device, it is highly recommended you download the WatchVR app to help with streaming. In early 2021, Sony announced that a new Playstation headset was in development, but no further details have been revealed yet.
The Oculus Go and Quest are untethered devices. They're compact, wireless and offer the flexibility for high-quality gaming and of course, VR porn!
Google DayDream is another Android-powered device that is affordable and comes with a miniature remote.
The Iris VR is the self-proclaimed first-ever VR headset designed specifically for porn. It's affordable and ready to go with preloaded porn right out of the box.
I also want to mention that if you've looked at 3D porn videos before without a headset, don't judge it. Before I had a VR device, I remember watching a VR movie and thinking that it was just a POV one and was unimpressed. But when you put the headset on and are closed off from your surroundings, it does come alive. Kind of like how watching 3D movies without the glasses makes it look like crap.
Make It More Real With Smart Sex Toys
I still remember my first experience with VR porn. I thought that it doesn't get any closer to the real thing than this. Little did I know that in a few years, we'd have teledildonics. It first started making an appearance on cam sites, actually. Teledildonics, or smart sex toys, are dildos that the girls would put inside themselves but that could be remotely activated by other users whenever they tipped her. Essentially, with every tip, the toy vibrates. Multiple tips? That thing is vibrating until she's having an uncontrollable orgasm.They make smart sex toys for men too and these days, many sites are incorporating the technology into their VR scenes. All you need to do is connect your Lovense or Kiiroo and it will vibrate in unison with the action on-screen. Suddenly, it no longer just looks like you're fucking a girl, it actually feels like you are. With all this advanced technology at your disposal, there's no reason to ever leave your virtual environment. (Well, you will need to take bathroom breaks and eat.)
Enjoy Seamless Downloads & Streams
When VR porn first found its way into our lives, it wasn't the most user-friendly experience. I'll spare you the details, but it basically involved a complicated side-loading process that half the time didn't even work very well. That has changed and now, downloading a video is so easy your grandma could do it!A few years ago, streaming wasn't even an option. When some sites finally did introduce it, it was very buggy. Not exactly what you'd call convenient. That has all changed though. Thanks to free apps like Deo VR and PLAY'A (designed by the folks at VR Bangers), streaming is quite possibly the best way to watch VR porn now. As someone who once loathed it, I'm glad to see how much better it has gotten.
You'll Swear It's the Real Thing
I love being with a real woman in my actual bedroom, but having a virtual sex experience can be just as awesome. And with VR porn technology becoming more advanced every year, the possibilities are endless. And with some reasonably priced headset options, dipping your toes into interactive erotica won't break the bank. So, why not give it a go? Then come back and let me know about your experiences and what you liked and didn't like about it.
{ '@context': 'https://schema.org', '@type':'Adultentertainment','id':'https://www.vrpornsites.xxx/#organisation','name':'VR Porn Sites','logo':'https://assets.vrpornsites.xxx/images/small-mascot.svg','url':'https://www.vrpornsites.xxx/','image':'https://assets.vrpornsites.xxx/images/myfav.svg'}}