My name is Paul and I love VR porn.
Virtual Reality Porn is Here & It's Hot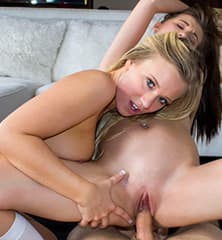 I've been watching porn for decades and have always found myself drawn to new technologies and new ways to experience it. From advances like going from VHS tapes to DVD, or the emergence of live cam sites, it really changed things for me. Actually, cam sites basically became the only kind of site I visited for years. And to be honest, they're still where I spend the majority of my time. But over the last little while I've seen myself spending more and more time with virtual reality porn and I've really enjoyed immersing myself in it. Sex cams allow you to control the action and be in the moment with a real girl, but 3D VR porn is a whole other level of "reality."
Imagine a Live Cam Model in Stunning 3D
If you like live sex cams, but you wish those sexy performers were just a little closer, then Cam4VR, a VR cam site, is going to blow your mind. Yes, you read that correctly. The very idea of combining my passion for cams with my newfound love of interactive sex has got me very excited. There are also interactive porn games and virtual worlds to explore, so there's more out there than just your standard virtual reality porn videos.
Leave Your Reality for Porn Reality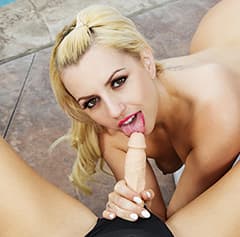 You know how point-of-view porn tried to put you in the position of the person having sex with the girls? Well, POV virtual sex takes that idea to the extreme of current technological possibilities. Throw on a Samsung headset, an Oculus or even Google Cardboard and put yourself in the room with these babes. And whether I'm watching free virtual porn or paying for it, I know intellectually that I'm not really in the room with a pornstar who's sucking and riding me, but when it's done well, I'm able to push that idea aside and really get drawn into the experience of actually being the guy in the scenes.
GearVR, Cardboard, Oculus, VIVE, & PSVR
There are a variety of devices out there and depending on your current setup, some might be better than others for you to get a 180-degree porn experience.
The Samsung GearVR is good, but you need to use specific Samsung phones to get it to work.
Cardboard porn is the cheapest option since Google Cardboard is just that: cardboard. But since they first gave away the original devices a few years ago at Google I/O, there have been better versions released by other companies playing off the same idea, but using slightly more durable material (and they've kept the price pretty low, which is great).
Then there are the two desktop-class headsets: The Oculus Rift & HTC's VIVE, which are arguably the most advanced headsets available on the market today.
Playstation's PSVR is a great option for porn lovers who are also gamers, but it needs to be attached to a PS4.
I also want to mention that if you've looked at 3D porn videos before without a headset, then don't judge it. Before I had VR devices I remember watching a virtual porn video and thinking that it was just POV and I wasn't impressed at all. But when you put the headset on and are closed off from the rest of your surroundings, it really does come alive. Kind of like how watching 3D movies without the glasses makes it look like crap. Of course this is a relatively new technology and it will continue to improve over time, but unlike the early days of live cams when the image quality was crappy and the cams were slow and we were all on dial-up speeds, virtual porn is at a place where there's some real value there.
There are also lots of places to find the actual porn movies themselves, which you can check out right here where I list many of the ones I've found so far. Some of the best paysites in the biz have launched their own sites dedicated to real virtual porn like: Wankz VR & BaDoink VR.
You'll Swear It's The Real Thing!
I love being with a real woman in my actual bedroom, but when that isn't an option, chatting with live girls on cam or having a virtual sex experience are my two favorite things to do. And with this new VR porn technology it looks like the possibilities are going to be endless. With there being some very reasonably priced options, dipping your toes into the interactive erotica pond won't break the bank. So, why not give it a go? Then come back and let me know about your experiences and what you like and don't like about it.