Ready to get intimate with beautiful women pleasuring themselves in solo VR porn scenes? Then check out all the great sites I listed. Send me an email if you think I missed one!
Solo VR Porn
Dive Into a Solo VR Porn Experience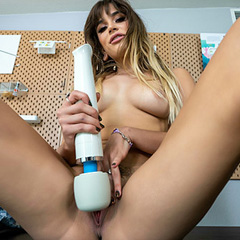 Women's bodies are beautiful. I know I'm stating the obvious, but do you ever find yourself watching solo girl porn and focusing on everything from her curves to the way her toes curl when she orgasms and the faces she makes? It makes you wish you could be in the room with her. Not even to have sex, but to just stare and watch as she teases you. Well, VR porn makes that possible! With immersive masturbation porn, you can get up-close and personal while you watch a teen play with sex toys or a MILF finger herself until she squirts all over you.
Enjoy Intimate VR Masturbation Scenes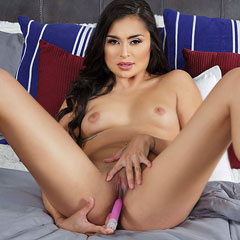 I know what you're thinking. How do these solo scenes work? Isn't the whole point of VR porn to feel like you're a part of the action? Sure, but solo sex offers an entirely different experience. Picture this: You walk into a dimly lit bathroom with candles all around. Before you is a beautiful naked woman submerged in a bathtub. She smiles, teasing you, and starts to play with herself. As you move closer she moans in your ear and tells you how badly she wants to see you jerk yourself off. Now if that description doesn't get you going, then nothing will. These scenes feel incredibly sexual and intimate.
Watch Babes Play With Toys in HQ Vids
What makes these masturbation videos so great is that many of them are shot in 5K. It's not enough to just see a teen in lingerie pleasuring herself with sex toys - you want to feel as if you're right in the room with her. These sites will give you that experience and so much more. With binaural audio, you're going to hear her sensual, teasing words clearly and who knows, if you look around the room in 180- or 360-degrees, you might see other dildos and vibrators that she plans on using throughout the video. And they'll look impressive on every headset, whether it's an Oculus, Vive, PSVR or something else.
Stay Up to Date With Solo VR Reviews
Want to keep knowing about the latest sites with girls riding dildos and making themselves cum? Then make sure you bookmark VRPornSites.xxx. I live and breathe virtual reality porn and not only do I research the latest tech, but I also research the latest sites. I understand that everyone has a budget, and maybe you're not entirely sure which site is worth joining. When you're done with one of my reviews, you'll have all the info you need.

There's nothing as alluring or enticing as a beautiful pornstar. Hence the name VR Allure, where gorgeous women pleasure themselves and talk dirty to you in VR.

Wouldn't it be fun to be able to fuck a different 10/10 babe every night of the week? Check out Babe VR, it's got scenes starring the hottest babes that you can fuck in VR.
The Best in Solo VR Porn - Sign Up!
Get exclusive email offers on the best Solo VR Porn sites!

The name Zexy VR will roll off your tongue as you watch beautiful, glamorous women, from teens to MILFs, strip down to their sexy panties in this 5K collection of solo VR videos.