Feel like you've had your fill of VR porn? Nonsense. Sounds like you need to spice things up and try out some kinky porn videos that feature a wide variety of fetishes. If you want to tell me something, Email me your comments.
Fetish VR
Push Boundaries With Fetish VR Porn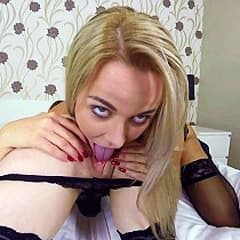 Sex work has always been an important and integral part of popular culture and is the subject of quite the love/hate relationship in mainstream society. Without sex, we don't have life, so why has it been vilified so much? And just when you think sex is becoming more normalized, there is a whole other level of play that pushes boundaries and rejects what is considered normal. The term "fetish" is pretty broad though, encompassing any act that can be seen as unconventional to someone who gets off to vanilla sex. This includes things like footjobs, impact play and domination, to name a few. So join me while I explore more fetish VR porn.If you find yourself fucking around on the fringe side of things, there is no need to worry. There is a huge selection of fetish-friendly scenes to satisfy your every kinky desire and you can appreciate every minute of them in virtual reality. Now, I have no issues with 2D porn. I have enjoyed my fair share of it just as much as the next person, but there is a special level of immersion that comes alive when your innermost sexual thirst is so close that you would believe it was real life. That is part of the magic, so let's have fun and get freaky!
Where to Watch Fetish VR Porn
When virtual reality made its debut in the porn industry in 2015, there were only a handful of websites that actually produced VR content, including Naughty America, which bravely paved the way for the virtual porn world we all know and love today. But their content is not exactly kinky, if you know what I mean. Since then, however, hundreds of sites have jumped on the VR porn ride, some truly accepting the technology and making the best of it, while others offer content that only meets the basic standards - it will still get the job done though! My favorite site for all things fetish-related is Kink VR. Even if you don't dabble on the edge of glory, you have probably heard of these legendary content producers. They have the largest library of fetish films in the industry, including niches like BDSM, golden showers, Femdom, fisting, cosplay and literally anything else you could dream up. And the kicker? It is all shot in 180-degree 5K quality! I am partial to a tattooed Switch babe with big tits, so naturally, I searched out scenes starring Ivy Lebelle and landed on a mini-series called "Unruly Submissive" where she is poked, prodded and creampied without mercy just inches away from your face. Yes, please!If you have not found what you are looking for on Kink.com (which I doubt, but you never know), more and more sites are including scenes that push the limits of their performers and users alike. Sites like VR Cosplay X and Whorecraft VR allow you to explore what it would be like to smash with your chosen superhero, while Stockings VR and VR Foot Fetish give you access to all the terrific tootsies you could ask for. Have a taste for tall and talented Czech cuties in precarious situations? Look no further than Czech VR Fetish. It's time to take control!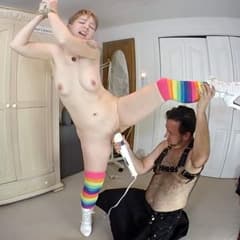 Choose the Best VR Headset For You
Like with any other technology, the better the machine, the better the experience. It is no different for virtual reality headsets. To get better acquainted with your favorite fetishes in VR, you have several options across a spectrum of brands. The least expensive choice is a phone-powered viewer like the Google Cardboard or the Samsung Gear, where you just find the scene you want on your fave site, customize some basic controls, drop your phone into the HMD and press play for all of the impending delectable debauchery. It is so easy, you will be impressed with how much time you save setting things up compared to other HMDs.A wired headset like the Valve Index is super powerful and will let you watch all of your fetish porn in top quality, but you will break the bank to buy it. Although you are getting what you pay for because no other device has a higher diagonal FOV (or field of vision), so you get to see more of your preferred pornstars in all their splendor and not feel like a horse wearing blinders as with less expensive HMDs. Personally, I favor the Oculus Quest 2 for two main reasons. One, because it can be used standalone or wired into PC VR, making it super versatile, and two, because it is priced more reasonably than any other higher-powered device on the market right now.
The Future of VR is Fetish Friendly
As humans, we are inherently sexual beings with different carnal tastes and fantasies, and that is what makes the introduction of VR into fetish porn such a big deal. Finally, technology is catching up and allowing us to explore our deepest and darkest desires from the comfort of our own couch (or you know, while being strung up on your genuine-leather saltire cross, whatever floats your boat). It is one thing to watch as a sexy submissive siren gets hogtied and flogged by her Dom in 2D, but that same scene only truly comes alive in VR when you embody that subby babe's Master as though you are both in the same dungeon together.While major studios are currently the main producers of kink in VR, the porn industry as a whole is slowly moving away from paysite models and moving toward clip sites where the models can take control of their content, allowing for more sexual liberties for performers and fans. In the near future, I expect to see far more amateurs shooting in virtual reality as the technology becomes more affordable and more available in the mainstream world. Make sure to check back regularly for the latest news in fetish VR porn.

This one's for the fanboys in the crowd. Cosplay takes on a whole new meaning when you watch it in VR. Add hardcore action into the mix and this is your new favorite site!

Unlock the secret world of Dark Room VR, where you'll virtually share your wife, fuck your students and enjoy lots of kinky sex in 7K VR scenes with hot pornstars.
Get Exclusive Email Offers
Deals, fetish scenes and other awesome deals - FREE!

Ever been to Prague? Save yourself the airfare and check out Czech VR Fetish. The performers are hot Czech babes and they've got videos to suit all of your kinky fetish fantasies.

Like golden showers? You're not the only one. That's why there's Virtual Pee, a VR fetish site that offers immersive 180° 3D pee scenes with the kinkiest babes.

Jerking off should be a positive experience. If you need some encouragement, watch as these babes strip, tease you and tell you you're doing a great job - in immersive VR!

Have you ever wondered what it would be like if they made a porn site based on the Warcraft video game and made the content all high-quality VR? Well, get ready for Whorecraft VR!

When women wear stockings they're even sexier than when they're naked. Don't ask why, I'm not a psychologist. Just watch these babes on Stockings VR and you'll see what I mean.

Want to have a girl's beautiful feet so close to your face, you'll feel like you can lick and smell her toes? VR Foot Fetish has beautiful women waiting for you to worship their soles!

Whether you like Black Widow from the Marvel universe or Rey from Star Wars, you'll get to virtually fuck gorgeous women cosplaying as different characters on this VR site.