Feel like you've had your fill of VR porn? Nonsense. Sounds like you need to spice things up and try out some kinky porn videos that feature a wide variety of fetishes. If you want to tell me something, Email me your comments.
Fetish VR
Fetish Porn is Now in VR!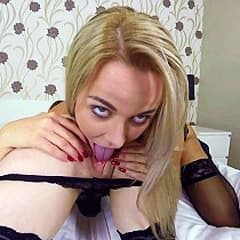 This list is made up of the best VR sex sites on the Net that feature fetish sex. Yes, you read that correctly. All your favorite fetishes that drain the blood straight from your brain and directly to your crotch are now being filmed in stereoscopic 180° 3D. That means for the first time you'll be able to experience your favorite kinky scene as if you were right there in the room with the performer. And with so many virtual reality sex videos being shot POV, it's going to look like you're the one who's sitting in the captain's chair while a hot babe is riding you while wearing a pair of fishnet stockings, like on Stockings VR.
Trust me when I tell you that the sensory effects and level of satisfaction you get from a regular fetish video are nearly tenfold when you watch it through a VR headset. The medium of virtual reality is still growing and as you probably know, fetish scenes by definition don't have mass appeal. But as time goes on, there are going to be more and more fetish VR porn sites and I'll be sure to add them here. In no time at all, this page is going to be your go-to guide and you can immerse yourself in the technological miracle that is virtual reality.
BDSM, Footjobs, Cosplay, Lezdom and More!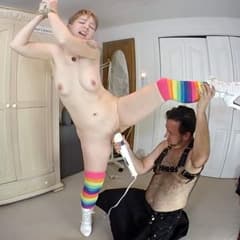 No need to worry, though, because there are plenty of kinky virtual videos at the moment and I've got a list that'll point you right straight at them. Everyday the number of videos climbs higher and higher on each of the sites, so no matter what you're into, whether it's BDSM, golden showers, Femdom, Lezdom, fisting, footjobs, feet, shaving, spanking, cosplay, etc., you'll be sure to get your rocks off.
Sites like VR Cosplay X, are packed to the gills with lots of content to suit a wide range of fetish tastes. They've got really hot and kinky content like tons of face-sitting scenes where only the sexiest babes with the hottest bodies start rubbing themselves right at the camera, so that when you're watching it through your headset it looks like she's sitting on your face! I swear, I thought I could almost taste her when I watched it through my Oculus Rift.
Any Headset Will Do, So Get Going Already!
Plus it doesn't matter which headset you own, these sites are almost always universally compatible with all the mainstream devices. So whether you have the computer-tethered HTC VIVE or the Oculus Rift, or if you're watching virtual reality porn with your smartphone on a Google Cardboard, Daydream, GearVR or other smartphone-based headset, you'll simply be blown out the water when you see what fetish scenes, like the ones on Czech Fetish VR look like when they're filmed true-to-life in 3D. And make sure to check back regularly for new additions!

Ever been to Prague? Save yourself the airfare and check out Czech VR Fetish. The performers are hot Czech babes and they've got videos to suit all of your kinky fetish fantasies.

This one's for the fanboys in the crowd. Cosplay takes on a whole new meaning when you watch it in VR. Add hardcore action into the mix and this is your new favorite site!
Get Exclusive Email Offers
Deals, fetish scenes and other awesome deals - FREE!

Jerking off should be a positive experience. If you need some encouragement, watch as these babes strip, tease you and tell you you're doing a great job - in immersive VR!

Want to have a girl's beautiful feet so close to your face, you'll feel like you can lick and smell her toes? VR Foot Fetish has beautiful women waiting for you to worship their soles!

When women wear stockings they're even sexier than when they're naked. Don't ask why, I'm not a psychologist. Just watch these babes on Stockings VR and you'll see what I mean.