Get yourself a Sex Like Real membership and unlock a treasure vault of VR porn scenes, some of which stream in 6K at an incredible 120 frames per second! Send me an email if you've got any questions or comments!

Pros
Impeccable streaming via free VR app
Massive collection of VR porn scenes
Customizable viewing experience
Cons
Some expensive PPV scenes
No advanced search
Bottom Line
Sex Like Real is a perfect site for those who want to experience a little bit of everything that VR porn has to offer. With a collection of over 6,000 videos from some of the top adult studios on the planet, you're going to have an extensive collection to peruse. Thankfully, exploring is easy with their free VR app that not only helps with navigation but also streams the video in seconds directly on your headset - no downloads required. And even though streaming usually results in buffering or quality issues, you won't encounter that with these videos, which range from 4K to 6K and from 60fps to 120fps, making everything look super realistic.
My Full Sex Like Real Review
Sex Like Real on an Oculus Rift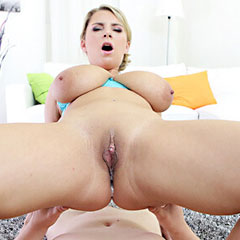 As a VR porn expert, I often get asked for recommendations. I try to steer people toward sites with the niches they like, but sometimes they're looking for a variety of content, a one-stop VR porn shop if you will. When that happens, I like to bring them to Sex Like Real! Imagine going to a buffet and being so hungry that you're overwhelmed as you prepare to tackle all the delicious food in front of you. Well, that's what I felt when I visited the site on my Oculus Rift.
Sex Like Real produces some original content, but for the most part, the collection comes from top VR porn creators like VR Bangers, BaDoink VR and Wankz VR. There are dozens of companies contributing their content, so you get to try out several different experiences and with different types of babes including pornstars Adriana Chechik, Angela White, Riley Reid as well as lots of amateur girls too.
Opt for a Premium Membership or PPV
To get started, I had to create a free account, which let me sample the entire library with two-minute trailers. Then I had the option to buy the full scene. The one I was watching was $5, but some are as high as $12. The other option is a premium $30 monthly membership that gives you access to 6,000+ scenes and counting! The 1,600+ pay-per-view scenes are not included with that option, but hey, how could I complain about having that much content to browse?
Experience a New Level of 6K Porn
I've been seeing a lot of VR porn scenes coming in at 60 to 90 frames per second these days. Basically, the higher the frame rate, the smoother and more immersive the video will feel, and at 90fps, it's about as good as it gets. Now, what if I told you Sex Like Real has videos that go up to 6K and 120fps? They're truly mind-blowing and to say they look smooth would be an understatement. They downright look real, giving credibility to the site name. Combine that with the binaural audio that gives you that surround sound and you're going to forget where you are!
You're going to need a powerful headset like the Oculus Rift or the HTC Vive Pro to get the most out of your experience. The reason the Oculus Rift runs these videos so well is that it has:
72Hz refresh rate for impeccably smooth frame rates
Display resolution of 1440x1600 per eye
Field of view (FOV) is 90 degrees
But if you watch them on a device like the PSVR or Gear VR, the videos still have smooth playback, even if they don't have the capability to run at 6K. As great as the Rift and Vive are, they're expensive devices and might be out of your budget. That doesn't mean you should miss out on the action though. The PSVR, Gear or even the Oculus Go are still great alternatives. Besides, there are thousands of 4K and 5K videos that'll look fantastic on those headsets.
Streaming is the Way to Go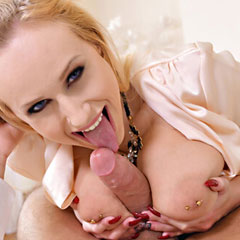 Under normal circumstances, I'd recommend downloading the videos, but on SexLikeReal, streaming is the way to go. There's so much content to explore that it would be a waste of time (and take up precious hard drive space) to download all these videos and then transfer them to your headset. Luckily, there are two apps that'll make streaming a breeze.
First, there's the site's app, SLR, that gives you an "iTunes-like interface," with Sex Like Real's library displayed in an easily navigatable interface. Getting the app onto your headset requires some additional effort though because it's not readily downloadable in any of the VR app stores. You need to download it directly from Sex Like Real's website, install it on your PC, then manually plug in your headset to complete the installation.
There is another option, though. One of my favorite apps to use is Deo VR. You can download it directly from the Oculus store, log in using your Sex Like Real credentials and voila! You've got the entire library at your disposal on a theatre-like interface. Just click on any video and it'll immediately stream on your headset. Buffering issues can sometimes crop up, but I encountered none with this app. In a nutshell, it does everything the SLR app does but it's way easier to install.
Customize Your Experience
So, what are you looking for? Want to check out some of those 6K 120fps videos I was talking about? Or do you want to switch the filter to let you find porn from a specific website? Well, Sex Like Real has a ton of filters to help you find anything. I went even further and selected some pornstars and categories and within seconds, it brought up dozens of videos. You'll also be able to change the playback speed, adjust the head tracking, zoom in or out as much as possible and even change the contrast, brightness and color saturation.
VR Sex as Real as Possible
Whether you're new to VR porn or have been experiencing it for years, as I have, Sex Like Real is a great choice. It's free to join and watch trailers, so at the very least, there's no harm in checking it out and doing a little exploring. You can dip your toes in and maybe purchase a video or two, or just dive right in and get yourself a premium membership.
Click Here To Visit Website
Similar Top VR Porn Sites