Welcome to my list of the best sites with gay VR videos. I know what you're thinking, how could gay virtual porn videos be any hotter than conventional ones? You'll have your answer as soon as you watch them. Hit me up with your questions by email!
Gay VR
Lookin' for Gay Porn in VR?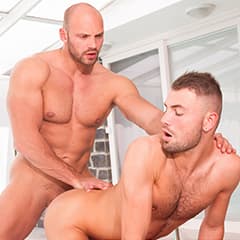 Do you remember where you were when you first heard about POV virtual sex? Were you excited about all the fun you were going to have and happy that your favorite hobby had just evolved and with it a new, heightened realm of sexual pleasure? Then you saw that the majority of reality porn videos was straight and that just made things a lot more boring all of a sudden. Never fear, as gay porn has crossed the latest technological frontier by offering XXX scenes in both 180° for you to watch on your virtual reality headset.
Honestly, ask yourselves what could be better than gay porn? Gay porn in 180° on a VR headset, that's what! Just imagine a giant cock and a pair of huge balls coming right at you and filling your entire field of vision, where before they were just two-dimensional images on your monitor. It's enough to make even the randiest of us nearly pass out and faint. What I'm trying to say is that the visual and auditory experience of virtual reality sex videos can never be overstated.
Watch Bears Fuck Twinks in Virtual Reality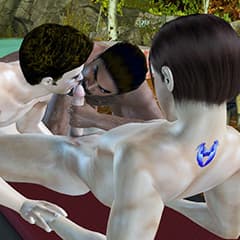 In addition to having the ability of looking around the scene from different angles and being able to swivel your head either 180° or 360°, the superb colors, curves and POV perspective come together to produce an effect that'll make you swear you were participating in the very scene you're watching with the hunk(s) of your dreams. Finally, all of your favorite gay models, bears, daddies, twinks and jocks playing right before your very eyes in a truly stunning virtual reality display.
Gay 180 and 360 degree porn isn't just limited to live-action scenes, mind you. With various technologies, no gay niche will be left untouched. In due time we'll have a bunch of gay live cam sites on the list, too, where you'll be able to watch live streams of male performers in unbelievable 3D graphics on your headsets.
The Number of Gay VR Sites Continues to Grow!
Not every gay adult site has yet to jump on the virtual reality sex porn bandwagon, though every day that number is growing. The one surefire way that we, as gay porn fans, can promote gay VR porn is going to be to go out and purchase a headset and then support the current 3D porn videos on paysites by purchasing a membership.
Try out the sites on our list and see how you like them. Don't forget that you won't really appreciate the overall impact of the effect if you don't have a VR headset yet. Additionally, the quality of your headset, as well as your computer and smartphone's capacity to process these visuals, will have a huge impact on how believable your trip into gay virtual reality porn will be.

VRB Gay is making the best gay VR porn, hands down. Strap on your headset and immerse yourself in hardcore 180° 3D gay scenes, either standing, sitting or even lying down.

Disappointed by the lack of gay porn in adult VR? Well, turn that frown upside down! Virtual Real Gay is full of hot hunks in hardcore action that you can watch on your headset.
Solid Deals - Straight to your Inbox!
Get exclusive email offers on the best gay VR sites!

Get up close and personal with twinks, jocks and musclemen on Studs VR. There's nothing hotter than immersing yourself in a virtual porn scene with these sexy gay hunks!