Looking for Japanese VR Porn?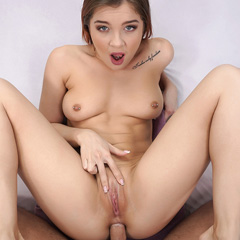 Ever since the launch of VR porn, it's been amazing to see how quickly the niche has grown and how many studios have jumped on the bandwagon. Where there was once only one or two paysites, there are now hundreds of them covering different categories. For a while, though, a niche that wasn't getting nearly enough attention was VR scenes with Japanese girls. But not anymore. All you need to do is look at my list of sites. So strap on your headset and get ready to lose yourself in a library of uncensored Japanese VR porn scenes.
Gorgeous Asian Girls in Virtual Reality
What is it that makes Japanese porn so great? Too many things to count! Japanese teens, for example, have that sexy but innocent look. Sure, they act shy at first, but they lose all inhibitions once their clothes come off. Now imagine experiencing that in VR! Or how about watching a cute girl dressed up as a schoolgirl, walking up to you and asking you to pull down her panties in a POV video? You can discover all that and more on some of these sites. While some focus solely on girls from Japan, others let you virtually interact with models of other ethnicities, too.
What Are the Best Japanese VR Sites?
If any of you have been following me for a while, then you know Virtual Real Porn is one of my favorite sites. They have several others under their umbrella, including Virtual Real Japan. It's one of the best for authentic JAV porn and is 100% shot and produced in Japan. You'll find hundreds of scenes starring beautiful Japanese MILFs and teens. The site is streaming-only, but just use any free app like Deo VR and you'll get off just fine. If you're into cosplay, you'll particularly enjoy some of the Final Fantasy-themed videos.
Due to strict privacy laws in Japan, pornography from that country is often censored. Luckily for us, JVR Porn features nothing but uncensored content. That's already a major plus for members. If the uncensored content isn't impressive enough, you'll get the chance to fuck these sexy Japanese girls in 5K running at a whopping 90fps, ensuring the smoothest playback possible.
While the sites above focus exclusively on Japanese VR porn, there are others where you can find similar content. VR Porn, for example, is a fantastic tube site with thousands of videos, including a solid collection of JAV VR. You can watch a bunch of free trailers and then get the full versions by buying a premium membership. Even top sites like VR Bangers and BaDoink VR feature scenes with Japanese pornstars.
Check Out My VR Porn Blog
Want to stay up-to-date on the latest VR trends? Then check out my blog! You'll find topics including where to find and which sites have the best JAV VR porn. I'll also spotlight my favorite pornstars and websites, give you my tips and tricks for having a comfortable VR experience, and tell you which VR headsets are best for your budget. My job is to keep you informed and in the always-evolving world of virtual reality, writing blogs every week is the best way to do it.
Explore Common Japanese Porn Themes
The Japanese schoolgirl might be one of the most popular fantasies ever. There's something about a teen dressed in stockings and a plaid skirt that gets the crowd going, so you can expect to explore this theme in many Japanese VR porn scenes. Cosplay is also extremely popular, so expect to see Japanese girls dressed as various anime and manga characters and making the ahegao face, where their cheeks go red, their eyes roll back and their tongue is sticking out. This is a common facial expression in hentai porn when a character has an orgasm.
Is 180° or 360° JAV Porn Better?
Your instincts may be telling you that a 360-degree JAV VR scene is better than a 180-degree one. After all, 360 porn looks more realistic because you can look around at your surroundings in a full circle. However, for starters, if the action is happening in front of you, why do you need to look anywhere else? Unless they're doing something different, like an orgy scene where other couples are fucking in different corners of the room, then there's really no need.
Also, 180-degree porn is easier to film, so most websites opt for that, which is why you seldom see them in anything higher than 4K. Not that 4K looks bad, but if you're looking for 7K and 8K videos, I can guarantee you they'll be a 180° video.
Experience JAV Videos in 5K
Whatever headset you're using, prepare to watch immersive scenes that will have you forgetting where you are. With all the incredible advancements in technology, you're going to get 5K and 6K videos running at 60fps and 90fps. Just to clarify, that means they're going to look so smooth, you will think you can reach out and touch these girls. The sound makes all the difference too and with the binaural audio, every moan and whisper will feel like it's coming from your room. Imagine getting a chill down your spine as a Japanese MILF whispers in your ear. Yes, that's the kind of experience you are going to have!
Enjoy VR Porn From Japan
Sure, the pickings are a little slim right now, but as sites keep evolving and new ones pop up, you better believe I'll stay on top of it. It's only a matter of time before more of them show up and when they do, keep it locked to VRPornSites.xxx to get my in-depth reviews. I go into the nitty-gritty of each site, telling you what makes it worthwhile, which headsets work best, if the scenes are 180- or 360-degree, the overall theme and so much more. If you've got any suggestions for me, send them by email!.