Today I'm going to be reviewing an adult VR site that exclusively features MILFs & mature ladies called Mature Reality. There aren't a lot of virtual reality sites that feature this niche, so this promises to be exciting. Let me know what you think via email.

Pros
Excellent immersive 180-degree scenes
Efficient user interface
Dual perspectives for most scenes
Cons
Little to no variety in model appearance
No English subtitles
Bottom Line
This is an excellent site featuring mature women. The videos are flawless when it comes to the 3D aspect and head-tracking. The models are hot, but they all kind of look alike, which isn't great variety-wise. There is this cool dual-perspective feature, though, that will allow you to watch from both a POV and voyeur perspective, which means almost every scene can be enjoyed twice. However, the scenes are not subtitled and some of the dialogue is in the Czech language.
My Full Mature Reality Review
Mature Women in VR is Hot!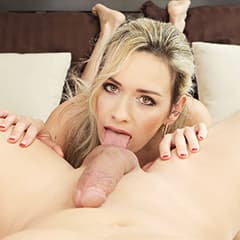 There aren't too many VR sites that are exclusive to the all-too-seductive MILF or mature niche, so if you love to see ladies in their 40s ride cock like they're cowgirls atop a bucking bull at the rodeo, Mature Reality will blow your mind 'cause here you can see them in 3D and with a 180° field of view. There's a good number of videos and each comes with its own image gallery and video previews. They run anywhere from 20 to 30 minutes, which is long enough to give yourself a real good time. They're not subtitled, though, and the minimal amount of dialogue is all in Czech.
Compatible With All Mainstream Headsets
Every scene can be streamed on-site, which is especially good for all you with a smartphone-based headset and who don't want to wait through download times. But if you're anything like me and you prefer to download, there are options for the Oculus and Gear VR as well HQ & LQ for smartphones. I watched a few scenes on both my Cardboard and Oculus and I thought they looked perfect. If you have another headset that's not listed in the download drop-list, like a HTC VIVE or PSVR, you can still use the Oculus option. And if you're feeling a little lost just check out their help page where there's info on every mainstream headset.
There isn't a search option, advanced or basic, but you can browse the scenes by date of release. There's also tags and a model index that can help you find exactly what you're looking for. The scenes can also be rated, but that's about it. No commenting or favoriting at this time.
Dual Perspectives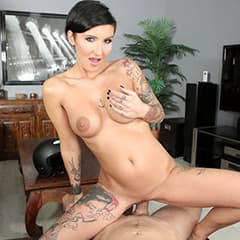 Not only is MatureReality one of the few mature VR sites online today, they have another feature that, as far as I know, is unique to this site. What I'm referring to is the dual perspectives that are available for almost every scene. What that means is that the scenes featuring more than one person have been shot in 3D and 180° twice - once from a POV perspective of one of the performers (often it's the male, but there are a couple of lesbian scenes), and once from a voyeur perspective where you're positioned right beside the couple fucking. In the case of the solo scenes, you get a good look at the mature model fucking herself with a dildo from a voyeur's POV.
Aging Like Fine Wine
As for the talent, these sexy older ladies are all super fit and each of them possesses what seems to be an unquenchable libido. Just like Mature Reality says on their site, these dames have aged like a fine wine. You can browse the models via the "girls" tab, which is the model index, and you can find out some pertinent details like their birthdate, country of origin, cup size, height, weight and a saucy two-line bio that's designed to pique your interest in them even further. The videos they star in are also listed, as well as tags so that you can go straight to similar videos.
Variety is the Spice of Porn
Now I hate to do this, but I did notice a little room for improvement when it came to their models. And that's really just a matter of the minimal variety among their appearance. They range in age from mid 30s to mid 50s, which is good, but they're all white, with an unmistakable Eastern European look. As for hair color, there's an almost even split between blondes and brunettes, with the noticeable exception of two who have grey hair. I think they could increase the variety a little bit, if not ethnically, then at the very least throw in a ginger or two. Another area where I could suggest an increase in variety is the actual sex that goes down. So far, it's really just a choice of masturbation or straight couples. Recently they added a couple of lesbian scenes, so it's obvious they're working on increasing the variety. If I could suggest other sex acts I would love to see these mature women get down with anal and maybe some fetishes.
A New Favorite!
This site takes the proverbial cake for a number of reasons. First because they specialize in mature women having hardcore sex, which I'm pretty sure everyone likes. And then they really go above and beyond with the dual-perspectives feature. With perfect VR videos and an efficient site design, I say this site is going to be one of my new favorites! They also have a crack-team running their social media presence, 'cause they're all over Facebook, Instagram, Twitter, Tumblr, Reddit and YouTube. Make sure to follow them on any or all of these platforms and be made instantly aware of their latest additions like upcoming shoots, new scenes and new models.
Click Here To Visit Website
Similar Top VR Porn Sites