Property Sex VR was already an established site that's dipped their toes into producing virtual reality porn videos content. Check out my review and email me your thoughts.

Pros
Exclusive content
Flawless 180° 3D videos
Cons
Infrequent update schedule
No video specs
Bottom Line
Property Sex VR has breathed new life into their hardcore realtor theme by producing some pretty top-notch virtual reality content that's technically flawless. You're not going to be able to find their exclusive videos anywhere else so if it's new virtual content you're seeking, then you should sign right up. I do wish, however, that they would stick to a regular update schedule.
My Full Property Sex VR Review
An Already Well-Established Site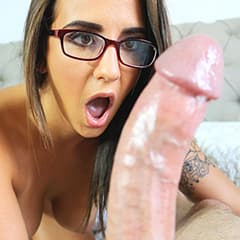 Property Sex has been in business pumping' out hot, hardcore 2D porn since early 2015 and they've now jumped on the VR train, choo-choo! They've managed to successfully marry their hot real estate theme to virtual reality and suffice it to say they are very well-suited to one another. By signing up to watch these VR vids, you'll also have unlimited access to all the 2D Property Sex porn that has been shot in both HD and UHD. How's that for sweetening the pot?
Real Estate Agents Are Sexy!
Aside from the VR aspect, I'd just like to take a moment to say how much this real estate/property genre appeals to me and I'm sure to a great deal of you as well. There's a part of me that thinks (guess which part), that this sort of thing happens all the time. But as soon as the blood stops rushing to my crotch and I'm able to think rationally again, I realize how that's mostly just my penis running away with my imagination. Still, if a real estate agent was down to give me a reduced rate on my mortgage in return for being serviced, you best believe I wouldn't think twice!!
60FPS, 3D, 180° - Just the Way It Should Be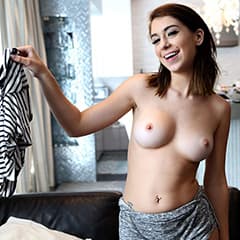 In this humble reviewer's opinion, the videos here are a testament to excellence in the field of VR productions. In other words, they're off the hook. Despite the fact that there's an almost worrying lack of video specs, like the FPS, 3D, etc., trust me when I tell you that these videos are definitely 60 FPS and shot in 180° stereoscopic 3D. When those three elements are present at the same time it makes for some nice VR porn, the kind that makes most people do a double take to see whether or not they're actually getting it on with the model 'cause it looks so believable at times.
Compatible With All Mainstream Devices
If you're wondering about headset compatability, I sampled Property Sex VR's content using both my handy-dandy Cardboard and my reverential Oculus Rift. I swear, sometimes I wonder if it'll transform into an incarnation of Optimus Prime and do VR stuff. But back to content capability! The videos played without any problems or required adjustments, though if they seem a little too dark for you, you can make that adjustment per your liking. The site is also compatible with the GearVR and VIVE.
Sign Up Today!
I can't begin to recommend this site enough because of its hot and fun real estate theme and their flawless 180° 3D videos. Some VR sites still suffer from the odd technical problem, which, no matter how slight, can still have a devastating impact on the believability and effectiveness of the videos. Not true with Property Sex VR. Their videos were an absolute delight to watch and had me almost believing I was getting sucked off while considering buying a house. There's all that and you get access to dozens of 2D videos with the same theme. So if you're looking for lots of high-quality virtual reality porn then be sure to try this one out for size.
Click Here To Visit Website
Similar Top VR Porn Sites