Holo Girls VR has one hot virtual reality porn scene after another. No need to worry about accidentally downloading a 2D video - it's all in eye-popping 3D VR that'll make your blood rush to your crotch faster than you can say VR. Share your experiences by email.

Pros
Good amount of exclusive scenes
Free VR headset with membership
Scenes have 220° FOV
Cons
Slow download speeds
No streaming option
No search bar (basic or advanced)
Bottom Line
Holo Girls VR is an indisputable veteran VR site, with a good amount of full-length virtual reality scenes (79) featuring well-known XXX performers. Despite their relatively slow download speeds and a rather basic user interface, they provide high-quantity videos that left me one happy customer.
My Full Holo Girls VR Review
Gotta Love Those HoloGirls!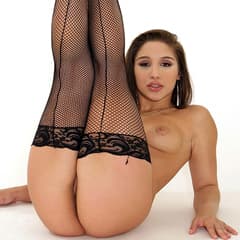 Of the few complaints I have about VR porn, the most recurring has got to be that so many sites have such a measly number of videos that actually provide a realistic 3D experience. Not so with Holo Girls VR though. I've yet to come across another site with as many immersive 3D videos as this one, with 79 full-length scenes and new ones being added almost weekly. Though some of their first videos were shot in slightly lower quality (30fps) compared to the majority (60fps), their huge cache of high-quality content more than makes up for it and still gives them an edge over most VR sites.
Once you've logged in to HoloGirlsVR you'll quickly realize that there's only one page to this site and it's kind of basic. All 79 scenes are displayed on this one page and as I've stated in other reviews, I like it, as it enables me to scroll through all of the videos at once. But at the same time I do like being able to filter them with tags, categories or use a search bar when I feel the need to. Sites without any search bar are, in a word, unimpressive.
Download Only Here - No Streaming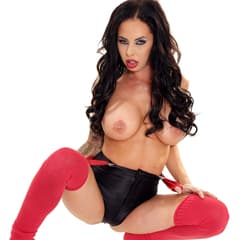 Another distinct feature is the way scenes can be viewed. They're download-only, so forget streaming. Now, we all like the convenience of streaming videos, but the streaming feature on nearly all VR sites I've been to still has a few kinks to be ironed out so I'm glad they aren't offering what I feel to be a potentially problematic feature.
When you first arrive on the site a pop up asks you what type of VR device you'll be using. No other site does this and I think it's great. When I click "download" I'm not offered a long drop-down menu with different files for different devices, but rather I'm automatically given the right file. This feature definitely adds an efficient and streamlined experience. Except for the fact that the downloads were slow. That sucked.
Not 180° or 360° But 220°
All their videos offer a FOV (field of vision) of not 180° or 360°, but rather 220°. This means you'll be able to look at an additional 20 degrees in both directions. After watching an innumerable amount of scenes shot in 180°, it was interesting to be able to look around a little bit more, but honestly my FOV was focused on the babe right in front of me. I watched various scenes on all three of my devices: Oculus, Gear VR and Cardboard with no problems whatsoever and enjoyed a full 3D experience every time.
HoloGirlsVR is Hot!
You can keep up to date with all the latest the site has to offer by following them on social media. They've got their own Twitter, tumblr and Instagram. You can also check out a bunch of their videos on tube sites Pornhub and VR Smash. If I've missed anything of interest that's related to this site, let me know!
You've simply got to give it up to HoloGirlsVR for having more high-quality VR scenes than most sites out there today. The 3D effect was excellent and worked perfectly on my Oculus, Gear and Cardboard headsets. Plus, not only are the models smoking-hot, but the scenes are also well put together and thoroughly enjoyable in more ways than one.
Click Here To Visit Website
Similar Top VR Porn Sites