Watch Tons of VR Scenes for Free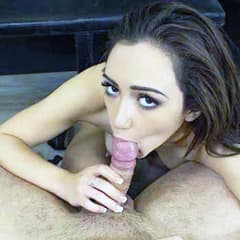 I simply can't write this enough: I love VR porn! And I don't think I'm the only one. Ever since its start a couple years ago, video production has steadily increased, so much so that VR Smash has compiled over 600 videos that are shot in either 180° or 360° immersive 3D and they work with my headset to transport me from my everyday reality to an unbelievable XXX virtual reality. With their motto, "The future is cumming", I feel like they're speakin' my language.
First, I have to say that this is a superbly put together website and I don't think I could suggest any improvements to their display or interface. With a slick black background and bright pink and white text, I felt kinda hot just surfin' around. You can browse their videos by title, date, niche, studio and even field of view (180° or 360°).
It's Mostly Short Trailers
With their motto, "The future is cumming", I feel like they're speakin' my language.
You'll soon notice that all of VRSmash's videos are either short trailers that run less than a minute, or abbreviated scenes that are no longer than five minutes tops. The player will reveal the FOV (field of vision), FPS (frames per second), studio, date and length. You can stream them directly through your smartphone or Oculus headset from the mobile site, or you can download them. You can also purchase the scene or a just sign up to the site it comes from through direct links conveniently found under every scene.
For this review I used both a Gear VR and a Cardboard headset. While the streaming does take you to a page where you can then specify which device you're using, I found the video quality to be a bit lacking. While the streaming is supposed to be adjusted for each device, there are no additional settings available and I thought the picture could look better on both the Gear VR and the Cardboard headset.
Better to Stream Here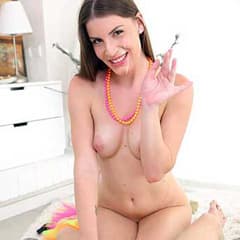 When you download the video you will notice a slight catch: VR Smash offers only one file for download. It has a 1280x720 resolution and will play just fine on your device, but I think the video would no doubt look better if it was formatted for a specific device. And, as always, I prefer watching them through the Gear VR over the Cardboard headset because I like the Gear's focus adjustment wheel as well as its ocular encapsulation (it completely covers my eyes).
Exclusive BaDoink VR Deals!
VR Smash is a great site for newbies to VR …
Another pro for VRSmash is the promotional offer they have in conjunction with BaDoink VR. If you don't own your own device yet, in exchange for signing up for their 1-day trial for only $1.00 (U.S. only), BaDoink will send you a free cardboard VR headset. You may have to wait a few days for it to arrive before you can start enjoying the immersive stereoscopic 3D action, but the wait will make enjoying the videos even hotter.
In addition to all this, the site offers a "Getting Started" guide for all you who are new to VR. It answers some FAQ, as well as providing step-by-step instructions for five different VR headsets including Google Cardboard, Gear VR, Smartphone VR, Oculus Rift, HTC Vice and even the Playstation VR (approximate release date October 2016).
Thumbs Up for VRSmash
For a humble tube site, they aren't skimping on their social media efforts. These guys have got a Twitter, Instagram and tumblr feeds. They even caught the attention of a couple of prominent tech news websites such as The Next Web and Digital Spy, where they're mentioned ever so briefly as a great option to check out VR porn.
VR Smash is a great site for newbies to VR, but while I won't deny that I get a rise out of watching trailers and abbreviated scenes, sometimes they can leave me a little disappointed. Though once you receive your brand-new headset, you'll be able to use it to watch hundreds of different clips in VR and that should provide hours of pleasurable entertainment.