It's always nice to try before you buy and that's the whole point of sweet virtual tube sites like Laid Hub. Treat yourself to as many hardcore 180° 3D videos as you can handle. Feel to free email me!

Pros
1,000+ virtual porn scenes
Free registration unlocks user features
Minimal ads
Bottom Line
There's been an ever-increasing number of tube sites like Laid Hub that exclusively host VR videos that you can immerse yourself in without ever paying or even having to sign up for anything. Of course, being a tube site, you will have to deal with a few ads here and there, typically relegated to the margins, but there are a few pop-ups, too. You also can't download anything here as this site offers streaming-only virtual scenes.
My Full Laid Hub Review
Get Laid in Virtual Reality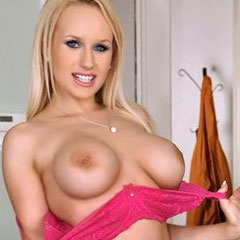 Cue the medieval trumpet fanfare 'cause I've got a tube site for you to try. Presenting, for your lusty enjoyment, Laid Hub. Boy, that name rings familiar, but I'm sure it's an original creation like Ricky Rouse or Ronald Ruck. Actually, come to think of it, there's nothing original on this site. Just hundreds and hundreds of hardcore, often cum-dripping lusty clips from other sites that you can watch for free while wearing your favorite headset.
What's the catch? Nothing much, really. Just a few ads to contend with, all from paysites, trying their hardest to convince you to sign up. There are never any underhanded sales techniques, though, which is always appreciated.
Enjoy Premium VR Porn from the Best Content Creators
There are so many different scenes here for you to watch it's crazy. Most of them are uploaded by users, much like ourselves, but there's also a distinct "premium" category that's full of official clips and trailers from paysites like BaDoinkVR, WankzVR, HoloGirlsVR, JVR Porn and others. These scenes will have pop-ups on the player with a direct link to the scene on a paysite.
You can close those easily, though, if you aren't interested. But take it from me when I tell you that streaming one of these short clips is nothing like immersing yourself a real 180° 3D scene.
Registration is Free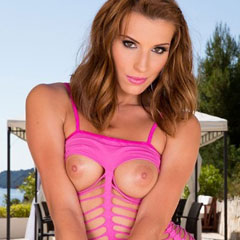 As a whole, the site is pretty well organized, full of different ways to sort the scenes and plenty of search tools. And if you're looking for additional features like uploading scenes that you own, as well as being able to comment, rate, favorite and message other users on the site, you're going to have sign up and register, but it's free so why wouldn't you do it?
Stream These Scenes on Your Mobiles
There is one caveat that I think is worth mentioning, namely that none of the videos can be downloaded nor can the stream be formatted to suit a particular headset. Naturally, this being a tube site, most people wouldn't bother with downloading clips, but since LaidHub is a virtual reality tube site, I think it should be thought of differently. Some of your bigger tube sites offer both the ability to download their clips and to format them for a specific viewer, at no cost I might add.
So, in a nutshell, what all of that means for you, the horny viewer, is that if you happen to have a fancy-shmancy PC viewer and you're looking to get the most out of it by using LaidHub, you're going to be disappointed. While you can definitely deliver the feed to your Oculus Rift or HTC VIVE, the experience won't be anywhere near as immersive if you had instead played a specially formatted scene from a paysite. LaidHub is actually best suited for those with mobile viewers like a Cardboard, GearVR or Google Daydream.
Watch VR Porn For Days
There you have it, folks, another sweet tube site offering the latest hardcore porn scenes for you to lose yourself in. No strings attached and no credit card asked for, just surf, click and play and let loose for a while. If there's a scene in particular that really gets you going (for me it was one from VRCosplayX), finding the paysite is as easy as 1, 2, 3. There are also links to live cam sites and a review site. So don't delay, try LaidHub today.
Click Here To Visit Website
Similar VR Tubes

I don't know whom I love more. The person who invented virtual reality or the person who made it for adults. Actually, I love whomever made VR Porn's free streaming content!

When you think sumo, you probably think of a Japanese man with a whole lot of weight behind him. VR Sumo is a tube site with a whole lot of adult VR that you can stream for free.
Sign Up for Free VR Porn!
I'll send you updates and deals from the best VR tubes.

Pirou VR is a tube site where you'll get to sample virtual porn videos from some of the best VR sites online. From threesomes to taboo sex, dive into these immersive scenes.

Everybody likes to watch adult VR, but not everybody likes having to pay for it. That's why there's tons of free virtual scenes for you to stream on XHamster VR.

Somebody's got to write the folks at XVideosVR a thank-you note for making 100's of VR scenes available for free. It's no-strings-attached, so what are you waiting for?

Interested in sampling VR porn vids from the best sites? VR Porn Jack has you covered with hundreds of scenes, including categories ranging from fetish, teen, MILF and so much more.

If you're looking for a quality tube site where you can watch hardcore virtual porn, SexVR is the place to be. You'll find clips and full-length scenes from a variety of adult studios.

From the hottest cosplay scenes to big-tit pornstars, explore content from some of the top VR porn sites, with 100s of videos covering a wide range of niches.

Laid Hub is a huge tube site with a large collection of free VR porn that will immerse you in a variety of scenes. They also have tons of 2D videos, so it's the best of both worlds.

With adult virtual reality being all the rage, PornFoxVR has been filled to the brim with one eye-popping hardcore 3D scene after another that you can stream for free!

Porn.com is a much visited adult tube site that's gotten even more popular since adding its very own dedicated VR page. Don't miss out on all these free 180° 3D hardcore scenes!