Unless you're Amish or have been living on Mars for the past decade, you've probably heard of Pornhub. But did you know they have a dedicated VR page now with free VR porn? Send me your emails.

Pros
Nearly 200 VR videos
Easy to use and access content
Cons
Some VR videos don't display correctly
Streaming rarely provides a 180° view
Occasional pop-up ads
Bottom Line
Pornhub VR is a great site that hosts tons of free XXX virtual reality videos. Whether or not all of them play in immersive 180° 3D for that sweet, sweet VR effect to work is another question. You may have to go through some videos that just don't work as they're either fakes, or because of a lack of setting adjustments they just won't display properly.
My Full Pornhub VR Review
Everybody's Heard of Pornhub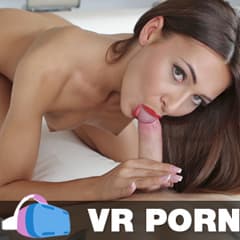 Pornhub is a big favorite with tube fans for its easy interface and nearly infinite number of free XXX videos. The site has nearly every niche you could dream of and maybe even some you haven't dared to dream of before. With the recent rise of virtual reality porn, they've since collected enough virtual reality videos to establish a special category, so that you can finally see what all the commotion is about without having to pay for a subscription.
Most VR Scenes Are Legit, And It's All Free
Currently Pornhub VR has a lot of VR videos and unlike some other VR tube pages, I would say that the majority of them are originally shot in immersive 3D. Plenty of videos have their original titles and even the name of the production company in the file, so it's super obvious which ones are without a doubt legitimate virtual reality videos and which ones are not.
I Recommend Downloading Over Streaming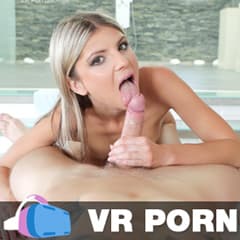 Once you've managed to choose a movie from among the site's large VR library, if you're going to stream the video directly through your smartphone using Cardboard, Gear VR or another headset, I personally wouldn't recommend it. You see, their streaming player does not allow you to switch viewing modes in order to get the display you want. When I streamed a video using my Cardboard unit, the display seemed 3D and the camera did follow the titling of my head somewhat, but it seemed like the scale was noticeably off.
What I recommend and what I also think the site recommends is to download the videos. Right under the player you'll see a little VR headset icon that will reveal four download options: VR, HQ VR, Oculus Rift or Cardboard. I downloaded the Cardboard option for this review, opened the file in AAA VR Cinema (a free app from Google's Play Store) and after the picking my preferred video mode, it played like a fully functioning VR video.
It's The Largest Tube Site For Good Reason
As for the interface, it's pretty slick and efficient. You can enter your own tags or browse by category (most of which have handy little subcategories) or through the video tab located on top, or sort by duration or whether or not it's made by pros or amateurs. The site has links to other specialty tube sites that are part of Pornhub's greater network. The ads are also organized neatly to the side and I haven't seen a single pop-up. An affordable subscription will get you a completely ad-free site, in addition to other goodies like exclusive content and HD videos.
When Pornhub launched their dedicated VR page back in March 2016, you'd better believe the porn-lovin' world stood up and took notice. Surf on over to their official Youtube page to scope out their amazing TV ad for their VR service. They're also on Twitter, Instagram, Snapchat, Reddit and tumblr where they frequently post VR-related updates.
Pornhub VR has a great selection of videos for you to download for free so that you can enjoy immersive 3D porn without the hassle and cost of signing up to a pay site. Streaming still seems to have bugs that need to be ironed out, but ultimately this site is an infinite treasure trove of porn, including the virtual reality variety.
Click Here To Visit Website
Similar VR Tubes

I don't know whom I love more. The person who invented virtual reality or the person who made it for adults. Actually, I love whomever made VR Porn's free streaming content!

VRSmash will show you what virtual porn is really like before you take the plunge and sign up to a paysite. Here you'll find adult videos from every major studio and it's all free.
Sign Up for Free VR Porn!
I'll send you updates and deals from the best VR tubes.

When you think sumo, you probably think of a Japanese man with a whole lot of weight behind him. VR Sumo is a tube site with a whole lot of adult VR that you can stream for free.

Everybody likes to watch adult VR, but not everybody likes having to pay for it. That's why there's tons of free virtual scenes for you to stream on XHamster VR.

Pornhub is the world's leading tube site and they wouldn't have gotten that prestigious title if they overlooked VR porn. They're hosting 1000's of scenes and they're all free.

Somebody's got to write the folks at XVideosVR a thank-you note for making 100's of VR scenes available for free. It's no-strings-attached, so what are you waiting for?

Interested in sampling VR porn vids from the best sites? VR Porn Jack has you covered with hundreds of scenes, including categories ranging from fetish, teen, MILF and so much more.
Whatever you want, HardcoreVRPorn has it. From babes in stockings to threesomes with pornstars, you'll get to enjoy a variety of virtual experiences from the best websites online.

Pirou VR is a tube site where you'll get to sample virtual porn videos from some of the best VR sites online. From threesomes to taboo sex, dive into these immersive scenes.

If you're looking for a quality tube site where you can watch hardcore virtual porn, SexVR is the place to be. You'll find clips and full-length scenes from a variety of adult studios.

From the hottest cosplay scenes to big-tit pornstars, explore content from some of the top VR porn sites, with 100s of videos covering a wide range of niches.

Laid Hub is a huge tube site with a large collection of free VR porn that will immerse you in a variety of scenes. They also have tons of 2D videos, so it's the best of both worlds.

VRSmash will show you what virtual porn is really like before you take the plunge and sign up to a paysite. Here you'll find adult videos from every major studio and it's all free.

Porn.com is a much visited adult tube site that's gotten even more popular since adding its very own dedicated VR page. Don't miss out on all these free 180° 3D hardcore scenes!