I finally got my hands on the self-proclaimed "best VR headset for porn" and I am ready to share my thoughts on the ease of watching adult content with it! Tell me your thoughts by Email!

Pros
Lightweight
Streams in 6K
An instant collection of VR porn
Cons
Can't watch content outside of their collection
Bottom Line
The Iris VR is in a class of its own. If your sole motivation for buying a headset is to watch porn, then this is a worthwhile investment. Not only are you getting instant access to a collection of over 1,000 videos, but you'll also get to watch it quickly and easily on a device that's lightweight and streams the movies in 6K.
My Full Iris VR Review
The World's Best Headset For Porn
There are many headsets on the market these days and each has multiple uses. Some offer virtual "experiences," where you can travel around the world, fly a plane or even be chased by dinosaurs. You can also play video games. And of course, if you're here, you already know that you can use them to watch VR porn. But what if you only want to watch porn and don't care about the other stuff? Well, let me introduce to you the Iris VR, the first headset designed explicitly for adult viewing.
How Does It Work?
Let me start by saying that I loved how easy it was to use. Unlike other devices, you don't need to preload or download videos, then hook up your headset to watch them. With the Iris VR, you sign up for an account and pay for a subscription to their services that's not unlike a Netflix subscription, except you'll get over 1,000 VR porn titles! All you need to do then is put on your headset, start browsing their smooth interface and look for a video that fits your mood.
The only downside I can see is that you can't download any of your own VR porn to watch outside of the IrisVR collection. But I don't see this being a huge problem because the selection is already big and I imagine that as the headset gains popularity, they'll strike up deals with other companies to add their content.
Check Out a Top-Notch Collection
The Iris VR has an expanding library of porn from some of the best sites in the virtual reality game right now, like BaDoink VR, 18 VR, VR Cosplay X and more. Now, if you have that subscription I talked about, they add new scenes for you almost daily. And if you don't have a subscription, they still release one free video every week, so you can still enjoy the benefits. And in case you're wondering, these videos are fully licensed, so you'll get the full versions.
As far as I can tell, they cover a variety of niches. I saw teen porn, MILFs in action, one-on-one scenes and threesomes, BDSM scenes and more. There's also trans and gay content, so they really cover a gamut of categories and have something for everyone.
Cutting-Edge Technology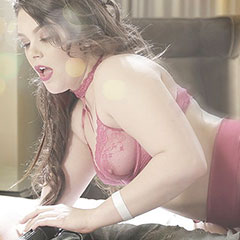 When the folks behind Iris VR began creating this headset, it was clear from the start that they had several ideas on how to make it perfect for watching porn. Well, I can say that they've achieved that goal! There are several things that make it innovative.
Weighs less than 300g for ultimate comfort
No mobile device required
Anti-dizzy technology helps with eye strain
Plays up to 6K resolution
Binaural audio
Battery life lasts up to 3 hours
Compatible with teledildonics
Enjoy a Smooth User Experience
When you strap on your IrisVR, you really feel like you're entering a virtual theatre of sorts. They've designed it in a way that's classy, but also easy to browse at your leisure and select the video you want. You don't need to download any additional apps or specific software or any of the other time-consuming things you need to do to watch porn on other headsets.
The Future of VR Porn Has Arrived
The primary purpose of headsets like the Oculus or the Vive is for gaming. They aren't designed for porn, even if you can use them for that purpose. This, on the other hand, is the ultimate headset for viewing smut. Just look at some of the cons I've mentioned in other reviews. The biggest issue is that it can sometimes be a pain to get your videos on the device and it often requires an expensive, powerful computer to run. Not only do those problems not exist here, but you'll be watching your content optimally and comfortably. And it'll cost you less than if you bought one of those mainstream headsets. It's as simple as this: Do you only want a VR headset to watch porn? If the answer is yes, buy the Iris VR!
Click Here To Visit Website
Similar Best VR Headsets
PS4 fans absolutely need this VR headset. It's not just for playing exclusive PS4 game content. You can easily adjust it to watch your all your favorite adult scenes too.

Arguably the most popular desktop device, the technologically advanced Oculus Rift has surpassed all expectations and delivers an immersive experience like none other.
Sign Up and Get First Dibs
Exclusive updates and offers on the best VR gear out there!

Originally the manufacturer of high-end Android smartphones, HTC is now leading the headset game with the VIVE. It's neck-and-neck with its competitor for the most sophisticated one.

If you're going to watch virtual reality porn, why not use a headset specifically designed for optimal VR porn viewing? Introducing the innovative and easy-to-use Iris VR!

The Oculus Go is a revolutionary piece of wearable standalone tech that will enable you to immerse yourself in virtual porn scenes without a smartphone or attached desktop.

If you've heard the buzz around VR porn, but you're on a budget, you can't go wrong with Google's cardboard viewer. It's dirt-cheap and works with most smartphones.

Do you like VR porn? Do you own a Samsung device? If you answered yes, there's no reason you shouldn't get yourself a GearVR and start watching your fill of adult content.

So Google has decided to build a real VR headset instead of offering folded cardboard with glass lenses in it. The Daydream View is their answer to Samsungs' Gear VR.

It was only a matter of time until nerds rebelled against the status quo and made their own VR viewer with open-source tech. The OSVR rivals the leading headsets and costs less.