Go, go, Oculus Go! Say goodbye to wires and smartphones locked away in plastic shells, as this device is the first standalone mobile VR headset and I couldn't be happier. Feel free to email me.

Pros
Requires no computer or smartphone
Sophisticated optics and resolution
Unbeatable value
Cons
No keyboard
Not the best for gaming
Bottom Line
The answer to the question that you're no doubt looking for is, yes, the Oculus Go does play VR porn. And, in my expert opinion, it plays it better than all the rest. Not to mention the price point is super affordable, it's wireless, requires no smartphone and projects a better picture than the Oculus Rift.
My Full Oculus Go Review
The Best VR Headset for Porn Yet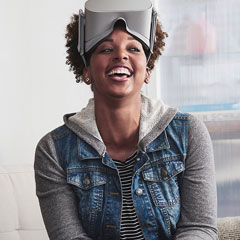 I'm going to start off by just telling you that I love the Oculus Go. This new VR headset that both Facebook and Oculus engineered together was intended to make virtual reality more accessible. It has the mobility of Samsung's GearVR and Google's Daydream View, (without the need of a smartphone by the way), with the sophisticated optics and resolution of the Oculus Rift and HTC VIVE, without needing to be tethered to a desktop with a powerful CPU and graphics card. While you might think that this sudden leap in technology would cost you an arm and a leg, a part of its increased accessibility is its affordable price point, which is considerably less than the Oculus, VIVE, or PSVR.
A Headset With a Variety of Uses
What's important to consider is that, as always, my reviews focus on porn. I know that for mainstream purposes, virtual reality is primarily marketed for use with gaming and other "legitimate" experiences, but that's not my world! So, if you're interested in high-powered gaming, then maybe the Oculus Go isn't for you. But if you seek to immerse yourself in hardcore virtual action that'll give your nether regions the relief they just can't get anywhere else, then it will serve your purposes just fine. Just keep in mind that when I say it's great for porn, it doesn't mean that it isn't a great buy for other purposes like watching movies, 3D pictures and even some gaming. In a word, the OculusGo is primarily meant for media consumption, which suits adult content just fine.
Immerse Yourself in a Better Virtual Reality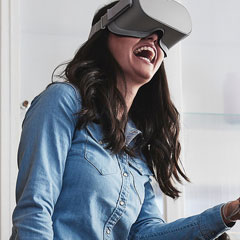 Now it's time to talk turkey, and by that, I mean to discuss the specifics on why I'm so bonkers over this headset. A lot of it has to do with the improved optics and resolution, which is one of the most, if not the most, important factors in a virtual experience. The Go has a resolution of 1280x1440 per eye, while the Rift has a resolution of 1080x1200, making the Go the clear winner. Though when stacked up against the HTC VIVE Pro, the resolution is ever so slightly lower, but the price of the VIVE Pro is around five times higher, not to mention that it remains tethered to a desktop. There are also other improved optic capabilities, like a significantly decreased screen-door effect, which up until now was the bane of VR users. Also, you won't be seeing any "god-rays" on the Oculus GO, which was a weird visual effect that made bright white objects seem to beam a kind of glowing radiation.
Watching Porn is Easy on the Go
Watching porn is supereasy on the Oculus Go, in part due to the simplified albeit more effective software interface. It has its own built-in browser, which makes streaming exceptionally easy. By using the included remote, just like you would type using the Rift, type in the site's URL, login and click play. This way, you can stream scenes from all of the top VR porn sites. The Oculus browser even has an incognito mode in case you ever have to share your viewer with someone else. And when it comes to downloading scenes, the software has its own VR player, not to mention a built-in 32GB or 64GB hard drive. It would be even better if there were a kind of AR keyboard or even the ability to connect a Bluetooth keyboard, making typing fast, but no such luck.
The Future of VR Continues to Look Bright
There you have it, adult virtual reality fans, the Oculus Go. It's a mobile VR headset, minus the smartphone, which is fantastic! Its ease of streaming and downloading makes it seem like it was made for porn. What's even more exciting is the upcoming Oculus Santa Cruz, which is another standalone mobile headset, but with even more advanced capabilities. I can't wait for that one and you can be sure to expect my review of it from an adult-content perspective. You can keep up to date with me as I continue to explore the ever-growing world of virtual porn by following me on my Twitter feed!
Click Here To Visit Website
Similar Best VR Headsets
PS4 fans absolutely need this VR headset. It's not just for playing exclusive PS4 game content. You can easily adjust it to watch your all your favorite adult scenes too.

Arguably the most popular desktop device, the technologically advanced Oculus Rift has surpassed all expectations and delivers an immersive experience like none other.
Sign Up and Get First Dibs
Exclusive updates and offers on the best VR gear out there!

Originally the manufacturer of high-end Android smartphones, HTC is now leading the headset game with the VIVE. It's neck-and-neck with its competitor for the most sophisticated one.

If you're going to watch virtual reality porn, why not use a headset specifically designed for optimal VR porn viewing? Introducing the innovative and easy-to-use Iris VR!

The Oculus Go is a revolutionary piece of wearable standalone tech that will enable you to immerse yourself in virtual porn scenes without a smartphone or attached desktop.

If you've heard the buzz around VR porn, but you're on a budget, you can't go wrong with Google's cardboard viewer. It's dirt-cheap and works with most smartphones.

Do you like VR porn? Do you own a Samsung device? If you answered yes, there's no reason you shouldn't get yourself a GearVR and start watching your fill of adult content.

So Google has decided to build a real VR headset instead of offering folded cardboard with glass lenses in it. The Daydream View is their answer to Samsungs' Gear VR.

It was only a matter of time until nerds rebelled against the status quo and made their own VR viewer with open-source tech. The OSVR rivals the leading headsets and costs less.