This review will cover the ins and outs of Samsung's Gear VR, one of the leading virtual reality headsets. If you've got yourself a Samsung smartphone, then this is the best accessory to watch hot 360° porn. Email me.

Pros
Wireless
Lightweight
Relatively inexpensive ($99 on Amazon.com)
Cons
Only works with certain Samsung smartphones
Screen-door effect
Bottom Line
The Gear VR is definitely the most advanced smartphone-based headset to date, bar none, but it can be extremely limiting if you don't have a recent Samsung smartphone. You can't really compare it to a desktop-class headset, but it sure beats Google Cardboard by far.
My Full Gear VR Review
INTRO
The Gear VR is an affordable device that has its fair share of pros and cons.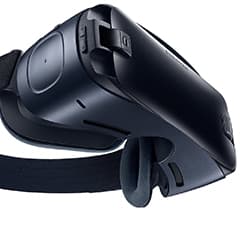 You definitely get what you pay for and at $99, it is obviously a superior device to the Cardboard, but realistically it cannot compete with the two desktop-class devices: Rift and VIVE.
Despite having a significantly weaker processor, refresh rate and overall immersiveness, the fact that it's still relatively basic creates a few strengths.
It's wireless and lightweight. Some people would say going cordless in VR is essential to the experience. I happen to agree with them.
There are, however, clear detractors:
Limited smartphone compatibility. Unlike the much more versatile Cardboard, you can only use a select range of Samsung phones.
Screen-door effect. That's when you can see fine black lines in between the pixels, which is actually the space between the pixels, making it look as if you're looking through the mesh of a screen door.
Some people are more sensitive to that effect than others and it can really ruin the overall "realness" effect. It's definitely more prevalent in mobile headsets, because it's a smaller screen that is then magnified with actual lens that are super close to your eyes.
PREREQUISITE TECHNOLOGY
This is one of those good news, bad news deals. The good news is that you don't need an advanced PC or a PS4. The bad news is that you need a Samsung smartphone and a specific one at that. Currently, these are the only phones that are compatible: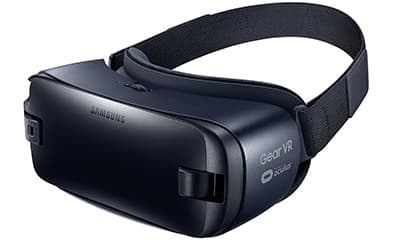 Galaxy S6
Galaxy S6 Edge
Galaxy S6 Edge+
Samsung Galaxy Note 5
Galaxy S7
Galaxy 7 Edge
HOW TO USE
Setting up the Gear VR is pretty easy.
First, make sure your phone's volume is turned up.
Remove the front cover.
Push the device-holding plastic tab into position A or B depending on the size of your phone.
Place the phone face-down and connect its USB port to the Gear VR connector.
Make sure your phone is secure at both sides using both holding tabs.
HOW TO WATCH VR PORN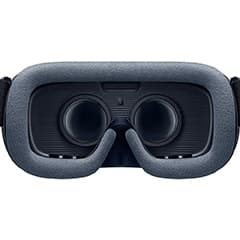 When it comes to watching porn on the device, you're going to have two options: streaming or downloading.
Personally I prefer to watch scenes directly on my phone that I've already downloaded rather than streaming them. I've found that most virtual reality porn sites still haven't perfected their streaming.
Stream:
Download, install and open Cardboard Enabler, available from the Google Play Store.
Disable Gear VR Launcher.
Visit a VR site with a mobile platform and launch VR mode.
Always choose Gear VR from the list of devices.
Insert your phone into the device.
Download:
You can either download the file directly onto your phone, or download it to your computer and then transfer it via USB key. Your choice.
Your phone and all necessary apps have to be up to date.
Either download the Samsung VR Player from the Oculus Store, or a 3rd party VR app.
Load your file through the VR player you're using.
Launch and enjoy.
ADDITIONAL SUPPORT
Fortunately, there is no shortage of support when it comes to watching virtual reality porn, especially for the Gear VR. It's widely available and very popular, so many people are using it. Though you shouldn't expect any support for watching porn from the good folks over at Samsung. But nearly all of the best paysites have detailed instructions and troubleshooting tips on how to get porn onto your headset in no time.

Here's a few I liked: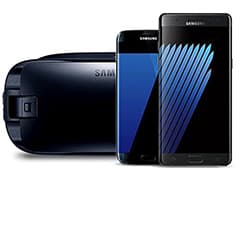 CONCLUSION
The Gear VR is a pretty sweet device. It is, however, not the ultimate VR appliance. That rank must deservingly go to the desktop-class headsets, namely the Rift and VIVE.
Newer models have been released with better ergonomics and a slightly improved interface.
If you've got a Samsung phone that works with one, why wouldn't you buy it?
Click Here To Visit Website
Similar Best VR Headsets
PS4 fans absolutely need this VR headset. It's not just for playing exclusive PS4 game content. You can easily adjust it to watch your all your favorite adult scenes too.

Arguably the most popular desktop device, the technologically advanced Oculus Rift has surpassed all expectations and delivers an immersive experience like none other.
Sign Up and Get First Dibs
Exclusive updates and offers on the best VR gear out there!

Originally the manufacturer of high-end Android smartphones, HTC is now leading the headset game with the VIVE. It's neck-and-neck with its competitor for the most sophisticated one.

If you're going to watch virtual reality porn, why not use a headset specifically designed for optimal VR porn viewing? Introducing the innovative and easy-to-use Iris VR!

The Oculus Go is a revolutionary piece of wearable standalone tech that will enable you to immerse yourself in virtual porn scenes without a smartphone or attached desktop.

If you've heard the buzz around VR porn, but you're on a budget, you can't go wrong with Google's cardboard viewer. It's dirt-cheap and works with most smartphones.

Do you like VR porn? Do you own a Samsung device? If you answered yes, there's no reason you shouldn't get yourself a GearVR and start watching your fill of adult content.

So Google has decided to build a real VR headset instead of offering folded cardboard with glass lenses in it. The Daydream View is their answer to Samsungs' Gear VR.

It was only a matter of time until nerds rebelled against the status quo and made their own VR viewer with open-source tech. The OSVR rivals the leading headsets and costs less.