This is my review of the HTC VIVE headset. Let's see how this baby fares against the competition, especially when it comes to playing VR porn videos. Feel free to email me.

Pros
Arguably the best VR experience available
Motion controllers
Low tracking latency
Cons
Expensive ($799 on Amazon.com)
Requires powerful PC - usually starting at $1,000
Bulky, too many cables & difficult to set up
Bottom Line
In many regards, the VIVE is the technologically superior VR headset. But not necessarily for the purposes of enjoying porn. The vast majority of VR adult content today is shot from a lying down or, rather, sitting down POV. A cheaper headset might just do and still have better overall value.
My Full HTC VIVE Review
INTRO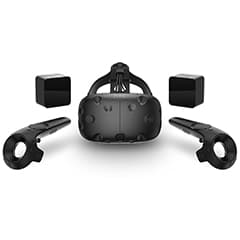 One of the only two desktop-class headsets on the market, the HTC VIVE will afford its users the ability to discover and explore virtual reality like never before.
This, of course, all depends on whether or not its potential users can afford it! It remains the single most expensive headset on the market today and that's not including the cost of the PC that has the specs to run it.
Asides from its near-prohibitive costs, the headset is soft, comfortable and plush, but it's also bulky and has more wires than the Oculus. These can detract from the realism of your experience.
It has advanced tracking capabilities, which gives it the lowest latency of all the headsets. Lower latency = better VR experience.
There is no Mac support. But then again there is no Mac support for any of the VR devices, save Google Cardboard.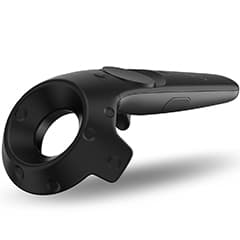 PREREQUISITE TECHNOLOGY
No one said VR was going to be cheap. If you're on a budget then I'm sorry to say that both desktop-class headsets (this one and the Oculus) might be out of your reach.
Aside from the fact that the VIVE is the most expensive device at $799, it also requires a powerful PC. If you don't have one, it could set you back almost $1,000 (VIVE does not support Macs).
Here are the spec that VIVE recommends for optimal functioning.
Processor: Intel Core i5-4590 or AMD FX 8350, equivalent or better
Graphics: NVIDIA GeForce GTX 1060 or AMD Radeon RX 480, equivalent or better
Memory: 4 GB RAM or more
Video output: 1x HDMI 1.4 port, or DisplayPort 1.2 or newer
USB: 1x USB 2.0 port or newer
Operating system: Windows 7 SP1, Windows 8.1, or Windows 10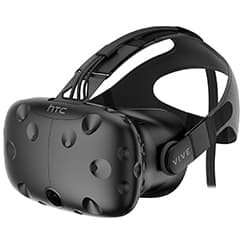 HOW TO USE
In addition to being the most advanced and expensive headset, the VIVE is also the most complicated to set up. It doesn't require a technician though, just time, patience and a VR porn-inspired zeal.
HOW TO WATCH PORN
After you've completed the physical setup, if you're looking to watch porn in virtual reality, there are just a few additional steps that you have to take.
Download a file that's meant for the VIVE. I would not use it for streaming, though you could.
Launch your VR scene through the player and you're ready to roll.

Nearly every VR porn site I've seen to date has extensive support for the VIVE. If all else fails, that's where you can find more support:
CONCLUSION
While it is very expensive, you definitely get what you pay for. With high display resolutions and refresh rates, low tracking latency and advanced controllers, the experience you'll have will almost fool you into thinking it's the real thing.
The Oculus, which is a very close runner up, may not be as advanced as the VIVE, but it's perfect for watching porn.
VIVE's controllers did give it a competitive edge for a while, but then Oculus just released their motion controllers recently. While the motion controllers might not prove useful in watching XXX content, there may be applications for it when playing 3D sex games.
HTC is planning on releasing a sleeker, wireless model, the VIVE 2, sometime in 2017. Maybe you want to wait for that one? I would.



Click Here To Visit Website
Similar Best VR Headsets
PS4 fans absolutely need this VR headset. It's not just for playing exclusive PS4 game content. You can easily adjust it to watch your all your favorite adult scenes too.

Arguably the most popular desktop device, the technologically advanced Oculus Rift has surpassed all expectations and delivers an immersive experience like none other.
Sign Up and Get First Dibs
Exclusive updates and offers on the best VR gear out there!

Originally the manufacturer of high-end Android smartphones, HTC is now leading the headset game with the VIVE. It's neck-and-neck with its competitor for the most sophisticated one.

If you're going to watch virtual reality porn, why not use a headset specifically designed for optimal VR porn viewing? Introducing the innovative and easy-to-use Iris VR!

The Oculus Go is a revolutionary piece of wearable standalone tech that will enable you to immerse yourself in virtual porn scenes without a smartphone or attached desktop.

If you've heard the buzz around VR porn, but you're on a budget, you can't go wrong with Google's cardboard viewer. It's dirt-cheap and works with most smartphones.

Do you like VR porn? Do you own a Samsung device? If you answered yes, there's no reason you shouldn't get yourself a GearVR and start watching your fill of adult content.

So Google has decided to build a real VR headset instead of offering folded cardboard with glass lenses in it. The Daydream View is their answer to Samsungs' Gear VR.

It was only a matter of time until nerds rebelled against the status quo and made their own VR viewer with open-source tech. The OSVR rivals the leading headsets and costs less.