My Full Google Cardboard Review
INTRO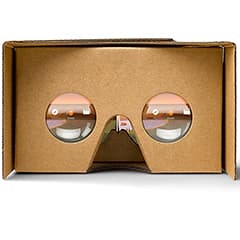 Google Cardboard is the product of the search engine giant's very successful attempt to create an affordable VR device for the masses. With a price range between $8-$80, they certainly got the affordability part right. It's also incredibly tech-friendly, requiring no complicated setup. All that being said, it doesn't offer the best VR experience when compared to some of the other more elaborate devices.
There are many different models of the Cardboard device by now. Some have been made of different materials, some have designs, some have straps and some are better suited for specific phone sizes, but they're all pretty much the exact same device because they're all collapsible.
This viewer is wireless, unlike other VR headsets that are wired to a computer or game console, which can be inconvenient.
PREREQUISITE TECHNOLOGY
Google Cardboard does not need a computer or a gaming console to work. It just needs a smartphone and will work with most Android or iOS phones. There are, however, a few additional prerequisites to consider:
Your phone's screen size matters. The actual size of the Cardboard and the placement of the biconvex lenses dictates that your smartphone's screen size needs to be somewhere in between 4-6 inches. To measure the screen size just grab a measuring tape or ruler and measure two diagonally opposite corners of the screen, not the overall phone.
It requires Android 4.1 or higher & iPhones need an iOS of 8.0 or higher.
Your phone needs to have a gyroscope, which most smartphones (but not all) have nowadays.
HOW TO USE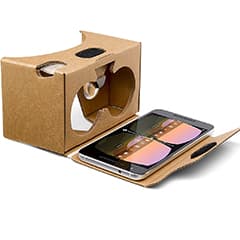 As mentioned earlier, Google Cardboard is essentially primitive technology. Most Cardboard viewers will be flat when purchased and you have to fold it into place. This is super easy to do and makes it even easier to transport. Voila!
Download the official Google Cardboard app from the Play Store or iTunes. Run the app and scan the QR code on the Cardboard viewer. This will ensure your viewer's compatibility with your smartphone and even calibrate your display settings.
If you've downloaded a VR scene, then download a VR app. Why do you need another app? Because Google doesn't support porn. But there are independent VR apps that will launch VR files on your phone no matter if it's porn or not. Download the most popular app, launch your porn scene through the app and place your smartphone in the front flap of the Cardboard and you're ready to watch VR porn.
If you're streaming VR porn, just place your phone in the appropriate slot and hold it up to your eyes and you're done! You may need to perform settings adjustments on the display to suit your personal preferences.
ADDITIONAL SUPPORT
So you're probably going to want to know how to watch porn using your Cardboard device. Suffice it to say that neither Cardboard nor any other VR headset was made for that explicit purpose. That being said, it's really easy to watch VR porn on your Cardboard headset.

Most VR porn sites have detailed support pages, so you should definitely check them out. If you have any questions or require additional assistance when watching VR on your Cardboard device, let me recommend a few good support links:
CONCLUSION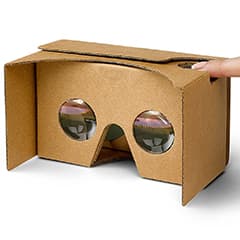 Ultimately, the biggest pull of the Cardboard is going to be its low cost. But it has a few problems you should know about. The first one is low latency issues. This means that even though your phone has a gyroscope, the picture might not move as fast your head does. This discrepancy can cause a form of motion-sickness and make you dizzy enough to want to stop.
Many people who aren't even that serious about VR porn will likely buy it just to try it out. If you are, however, super interested in VR technology and you want to make the most of its potential, I'd advise trying out a VR headset that requires a powerful PC, like the Oculus Rift.
Google just recently released its 2nd VR platform: Daydream. Unlike the Cardboard viewer, this device is not collapsible. It will have its own built-in viewing app like Samsung's GearVR and be compatible with certain newer phones with dedicated processing power in order to reduce latency.
Click Here To Visit Website
Find the ultimate VR porn experience with the affordable, lightweight & powerful Meta Quest 2. Meet your fave pornstars on an HMD that finally plays the 8K scenes you love.
PS4 fans absolutely need this VR headset. It's not just for playing exclusive PS4 game content. You can easily adjust it to watch your all your favorite adult scenes too.
Get offers and updates about the best VR porn sites - Before anyone else!
Arguably the most popular desktop device, the technologically advanced Oculus Rift has surpassed all expectations and delivers an immersive experience like none other.
Originally the manufacturer of high-end Android smartphones, HTC is now leading the headset game with the VIVE. It's neck-and-neck with its competitor for the most sophisticated one.
Do you like VR porn? Do you own a Samsung device? If you answered yes, there's no reason you shouldn't get yourself a GearVR and start watching your fill of adult content.
If you've heard the buzz around VR porn, but you're on a budget, you can't go wrong with Google's cardboard viewer. It's dirt-cheap and works with most smartphones.
The Oculus Go is a revolutionary piece of wearable standalone tech that will enable you to immerse yourself in virtual porn scenes without a smartphone or attached desktop.