My Full OSVR Review
A New Desktop VR Viewer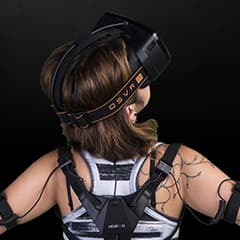 This is a review of the OSVR HDK 2 from Razer. For those who have never seen that pair of acronyms, allow me to enlighten you. It stands for: Open Source Virtual Reality Hacker Development Kit 2. But I'm just going to refer to it as the OSVR. It was released in July 2016 and is nearly half the price of the two other desktop-class viewers that are in direct competition with it, namely the Oculus Rift & HTC's VIVE. The OSVR undercuts its competitors with its jaw-droppingly low price, which is currently half that of the VIVE and a third less than the Oculus.
As its name suggests, this headset was made with the concept of open-source software in mind. For the non-software developers in the crowd, what that means is you're not limited to only playing content that's exclusive to your headset. Open source tech means there are no restrictions and in fact you're encouraged to make and develop your own. It's a pretty inspiring and democratic idea, taken from the best intentions of the information age. But I'm not a software developer - I watch porn. And what I'm going to discuss in this review is exactly this: How does the OSVR fare when it comes to watching adult content?
Comparing Specs & Capabilities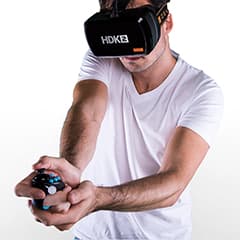 First off, when comparing the OSVR to the Oculus and VIVE you should know that the display, resolution, refresh rate and field-of-view are identical. If anyone tells you differently, chances are they're talking about the earlier OSVR HDK 1.
There are, however, some differences between the OSVR and the other two devices. The most glaring of which is that the OSVR does not have built-in audio or a mic. But, then again, neither does the VIVE, so the Oculus wins that round.
OSVR's sensors are on par with the Oculus Rift and it has a 360-degree positional tracking, which the VIVE does not.
The OSVR has no controllers, but can easily be paired with third-party devices.
The last major consideration for all desktop-based viewers is the actual specs and capabilities of your desktop PC. For all intents and purposes the desktop requirements to run your OSVR are identical to what the other two devices require.
Watching Porn Scenes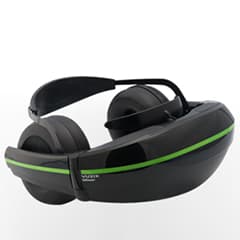 Streaming
If you want to stream easily, your best bet is to stick to sites with their own streaming apps
The Virtual Real Network, which I've recently discovered and can attest to them making some of the best adult scenes on the Net today, has a made a point to advertise that their in-house player, the Virtual Real Player, is OSVR-compatible.
Downloads
You're going to need a VR video player to watch downloaded scenes on your OSVR. I recommend Virtual Desktop. It's a paid app from the Steam store, but it's well worth the money. After you install it, it's just a matter of clicking "play."
Final Thoughts
It's hard to argue with the facts when it comes to evaluating the OSVR. For our porn-watching purposes, you're going to get the exact same virtual experience that the Oculus or VIVE would deliver and at a fraction of the cost. All you gotta do is get yourself a decent pair of headphones to get the binaural audio to work and you'll be having immersive erotic experiences in no time!
Click Here To Visit Website
Find the ultimate VR porn experience with the affordable, lightweight & powerful Meta Quest 2. Meet your fave pornstars on an HMD that finally plays the 8K scenes you love.
PS4 fans absolutely need this VR headset. It's not just for playing exclusive PS4 game content. You can easily adjust it to watch your all your favorite adult scenes too.
Get offers and updates about the best VR porn sites - Before anyone else!
Arguably the most popular desktop device, the technologically advanced Oculus Rift has surpassed all expectations and delivers an immersive experience like none other.
Originally the manufacturer of high-end Android smartphones, HTC is now leading the headset game with the VIVE. It's neck-and-neck with its competitor for the most sophisticated one.
Do you like VR porn? Do you own a Samsung device? If you answered yes, there's no reason you shouldn't get yourself a GearVR and start watching your fill of adult content.
If you've heard the buzz around VR porn, but you're on a budget, you can't go wrong with Google's cardboard viewer. It's dirt-cheap and works with most smartphones.
The Oculus Go is a revolutionary piece of wearable standalone tech that will enable you to immerse yourself in virtual porn scenes without a smartphone or attached desktop.