Live sex cams are great because they offer the opportunity to interact with a live model in real time. Peep 360 has successfully integrated VR tech so a cam show is now a 360 porn video as well. Send me your email.

Pros
Voice communication
360° 3D live cams
Attractive, enthusiastic performers
Cons
Not enough models
Showtimes not suited to EST
Bottom Line
There's a part of me that wants to pop open a champagne bottle and light some fireworks 'cause this site has finally gotten a live cam to broadcast in VR, which is kind of a big deal. Small step for man, giant leap for mankind kind of deal. Then there's the other part of me that's greedy and just wants more. Can you guess which part? But seriously, the site is desperately lacking models and showtimes. Because it doesn't matter one lick if they've got the technical aspects down if there's nothing being broadcast for most of the day.
My Full Peep 360 Review
Make Live Sex Cams Great Again!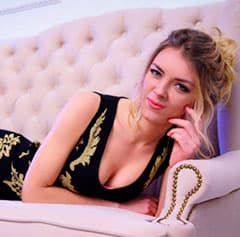 Live cams are great 'cause they allow you to interact with the sexy lady on your screen, as opposed to watching pre-recorded porn. Being able to interact with the cam model, which can range from simple conversation to explicit requests, is kind of like having an amateur adult model on retainer. While this industry remains superhot, there hasn't been any groundbreaking innovations needed to keep it fresh. That is, until some genius decided to throw a virtual reality headset into the mix and create Peep 360.
It's Like Being in Same Room as the Cam Model
Watching live sex show through a VR headset makes you feel like you've been transported into the model's room. Plus the performers appear in 3D, which is pretty awesome if they're curvy, y'know what I'm sayin'? And thanks to the head-tracking technology inside VR headsets, your POV is no longer limited to a stationary camera lens and you'll be able to see everything in the room as if you were right there. It's like reality… only virtual.
On-Screen Interface Remains an Elusive Feature
As much as I enjoyed watching a live cam in VR, I quickly realized that Peep360 was not without its drawbacks. The main culprit? A lack of an accessible user interface while you have your headset on, as you can't see your keyboard or your mouse! I'm sure you're thinking, "But Paul, I'm behind my computer 20, 22 hours a day. I can operate a keyboard and mouse blindfolded with one hand on my --- ". Sure, we all can. But I'm willing to bet that while the average pornomaniac is adept at typing out words on a keyboard, they're not at inputting unique commands through the modifier keys (shift, ctrl, alt). It's awkward, believe me I tried. There's definitely a learning curve at the very least. To make up for this you're encouraged to voice chat, which almost completely eliminates your reliance on the keyboard. But there were still a few instances where I found I had to take off my headset.
360°? It's Not All It's Cracked Up to Be
Another flaw was the 360° POV. I know it's one of their selling points, it's in their name after all. But I find this to be (and I mean this seriously, not as an insult), stupid. You know what I saw when I turned my head around? A wall. A bare wall. Not even a framed painting or anything. Truth of the matter is that for most, if not nearly all, adult VR content available today, you really don't need more than 180°, since the models don't dance around you in circles. I can imagine the 360° feature being useful in a virtual orgy scene, but that's not what's going on here.
Gotta Get Up Bright and Early if You're Living in the East
Other probs the site's got is that there are too few models and their shows come online at the most inopportune times. Like anyone else who matters, I live in the Eastern Time Zone (sorry L.A. peeps. Call me!), and the times were either in the middle of the night or first thing in the morning. So that's something to take into consideration depending on your location and sleeping habits. As for the models themselves, they're really, really hot and really enthusiastic. Both of which are very important elements of a quality live cam show that you're going to enjoy.
If You're Big Into VR, Then You're Going to Love This Cam Site!
In conclusion, Peep 360 is probably one of the very first live cam sites that offer a relatively successful model for integrating VR tech. What's important for me is that they were the first site to successfully provide a live cam show in virtual reality, when many other sites who promised the same thing simply flopped. The user interface issue needs to resolved, but few VR companies, adult or otherwise, have gotten that down completely. The biggest drawback to this site, as is true with any live cam site, is the very small number of models, which results in too few shows.
Click Here To Visit Website
Similar VR Sex Cams

CamSoda was already one of the world's largest live cam sites. They've got a great platform and a huge roster of sexy models. CamSodaVR has become a whole other sexy beast.

If you love chatting with pretty girls on live cam sites, then it's time to take your experience to the next level! Meet and talk to sexy babes in virtual reality, right here on Strip Chat VR.
Get Exclusive Email Offers
Deals, free tokens & minutes for the best VR cams!

We already know everybody loves cam sites 'cause you get to interact with a hot girl in real time. With the advancement of virtual reality, the live sex shows on Peep 360° something else.

You love live cam shows, but have you tried a VR show yet? If you've got a headset, then head to Cam4VR and enjoy interacting with models in 180° stereoscopic 3D.

Take live sex chat to the next level with XVR.chat. You'll be able to get up close and personal in virtual reality with beautiful cam girls that are waiting for you to come and meet them.