Today I'm going to give you the lowdown on Cam Soda VR. This is one of the few live cam sites that's taken the plunge to offer the live cam viewing audience 3D VR content. Email me your thoughts.

Pros
Potential for teledildonics
Cons
No schedule
Not enough performers online
Bottom Line
CamSodaVR gets kudos for being one of the sites leading the adult industry into the never-before-charted waters of live cam VR streaming. However, I haven't actually been able to experience any shows as the site seems to be nonfunctional and has been for a while now.
My Full CamSoda VR Review
Live Babes in VR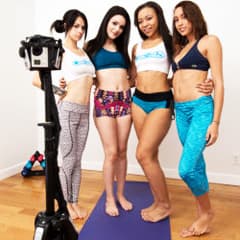 Cam Soda VR has taken the plunge and become one of the internet's first adult live cam sites to offer their live streams on a VR headset, upping the level of real-time intimacy by delivering directly to your eyes a live cam model who you can see stunning 180°. I don't know about you, but I love checking out a site's FAQ and instructions page. I know that sounds ridiculous and over-the-top nerdy, but I'm nothing if not thorough and I really appreciate it when I find a paysite that understands the necessity of helping first-time and long-time customers to watch their scenes in the best possible way.
When it comes to VR headsets and making them work with live cams it's all the more important to have that instructions page and I'm happy to report that CamSodaVR definitely does! It offers a step-by-step guide for iPhone, Smartphone and Oculus Rift users that is easy to read and simple to follow. Worked like a charm each time, too.
Potential for Teledildonics!
Now, one of the really interesting things about this site is its supposed ability to have integrated teledilidonic technology. For those who have never heard nor seen the term teledildonics, or cyberdildonics as it's sometimes called, it refers to sex toys that can be connected online and then controlled wirelessly by another person. Sometimes this person is your friend, lover or, in the case of CamSodaVR, a live cam model.
There's a Few Kinks Here …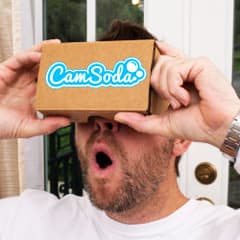 Unfortunately, I was not able to watch a live VR cam show here. I've read reviews that it's worked in the past, but each time I tried, there was no model or scheduled show whatsoever. There's actually no schedule to speak of except for an out-of-date posting that's been there for a while. I did, however, watch a pre-recorded cam show. It was pretty hot, but I wouldn't call it a live cam experience. The performer was young and attractive, but that's really all she had going for her. She seemed a little to aloof for my tastes and was either feeling a little awkward that day or she just doesn't like her job. Live cam models, especially ones shown through VR, have to not only be responsive, but they also have to be professionals and give their audience what they came for: a good time.
Since so much of virtual reality relies on the quality of your technology (computer, headset, etc.) as well as your ISP and internet connection, there's a risk of the shows not playing to their full potential. If VR is your newfound passion, do what I did and fork out the big bucks for an Oculus Rift. You won't regret it, I assure you!
A Pioneer in the Field Nonetheless!
Again I'd like to give CamSodaVR kudos for leading the way and being one of the first live cam sites to incorporate cutting-edge virtual reality technology into their shows. But in order for me to give it an endorsement, I'm going to need to actually be able to experience a show! Here are a few links to their social media presence (YouTube, Snapchat, Tumblr) if you would like to be kept informed on their activities in case they ever get their act together. I know I will.
Click Here To Visit Website
Similar VR Sex Cams

If you love chatting with pretty girls on live cam sites, then it's time to take your experience to the next level! Meet and talk to sexy babes in virtual reality, right here on Strip Chat VR.

CamSoda was already one of the world's largest live cam sites. They've got a great platform and a huge roster of sexy models. CamSodaVR has become a whole other sexy beast.
Get Exclusive Email Offers
Deals, free tokens & minutes for the best VR cams!

You love live cam shows, but have you tried a VR show yet? If you've got a headset, then head to Cam4VR and enjoy interacting with models in 180° stereoscopic 3D.

Take live sex chat to the next level with XVR.chat. You'll be able to get up close and personal in virtual reality with beautiful cam girls that are waiting for you to come and meet them.