Watching amateur hardcore porn always gives you a little slice of realism, because the models are all "real" women and not pros. Well, on AmateurVRGirls the babes come to life! Email me.

Pros
New 3D 180° scenes
Hot amateur models
Compatible with all headsets
Cons
No search tools
No user features
Bottom Line
As is the case with most adult sites, the reason you'll keep coming back to AmateurVRGirls is the hot amateur models and the sex they have in 180° 3D. Whether they're fucking you, themselves, or taking turns on you with their stepmom or best friend, it's too hot to pass up. There's already a good number of scenes available and they're uploading new ones once or twice a month. What's more is that from a technical point of view, the scenes are on point and will allow for your total immersion so that you can have one unforgettable experience after another.
My Full Amateur VR Girls Review
Watch Amateur Girls in Virtual Reality Scenes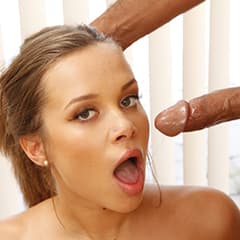 Amateur porn is hot and on AmateurVRGirls, not only will you be able to whack off to these hot girl-next door-types, but you can get closer to them than ever before with their sweet little titties all up in your face in stunning 180° 3D. Currently, the site has over 50 full-length virtual reality experiences for you to immerse yourself in. And that number is set to increase, as new videos are uploaded either every week or every two weeks. The videos can be streamed and downloaded and I always prefer to do the latter. All the scenes have been formatted for use on every major headset including the Oculus Rift, HTC VIVE and PSVR, as well as a 30FPS and a 60FPS for mobile viewers.
A Variety of Babes in Different Niches
Perhaps the best thing about this whole site is that despite its all-too-obvious name, the scenes contain much more than simply amateur-style content. In fact, there's a variety of fun niches to enjoy. What I'm talking about specifically is some delightful TV-themed cosplay, MILF performers, cute Asian and ebony chicks, best friend threesomes, foot fetishes, intense blowjobs and a whole host of solo scenes. So if you think you're going to get bored fast from watching Amateur VR Girls, think again!
Amateur Girls Are Hot, Amateur Designs Not So Much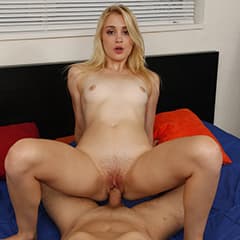 There's another aspect of this site I'd describe as amateur and that's the actual site design. There are literally no search tools, like a basic or advanced engine, tags or categories. Nor are there any user features like being able to comment, rate or favorite scenes. All there is to this site are pages that you can browse and five scenes on each page. Both the running time and amateur startlet's name are listed, but that's it. Make no doubt about it, though, the site and the scenes are completely functional, it's just that either the webmaster is a dedicated minimalist or their budget is.
Sign Up For Amateur VR Videos
After I've pointed out all the fun stuff about AmateurVRGirls and the not so fun stuff, I've come to the conclusion that this site and its scenes still kick ass. The variety of hardcore niches are so awesome and the amateur babes so supersexy that I can kind of forget the site's nonexistent user features. What I'm more concerned with is whether or not the scenes look good and offer a believable, immersive experience, which they do! So if you've got yourself a virtual reality headset and are into hot amateurs getting up to all sorts of hardcore hijinks, I guarantee you're going to just love this site. Sign up today!
Click Here To Visit Website
Similar Amateur VR

Casting scenes and VR videos together like bread and butter. And nobody does it better than the Czechs. Check out Czech VR Casting for lots of hot 180° amateur porn scenes!
The Best in Amateur VR - Sign Up!
Get news, updates and giveaways from the top amateur VR girls - FREE!

Amateur porn is popular because the content is authentic and it becomes even more authentic by watching it in on Virtual Real Amateur. Strap on those goggles, you're in for a sexy time.