I've got a new hot site for you today. It's called Real Jam VR. I got a feeling that this is going to be a good one full of 3D VR porn and loads of sexy virtual babes. Email me your comments.

Pros
Exclusive hardcore content
Free Cardboard headset with purchase
Regular updates
Cons
Small collection
Minimal user features
No streaming
Bottom Line
Real Jam VR has hot content with fresh-faced models getting down to all sorts of good ol' nasty sex for you to enjoy in true 180° 3D virtual reality that you can download, but not stream. The babes are hot, the sex is great and the VR effect is so on point that those pussies are going to seem like they're jumping right out of your display.
My Full Real Jam VR Review
A New VR Site That's Steadily Growing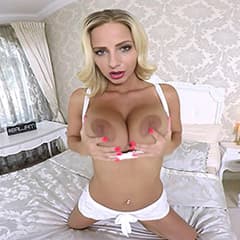 Welcome to Real Jam VR. I don't know what they mean by their name, but I always liked jam more than I liked jelly anyway. This is a relatively new site that doesn't have the most content at the moment, but they are updating on the regular, which is always promising. There are currently 28 videos and they can run anywhere from 10 to 30 minutes, averaging 20. Everything is shot in 180° 3D, resulting in a pretty convincing virtual reality effect that'll have you feeling like you could almost feel the warmth of the model's pussy that's riding you from your point of view.
Fees (Cheaper Than Standard) & Features (Very Little For Users)
A membership to this site is slightly cheaper than your standard VR site, at $19.99 for a month, with no download limits whatsoever. They also offer a 3-month membership for $13.31/month and a 6-month membership for $8.32/month. RealJamVR will even throw in a complimentary Cardboard viewer with the purchase of any membership, which is great if you don't have one yet and great even if you do, because it's always better to have two.
One of the few areas for improvement that I would is to add some user features. Currently there is no search bar and you can't rate, favorite or comment on anything. Now, not having these features is not a deal breaker per se, but I feel like these are pretty standard tools that every site should have to make browsing the content more convenient. You can, however, look up videos by specific models through the index and pull up videos by the keywords that are on each scene.
The Content & VR Effect - It Works and It's Hot
The videos have a great selection of sex acts and niches that's clearly designed to keep you coming back for more. So if you're looking for some hardcore cosplay, whether it's a French Maid or Pikachu, Real Jam VR has got you covered. There are also solo scenes, reverse gangbangs, squirting and the rest of the usual suspects. There's also some pretty hot Christmas-themed videos. I'm sure I'm not the only one who's fantasized about giving it to Mrs. Claus while Santa Is out delivering gifts, am I right?
If you were looking to stream the videos, think again. The site does not offer streaming at this time, but they do offer specifically formatted files for every mainstream headset available, as well as HQ and LQ formats for the GearVR and Cardboard viewers. There's also extensive help and how-to tutorials provided for you newbies, or in case you're experiencing any difficulties.
The Ladies - Young and Talented
Sometimes when I'm reviewing these VR sites, I tend to get lost in determining whether or not the virtual reality effect is good enough that I almost forget to appreciate the talent. This is what is commonly referred to as not being able to see the forest for the trees, I think. Anyway, the ladies are, to coin a phrase, so hot that they're going to make you cream your pants. They're mostly white, in their 20s and with bangin' bodies and faces you'll love to see covered in cum. They are blondes, redheads, brunettes and one stunning ebony model, Luna Corazon, whom I feel I have to mention because I could not get enough of her videos.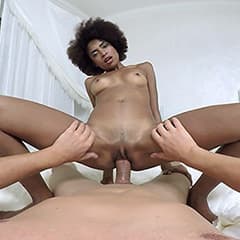 What I especially liked about Real Jam VR is that every model has her own profile page that you can find in the model index. There you can check out her stats, which include such revealing details as her country or origin, age, height, weight, figure and individual Twitter feed. I think the reason why I like the profile pages so much is that they actually works to accent the increased realism that comes with the VR effect.
Final Thoughts - Sign Up Right Now!
If you're looking for a new VR site, where the effect is fine and the ladies are pretty, then look no further. I really liked this site, because it's easy and straightforward to use. Even if it lacks many user and search features, it really isn't the end of the world. The price is right and they upload new videos on the regular, so if I were you I'd sign up on the double. Make sure to also subscribe to their Twitter feed to get the latest on new shoots and other hot VR-related goodness. Enjoy.
Click Here To Visit Website
Similar Top VR Porn Sites