Want to enter virtual reality cyberpunk and steampunk environments and have sex with some of the hottest pornstars in the biz? Of course, you do! Send your thoughts via email!
Pros
Immersive 6K videos
Informative blog
Compatible with DeoVR app
Cons
Unclear update schedule
Large files (over 15GB)
No bonus content
Bottom Line
On Evil Eye VR, you're going to immerse yourself in mostly fantasy-themed scenarios with pornstars dressed as elves, cyberpunks and more. You'll feel like you're really there, especially since we're talking about sharp 6K resolution videos. The update schedule is unclear, but these scenes are definitely worth watching more than once! They've also got a really cool blog that's worth checking out.
My Full Evil Eye VR Review
Let Your Fantasies Come to Life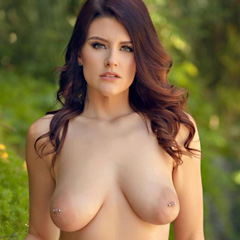 According to the very official word of Google, an evil eye is "a gaze or stare superstitiously believed to cause material harm." It's a strange name for this virtual reality site given that the looks you're going to get from these models are anything but evil. You see, on Evil Eye VR, you'll get to immerse yourself in fantastical VR scenes with pornstars - and the only look they'll be giving you is the one that tells you how horny they are!
Explore Virtual Worlds with Pornstars
A Star Trek parody, fucking a goth girl in a victorian castle, discovering a secret cave with a nympho elf and an end-of-the-world scenario where you'll literally give a girl apocalyptic sex! It might be a small collection right now, but you have to applaud their creativity. Oh, and the girls who star in these fantasy scenes are pornstars like Karma RX, Jillian Janson and Luna Star! Take some time to read their bios in the model index if you want to learn more.
You'll probably notice how the backgrounds are just green screens. It takes away from the realism, but the sexy outfits and the way these girls virtually suck your cock and climb on top of you is probably going to be enough to distract you. Plus, the 6K resolution makes you feel like you're right in the room with her. Everything looks smooth and crisp and anytime these chicks moan or talk dirty, you'll hear it clearly thanks to the binaural audio. Just a heads up, these 360-degree videos tend to be big files. I spotted a few that were nearly 20GB!
Strap-On Your Headset of Choice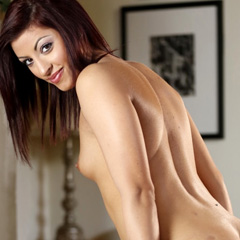 No matter what headset you've got, you'll be good to go! The movies are compatible with the major ones, including Oculus, Vive, Daydream and PSVR. It's pretty easy to get them to play, but if you have any issues, their Help page is super informative. These days, a lot of sites are starting to incorporate DeoVR too, an app that lets you instantly stream the videos on your headset with one click and thankfully, EvilEyeVR has it - talk about getting your porn quickly!
Looking for something specific? Take advantage of the advanced search engine and the tags. Once you find something you like, click that favorites button so you can have quick access in the future - maybe even give it a rating or leave a comment.
Check Out Their Informative Blog
They've got a calendar that, I assume, is supposed to show you when new scenes are coming. But when I was on the site nothing was scheduled and none of the videos have any dates attached to them. But if you do happen to watch all these scenes and find yourself waiting for more, well, you've got two options. Either you can just re-watch them (and you'll probably want to) or you can check out some of their social media pages, like Twitter and Instagram - they've got them linked at the bottom of the page.
I was also impressed with their blog. I was expecting it to be a generic one where they just talk about the latest scenes they're releasing - but it wasn't that at all. Instead, it keeps you up to date on the latest VR trends, gives info on the newest headsets and the best apps, and so much more. They don't post too often, but when they do, it's worth the read.
Enjoy a Unique VR Experience
It's cool to see a site getting creative with their VR porn. Sure, they use a green screen on-set, but I can't really fault them for that - it's not like they can go to an actual castle and start filming porn there, right? So, all that aside, you're going to love immersing yourself in fantasy scenes where you get to virtually fuck the hottest pornstars working today. Seeing them up close and personal in 3D with a 360° field of view takes it to the next level.
Click Here To Visit Website
Similar Top VR Porn Sites