Fans of Joanna Angel and other alt models should be clapping their balls together for this site. Here you'll find hardcore alt porn full of horny tattooed models. Feel free to email me.

Pros
Represents the alt porn niche
Sort by your desired position
Supports all headsets
Cons
No streaming
Can't comment or favorite
Limited model index
Bottom Line
This site is excellent for a number of reasons. Not only does it herald the breakthrough of yet another hot and highly sought after niche in VR, but they've also categorized their scenes by the position of the user. This makes Burning Angel VR one of the few adult virtual reality sites to do so, making your erotic experiences even more immersive than before. If this site has any room for improvement it would be to add a few more features to the user interface, like being able to favorite scenes or leave comments.
My Full Burning Angel VR Review
Alt Porn Is Finally in 180° 3D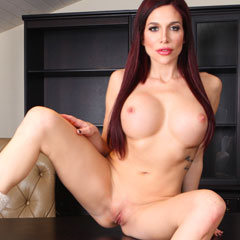 If you're not familiar with the alt porn niche or any kind of goth or metal subculture, then the name Burning Angel won't be familiar. But if you've browsed and consumed as much internet porn as I have, then the name might just unsettle your loins for a moment with eager anticipation.
This site has the esteemed honor of being the first ever adult VR site that exclusively features hardcore alternative porn. With another niche barrier broken down, this is indeed a reason for virtual reality fans everywhere to rejoice.
Do You Like Sexy, Horny, Tattooed Women?
Most of the scenes here star the prima donna of the alt niche, the hardcore porn star and tattooed vixen, Joanna Angel! With fuschia streaks in her long jet-black hair and crazy-cool tattoos covering half her body, she's the quintessential bad girl of your dreams. And nothing makes that looker hotter than having her suck you off in 180° 3D, that's for sure. But she's not the only one you're going to get a chance to get close to here, nor do you have to choose for that matter.
Many scenes feature threesomes and even foursomes of the hottest alt chicks you've ever seen. My favorite, "Fuck a Blonde, a Brunette & a Redhead!" is just too much fun for words to describe.
Choose Your Desired Position for The Best Experience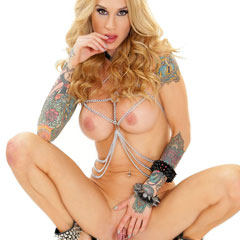 Aside from its scandalously hot niche, another feature of this site that really piqued my interest was how they categorize the scenes according to the optimal physical position that you should be in while watching them. This is actually one of the few sites to adopt this and I think it's integral to any virtual experience. Your choices are: lying down, reclined couch, sitting, standing, 270° swivel and a 360° swivel, and you can easily sort through the scenes according to your position of choice by using the filters.
See, most people are in the default position of sitting behind their desk with their headset strapped on while immersed in a scene that might involve you lying down on a bed, so it will definitely aid in making your experience all the more believable.
Works With All Major Headsets
When you're about to play a scene, the first thing you might notice is that it's download only. That's right, no streaming here. But that's okay, especially since the scenes are compatible with every headset on the market. So whether you've got an Oculus Rift, HTC VIVE, Gear VR, Daydream, Cardboard or even a generic viewer, you're good to go.
The videos are flawless, delivering a hardcore "alternative" sexual experience every time. There's also a detailed help page no matter what device you're using.
Check Out Burning Angel - It's HOT!
This is a great site where you get to cum as close as possible to the hottest alt porn stars in the biz. It's enough to make you go out and buy an Oculus Rift! That is, if you don't already own one. They could improve their user experience a bit by incorporating more features like comments and favoriting, but the ability to sort by position more than makes up for those shortcomings.
Click Here To Visit Website
Similar Top VR Porn Sites