Today's review is for a gay 3D virtual porn game. Have you ever wanted to be a gay sex god by bringing to life your most explicit gay fantasies? Well, 3D Gay Villa will let you do just that. Email me.

Pros
Highly customizable
User-friendly interface
Cons
Story mode lacking
Costly premium items
Bottom Line
3D Gay Villa employs some of the latest 3D graphic technology in creating realistic male avatars. Your wish will be their command as these 3D dudes suck and fuck their polygonal butts off and never complain or get tired. Dress 'em up in leather chaps or keep them completely nude as you purchase the latest sex toys for them to use. The power to control these virtual men is yours without question. It'll just cost you some currency.
My Full 3D Gay Villa Review
Have 3D Gay Sex 24/7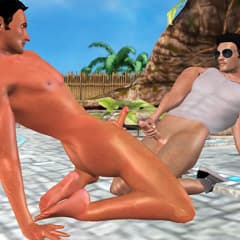 I always thought it would be tons of fun to have a nice villa to retire to at the end of a long day, where I could kick my feet up and relax. Actually, come to think of it, I'd love a villa where there'd be nothing but nonstop gay sex! 3D Gay Villa offers just that kind of R&R, where you can create the hottest gay sex scenes your imagination can conjure up. This is a virtual world where you can not only manufacture your own sexual fantasies, but also engage or interact with or simply view other members' activities and debaucheries in real time.
Downloading and installing the game is super easy and requires no real technical expertise or previous gaming experience. Once the game is up and running, though, you might feel a little overwhelmed or lost as to what to do exactly. Like in any game, there's an initial learning curve, but it's certainly not rocket science. Here's a pretty helpful video on Xvideos that will show you what the actual gameplay will look like.
Trust Me - Watch The Tutorial Vids
The creators have included a helpful tutorial at the start of the game to illustrate some general tips and tricks to help you get started in the right direction. A lot of the fun is learning how to make the game work for you, with so many different customization options, ranging from how many avatars you want, how they look physically, sexual positions, sex toys, etc. By adding a "SexPack" you can connect to an online community and peruse a nearly limitless supply of user-generated content and items for use in the game.
Meet New Friends and Then Have Sex With Them!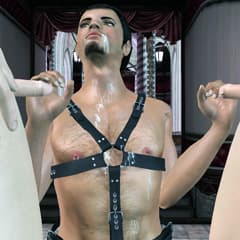 Unfortunately 3DGayVilla isn't much of a sex game, even though it advertises itself as such. The site states that it's a gay sex-themed RPG (role-playing game), but for the few pre-made scenarios, the storylines are a bit tedious and that, quite frankly, is a poor way to start the initial experience of this so-called game. It's much more fun to go off into its wide virtual world and do your own thing. You can meet other members online and have your avatar interact with theirs and have them make friends or, even better, make them fuck friends!
The Customization Options Will Cost You
There's a monthly subscription fee that's pretty affordable. However, like other online sex games, the real expense lies in the cost of the items. The game's online currency are called Sexcoins. Say you want to dress your avatar in a leather getup and a mask, well, that's going to cost you a pretty penny. But to be perfectly honest that's the fun in this game - the cool uniforms, sex toys and various accoutrement that help make your fantasy come to life in this virtual world, not to mention being able to make attractive male avatars act out your nastiest fantasies.
3D Gay Villa is a veritable virtual reality world where gay sex is aplenty and much. If you've ever wanted to control people sexually, well, that's what sex games are for. So go for it and have fun!
Click Here To Visit Website
Similar Gay VR

Get up close and personal with twinks, jocks and musclemen on Studs VR. There's nothing hotter than immersing yourself in a virtual porn scene with these sexy gay hunks!

Disappointed by the lack of gay porn in adult VR? Well, turn that frown upside down! Virtual Real Gay is full of hot hunks in hardcore action that you can watch on your headset.
Solid Deals - Straight to your Inbox!
Get exclusive email offers on the best gay VR sites!

Strap on your VR headset, 'cause 3D Gay Villa is one adult cyber world you're not going to want to miss. There's lots of customization options, not mention plenty 3D gay sex.

VRB Gay is making the best gay VR porn, hands down. Strap on your headset and immerse yourself in hardcore 180° 3D gay scenes, either standing, sitting or even lying down.