Do you desire VR porn videos? Well, of course you do. Otherwise, you wouldn't be here! Check out this new review I just penned about a site called Virtual Porn Desire. Shoot me an email.

Pros
Excellent 180° 3D videos
Compatible with nearly all major headsets
Regular uploads of new scenes
Cons
Can't favorite scenes
No bonuses
Bottom Line
There's very little about this site I can find fault with, especially relating to its VR scenes. The sex is hot and the models are gorgeous. The 3D effect and 180° FOV was on point and delivers a believable virtual reality experience across multiple different headsets. They could beef up their user features and include favorites tracking and better sorting options, though.
My Full Virtual Porn Desire Review
For Those Who Desire Virtual Porn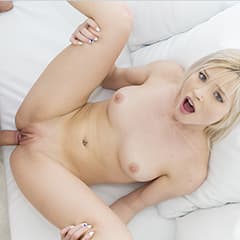 As it stands, VirtualPornDesire has a fair-sized collection of videos that will keep you busy for a good long while. Plus, they're uploading new ones on a weekly basis, so you'll definitely have something new to look forward to each week. The site has a pretty good overall design, which is always encouraging, but it's a little light on the user features. You're not able to favorite or rate the scenes, but there are tags that I used to help to filter the content and find exactly what I was in the mood for.
Really Hot Scenes with Great Variety
At first glance you might think the site is just another hardcore VR one, but upon closer inspection, you'll discover that while the scenes all feature sex and cumshots there's much more to it than just that. There are hot cosplay videos, fetish scenes, stripteases, stockings and more, but I don't want to ruin the surprise for you. Starring in every scene are the hottest European models whom I wanted to learn more about, but unfortunately for all of us, the model index is a little light on details. And by "light" I actually mean nonexistent as it's just a list of names.
Easy Streaming & Plays on Everything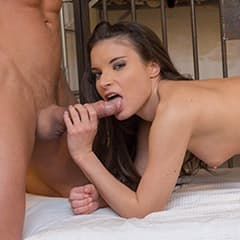 Another aspect of this site that leads me to think they know exactly what they're doing is their on-site streaming player. I'm sure you all know by now how much easier it is to stream content, especially if you're using a mobile headset like the Cardboard or GearVR, if the site has their own on-site 3D 180° player. 'Cause then it's just a matter of clicking play and watching. But if you like to download like I do, you'll notice that every scene can be also downloaded on mobile viewers as well as the desktop-class ones, spanning across the Oculus, VIVE and even the PSVR. If you've got yourself an OSVR, I'll let you know that the the Oculus file will play on it. That's why open-source technology rocks.
Looking Forward to More From This Site!
It's clear to me that the producers here certainly know what people like you and me want. Namely, 180° immersive 3D experiences that we can enjoy through our VR headsets! And not just that, but also varied content, which they also deliver despite the fact that they don't have the largest collection at the moment. The way I look at it is, if they have so much variety now, imagine what it's going to look like a few months into the future. Be sure to follow them on Twitter for all the latest developments.
Click Here To Visit Website
Similar Top VR Porn Sites