On the docket today is Reality Lovers, a UK-based site specializing in adult VR scenes featuring the bangin' 3D bods of Euro virtual babes. Tell me what you think of it at my email.

Pros
High-quality 180° videos
Exclusive content
Helpful tutorial videos
Cons
Limited user features
No room for client input
Bottom Line
With a modest video count, each shot in flawless 180° 3D and featuring some of the sexiest women in Europe, this is a good choice for fans of VR porn. That is unless you're seeking a variety of content and then it could potentially get real boring real quick. At least a month's membership is reasonably priced.
My Full Reality Lovers Review
Time for Some VR from the UK!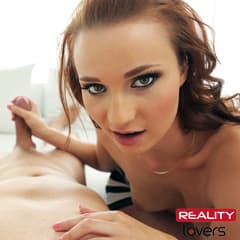 Reality Lovers is a UK site that first began to post VR videos in March 2016. These are some pretty sweet videos and the effort that was put into them is obvious through the excellent casting, directing and shooting. The site employs what seems to be an exclusively European roster of models, largely white, and ranging from early to late twenties. They seem to be targeting not only the English-speaking world, but also German-speaking populations as revealed by their German language tutorial video.
Great Layout
The site is easy to use and well set up in the sense that it's easy to read and see and operate, but it's inefficient nonetheless. There are five scenes to a page, spread across six pages, with no option to see all and no sorting options either, like by date or length. There's also no search engine to speak of, basic or advanced. All the links are operational and respond quickly though.
Solo, Lesbian, Threesomes, Anal and More!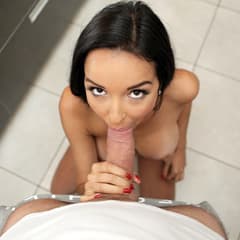 Even though I think Reality Lovers has great VR scenes I do wish the niches were a little more varied. They already offer some variation with solo, lesbian, threesome and anal scenes, but that kind of hardcore has become all too commonplace by now. I suggest mixing it up with different races, nationalities, body types, dialogue, plot, anything really. Though there's one particularly delicious threesome that'll put you in the middle of two gorgeous babes and a can of whipped cream. Suffice to say, I found it extremely hot. But don't my word for it, try it out for yourself!
Download Only - No Streaming
There's no streaming option, but I forgive them as they make up for it with their high-quality downloadable videos. They have four download options, including Oculus, Gear, HQ and LQ Smartphone, and each is successfully formated to their respective device - everything worked without a hitch. I felt like the download speeds were a little longer than normal, but that would make sense if their server is in Europe. Some VR sites have servers on both sides of the Atlantic, facilitating faster downloads regardless of where you are in the world.
They have a dedicated Help page with clear instructions on viewing VR for first-timers across the three most commonly used devices: Oculus, Gear and Cardboard. In addition, Reality Lovers also has their own Youtube channel with step-by-step instructions on how to run virtual reality videos in both English and German. There's also a blog that has more than just advertisements for their content, but also includes some background information about the personal lives of some of the models. I always like to know a little bit more about the women I'm masturbating to, especially since the VR experience makes it seem so real.
High-Quality & Hardcore VR Content Right Here
RealityLovers is all over social media, like Twitter, Instagram, tumblr and Facebook, where you can keep abreast of their most recent developments, postings, casting news and their blog. As a whole I think this is a great site because of the high-quality videos and sexy models, but they could still stand to improve the site's interface and have a better variety of content.
Click Here To Visit Website
Similar Top VR Porn Sites