On the docket today is a site that goes by MILF VR. The sexy virtual babes in their videos guarantee that this is going to be a good one. Read my review, visit the site and then let me know how you felt via email.

Pros
Stunning 180° scenes
Good discussion forum
Bonus sites (not VR)
Cons
Would like to see a better variety of scenes & models
Bottom Line
For a long time now I've been a big fan of the MILF niche. And by big, I mean big in the pants! But MILF porn shot in VR is a whole other animal as you'll find as these stars are going to seem a lot curvier and a whole lot sexier now that they're coming in stunning 180° 3D videos. They're also twice as long as others I've seen to date, which is great. They could spice things up a little bit more, though, when it comes to the action and the performers.
My Full MILF VR Review
A Whole Site With Nothin' But MILFs
This site is currently one of the best niche sites for VR out there today. Finally, the technology has grown out of its infancy and is now reaching out to all the niches in the adult industry and I for one enthusiastically welcome this development. The site already has a decent number of videos ready for your consumption and they're adding new ones at a pretty good rate, which means the value of your membership is going to increase with time. It also includes full access to 30 other hardcore sites, none of which are VR, though. But they're still hot.
Double-Length Scenes
One aspect of these videos that really stood out to me was their longer-than-average runtimes. There wasn't a single video that ran for less than 50 minutes! This is almost twice as long as the longest-running VR scene I've seen to date. I don't know why this is the case, but I'm not complaining. Maybe it's because (like the experienced women they are), the MILFs are taking control in these scenes and anyone who knows anything about having a good fuck knows that while it's fun to go crazy-fast at first, it's better to go slow and build momentum until you're ready to bust. Also, if you're judging a site by the number of scenes they have, these ones can kind of count as two a pop.
They Could Change Up the Scenes & Models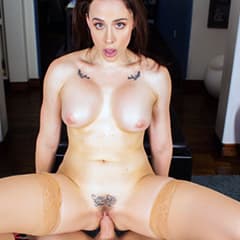 While I've said that this site is fantastic in a few different ways, there's always room for improvement and for MILFVR, I think there are two areas they could work on. The first being to increase the variety of action. With the exception of two threesomes, they all follow the same pattern of blowjob, cowgirl, reverse-cowgirl, cum on her face or tits, end scene. And while writing that gives me a chub, I'm sure we would all enjoy this site more if the scenes didn't resemble one another so much. The other area where I think they could improve upon would be to increase the variety of models. As a MILF site, the only real requirement for the model would be her age. I did see one older Asian women and there are some Latinas and redheads, but most are blonde and white.
Good VR Quality
The videos here are on point and there are multiple formats for all the major headsets. There was a little bit of issue with scaling and they don't have the best clarity, but they're still awesome to watch. In fact, MILFVR is a sister site of WankzVR and I think it would be fair to say that the videos have the same caliber as you'll find over there, though they're not 100% perfect either.
Discussion Forums & Bonus
One aspect of this site that I found to be especially promising that other people might have easily glossed over was their discussion forum. This is a great resource, not only for the paysite but for the consumer as well, to reach out to the content creators and let them know what you like, what you don't like and what you'd like to see more of. These discussion forums are monitored and they're definitely looking for constructive criticism and suggestions.
I ♥ MILF VR
MILF VR is welcomed by all VR users who've been looking for an increase in the variety of niches and performers. MILF has always been a popular category, 'cause older women are sexy, but seeing them up close and personal in 3D and a 180° field of view just takes it to the next level. I'd really like this site to begin to increase the variety of positions and styles, like more threesomes for instance. But they could also delight us all by including horny older ladies of different ethnicities. All things considered, though, this is my new favorite MILF site. Make sure to follow them on Twitter for all the latest news.
Click Here To Visit Website
Similar MILF VR Sites

Ain't nothing more real than the curves and sexual appetite of an older woman. Experience MILFs up close and personal like you never have before in stunning 180° on MILF VR.

Everybody's got their own fantasy girl they beat off to by closing their eyes and thinking about them really hard. Now you can watch them on Fantasy Girl VR with your headset on.
The Best in MILF VR Porn - Sign Up!
Get exclusive email offers on the best MILF VR Porn sites!

Just VR works with independent adult performers to create a selection of porn genres not available elsewhere, with kinky and authentic virtual reality scenes.

Breasts are great and come in all shapes and sizes. If you love to bang a woman with a really large pair, then watch them come to life like never before on Big Tits In VR.