Stockings VR is a really hot adult VR fetish site full of hot virtual babes wearing sexy stockings. Looks like the virtual reality trend continues to climb and is wildly successful even with fetish content. Feel free to email me.

Pros
Bonus stocking site
Multiple formats for different devices
Streaming friendly
Cons
Not many videos
Additional stocking sites require higher membership fees
Bottom Line
If you're into stockings, then you're going to want to sign up for this site. It doesn't have the largest amount of content at the moment, but they are updating. The videos are hot and not just because of the busty stocking-clad performers having hardcore sex, but also because the videos are presented with sexy storylines that'll turn you on in no time. And while the bonus sites do not contain any VR content, they're all still chock-full of irresistible stockings, panties and upskirt content.
My Full Stockings VR Review
One Step for Virtual Reality, One Giant Leap for Fetishes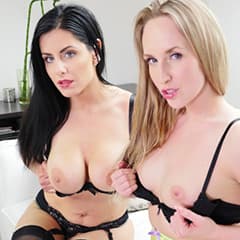 There's an old saying that I feel is very apt for this review, which is, "Every time a new porn fetish is filmed in 180° stereoscopic 3D, a porn reviewer gets their wings." Where that saying came from, or how old it is or who said it first isn't important, what is important is that stocking fetish porn is finally in VR and I feel like I'm flyin'.
In case you don't know what I'm talking about, these aren't going to be the sort of stockings you put up at Christmastime. Wink, wink. These are sleek, black, see-through and incredibly suggestive. They're enough to give even Santa's bells a little jingle if y'know what I mean. You'll also find that the videos feature garter belts, sexy lingerie, bras, panties, nylons and up-skirt videos. At first glance Stockings VR looks very promising and I can't help but give it a few more hundred glances 'cause it's just so hot.
Not a Dude in Sight
You're going to find 26 videos at the moment with an average runtime of 10 minutes each. There are no male performers in any of them, so the videos are really divided between solo and lesbian scenes at about a 50/50 ratio. What I especially liked here are the storylines. I know most people can't wait for them to be over with so they can start watching the sex and starting rubbin' one out themselves, but these storylines are hot, not too long and definitely add to overall allure of the videos. Some examples include evictions, secretaries and teacher's pets.
StockingsVR has also been equipped with nearly all the user features you can think of to make your stocking consumption as pleasant as possible. This includes rating, favoriting & commenting. I can tell you from what I've seen that the site administrators do read and occasionally respond to any comment you might leave, which is always nice. There's a calendar where you can see that a new scene is released every week and it includes the names of the featured models. The drop-down menu will enable to to look up content either by model name or release date, and there's also an advanced search for when cravings get specific. What more could you possibly ask from a site?
Flawless VR Effect
Each of the scenes can be streamed directly off the site or downloaded in any of four formats depending on what kind of headset you have. I tried the site out myself using both my fancy-pants Oculus and my humble Cardboard viewer. I'm glad to say that both worked without a hitch, running at 60fps with binaural audio and a full head tilt of just about 180°.
If for any reason you feel like your experience was less than stellar, this site has no shortage of helpful tips, hints, tutorials and a FAQ on how make sure you're getting the most of your device. Pay special mind to the asterisked warning in blue font above each scene that reads: ** Please note: For Cardboard viewers please make sure that you have your settings set for 360 Top Bottom **. It'll make a world of difference.
Bonus Sites With More Stockings Porn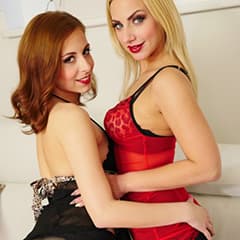 The standard membership fees include another another non-VR stocking site, Stocking Videos. You can also choose to purchase a more expensive membership that will give you full access to another five sites: FF Stockings, Minnie & Mary, Dirty Angie, Nylons Only, Aunt Kathy, Abigail Fraser. Even though the content found on those sites is not in VR, they do feature dames rocking stockings with gams as long as your eye can see. It's a pretty sweet deal nonetheless.
A Good Site With More Videos to Come
This is a VR fetish site with hot content and a flawless effect. While I know that stocking fetishes is definitely a thing, I don't think you necessarily need to self-identify that way. I'm pretty sure the general consensus is that stockings are universally hot and if haven't been fortunate enough to see them in action in real life, then watching them in virtual reality is definitely the next best thing. StockingsVR might not have the largest number of videos at the moment, but their calendar reveals that they're slowly but surely working their way up there.
Click Here To Visit Website
Similar Fetish VR

This one's for the fanboys in the crowd. Cosplay takes on a whole new meaning when you watch it in VR. Add hardcore action into the mix and this is your new favorite site!

Ever been to Prague? Save yourself the airfare and check out Czech VR Fetish. The performers are hot Czech babes and they've got videos to suit all of your kinky fetish fantasies.
Get Exclusive Email Offers
Deals, fetish scenes and other awesome deals - FREE!

Want to have a girl's beautiful feet so close to your face, you'll feel like you can lick and smell her toes? VR Foot Fetish has beautiful women waiting for you to worship their soles!

Jerking off should be a positive experience. If you need some encouragement, watch as these babes strip, tease you and tell you you're doing a great job - in immersive VR!

When women wear stockings they're even sexier than when they're naked. Don't ask why, I'm not a psychologist. Just watch these babes on Stockings VR and you'll see what I mean.